Borneo! | Part 9: Jungle River Cruise in Sakau!
After a long rainy motorbike ride from Tawau we arrived in Sakau in The Kinabatangan Wildlife Sanctuary to check out the incredible wildlife on a few jungle river cruises. Teeming with life!

Sidenote for $3+ supporters: The Patreon Discussion video will be up sometime today or tomorrow. We didn't get a chance to film it yet, but should after dinner tonight !
Pledge $0 or more per video
Everyone
Pledge $0.01 or more per video
Patrons Only
Video Sneak Peek!
$1 or more per video

∙ 76 patrons
- We will post Patreon-supported videos at least 3 days before they go live on YouTube!
- Access to the Patreon feed which is the best place to interact with us!

Exclusive Discussion Videos!
$3 or more per video

∙ 76 patrons
- We will post a Patreon-exclusive discussion video with every long-form Patreon-supported video to answer questions from you, discuss tons of stuff and just connect!
+ Everything listed above!

Your Name in our Video Credits!
$5 or more per video

∙ 94 patrons
- Your name will appear at the end of any Patreon-supported videos!  *See note below*
+ Everything listed above!

* Note:  Because rendering and uploading videos can take substantial time, periodically videos will be uploaded and prepared weeks in advance (especially if we are traveling).  So it is possible your name may not appear on the very next video, but rest assured you will be properly thanked in a future video!  Thanks for understanding!

Postcard Club!
$15 or more per video

∙ 55 patrons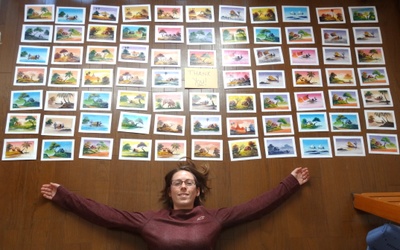 - You will receive a postcard in the mail every month!  
*See note below*
+ Everything listed above!

When we went to Myanmar, we sent postcards to many of our supporters and we absolutely loved it.  During our adventures in Tokyo, throughout Japan, and abroad, we will buy postcards and send them to you!

* Note: Postcards will be sent to all patrons who contribute $15 per video in the previous month.  For example, if you contribute in May, you will get a postcard in June.