A brilliant description of the Ollendorffian Method
The following description of Ollendorff's method for language learning (represented here on Latinum by Adler and Kontopoulis' versions) was written by Ranjit, and comes from his wonderful discussion on language learning,
Caligula.org
Ranjit writes:
Emilio Goggio's A New Italian Reader for Beginners introduced me to the most life-changing passage I have ever encountered. (If I were still in Buffalo, possession of this book would probably land me in jail for 15 years, which is why I'm no longer in Buffalo.) I began reading this volume in January 2016, but I got only as far as page 47 before I shunted it aside. You see, on page 46, towards the end of the simplified version of L.D. Ventura's lovely story, "Peppino il lustrascarpe," is the passage that altered my life:

   Aiutato da me e da cocchiere Peppino salì le scale: non appena giunto in camera si svincolò da noi; sgambettando si precipitò verso il mio tavolino, frugò fra tutti i miei libri, s'impossessò d'un vecchio Ollendorf abbandonato, l'aprì, e estrattane una busta, l'agitò in aria:
   — Ecco il denaro, — disse con gli occhi pieni di gioia: — spero, signore, che non avrete dubitato di me...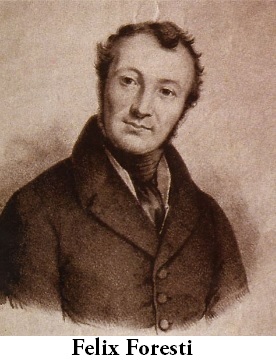 At the bottom of the page is a footnote as explanation: "i.e., book by Ollendorf for learning a foreign language." Anybody who knows me even a little bit would instantly guess that I would not let that footnote go by and just move on to the next story. Oh no no no no no. I retain my life-long compulsion to check on everything that comes my way. We now have a tool that we never had before: online search engines! I dashed to my computer, went to Google Books, and plugged in "Ollendorf," which I instantly discovered was a misspelling.
 What popped up on my screen was a treasure. Behold: Ollendorff's New Method of Learning to Read, Write, and Speak the Italian Language, Adapted for the Use of Schools and Private Teachers, wrongly credited to Felix Foresti, who wrote only the "Preface to the American Edition." This is the best Italian course I have ever seen. The BEST. A thousand times better than anything else I've ever encountered. I'm head-over-heels in love with this book. Why are we not all familiar with Ollendorff? Why is he such a secret? 
He and his series of books, as well as the book of his predecessor, Jean Manesca, are pretty much forgotten. Remember back in school when your teachers made fun of the old style of language learning, when students were required to put such sentences as "The pencil of my aunt is under the table" and "My postillion has been struck by lightning" into another tongue? Well, it was the Ollendorff series to which they likely referred. Despite that jibing, and despite the ludicrous sentences in the Ollendorff courses, there is no denying that the Ollendorff books are powerful learning tools. 
How I wish had known about them forty-five years ago. Alas. Okay, yeah, it teaches Italian as spoken by the nobility two hundred years ago, but hey, you know, I like it that way! Seldom have I laughed so much. Others mock Ollendorff for the ridiculous sentences that students were to render into a new language. These sentences should not be mocked. They should be praised! "I do not wish to buy anything, but my father wishes to buy an ox. Do you wish to break my glasses? Does that man wish to cut your foot? He does not wish to cut mine, but his own. Which looking-glasses have the enemies a desire to break? They have a desire to break those which you have, those which I have, and those which our children and our friends have. Have you the courage to cut your arm? Who burns my hat? I do not know whether he is my enemy; but I fear all those who do not love me, for if they do me no harm they will do me no good. Are you willing to mend my handkerchief?" 
Language instructors make fun of this. Don't they get it? This is hilarious. Besides, the drilling is intensive and comprehensive — every form is covered repeatedly in every context. What's wrong with that? When we learned English as babies and in our first few years of school, we learned sentences and stories that have no real-life applications: "Say bye-bye. Say bye-bye doggie. Bye-bye doggie." "See Spot run. Run, Spot, run!" Nobody says these things. Ever. Despite being entirely unreal, these sentences and stories are tremendous learning tools. 
When chipping one's way through Ollendorff, one sees that after a few lessons the sentences get considerably less ridiculous. Take the briefest glance at each English sentence, close your eyes, and say it in Italian a dozen times. It's a workout. Don't be fooled into thinking otherwise.
 It takes several hours to get through a five-page lesson, and when you're done, you're done in more ways than one. You won't be able to keep your eyes open and you'll collapse into bed where you'll remain passed out for four hours minimum. When you awake, do the lesson again and again. 
Then do it yet again the next morning. It gets easier after you sleep on it for a night. There's something about sleeping a full eight hours after a lesson that allows it to sink into the mind. School officials don't understand that at all. All the other courses I went through —Vellaccio/Elston, Cioffari (upon whom I gave up after a few lessons), Michel Thomas, Pimsleur, college class, private tutoring — all of them, all of them, left me totally baffled. After steeping myself in them, I came out with a limited knowledge about translating with difficulty. 
After Pimsleur, which was by far the best of the bunch, I would struggle painfully to speak like a four-year-old, which helped when I was trying to navigate my way to Tinto's house. 
Not one of the courses drilled me on the essentials. With Ollendorff, though, I don't need to settle for a two-minute explanation of the -ne enclitic and then just magically expect to know how to use it. Oh no. Ollendorff drills not for a page or two, or three, or four, no. Try four hundred. The -ne is one of the most fiendishly difficult concepts in Italian, and Ollendorff understood this perfectly. He also understood how fiendishly difficult the related concepts were, for instance -gliene. There is no end to the drilling. There is no easy way out either. There is no follow-along-and-see-if-you-can-understand nonsense. Nope. These are all exercises in make-your-own-Italian. Glance at an English sentence, close your eyes, and make Italian out of it. (That's a lot of fun when the translation becomes "Il di Lei tintore ha già tinto il di Lei panno?") Yes, you can make a mistake, and you will, but you'll make that particular mistake only once. No fill-in-the-blanks. No written translation exercises. Those are all space fillers and time killers that other instructors utilize to give the illusion that they're teaching.
 Ollendorff and his unlicensed copy-cats would have none of that. There are other baffling concepts in Italian as well, and this book handles them with aplomb. For instance, questo means this and quello means that if asked in a question. Their definitions often flip-flop in the answer to that question, when questo comes to mean the latter while quello comes to mean the former. No other course prepared me for that, and I would have gone out of my mind without that explanation. 
No other course helped me through such sentences as "Non mi è d' uopo niente." After the other courses I would never in a hundred years have understood "Le son d' uopo questi coltelli?" or "Me li sono levati" or any similar sentence, no matter how much I would scramble through a dictionary. Ollendorff is the only course that answers my ancient question about when the infinitive takes a and when it takes da and when it takes di and when it takes per and when it doesn't take anything. 
Ollendorff is the only course that doesn't let you get away with anything, and it takes no shortcuts. Brilliant. Puts all the other courses to shame. Of course, there's the time involved. It can take hours and hours and hours to get through a five-page lesson. As the lessons proceed, it can take me a week to get through a five-page lesson. That's not because the lesson is difficult. We see an English sentence, close our eyes and say it in Italian. Of course, there can be nine different ways to say it in Italian, and we can never psychically guess which way Ollendorff chose for his Key. So the best thing to do is practice all nine different ways. 
Remember also not to get worried about verbatim translations. Oftentimes Ollendorff prefers free paraphrases! That'll sure throw you off-balance the first couple dozen times! Say each sentence, aloud, a dozen or more times, and by the time you've gotten to the end of the page you'll notice that three hours have gone by. 
Well, if it takes three hours to get through a page, then it takes three hours to get through a page. Don't rush it. That's so contrary to my nature, because I'm always eager to get to the end. Eagerness to get to the end, though, in a course like this, is counterproductive. Just let the page take three hours — or more. Resign yourself to it. You'll be happy that you did. Yes, there are charts, but they mostly appear after you've already used the constructions for several lessons. In this case the charts are helpful, because they allow you to review and to arrange your thoughts. 
The advantage of learning an obsolete version of the language, too, is that I can finally understand so many words and phrases and constructions that left me bewildered when I encountered them in the literature. 
Now I know what they mean, and why, and I truly think the two-hundred-year-old way of speaking was far more elegant and eloquent and expressive than the modern language of the streets. 
For instance, in English "she" and "he" are nearly extinct. That is why, in everyday discourse, we hear such phrases as "Me and him went to de shop." That makes my skin crawl. It makes me lose my temper. Yet even some of the best-educated writers use such constructions in everyday speech. Why? I want to kick them. I see, though, that what is currently happening in English has already happened in Italian. "Ella" and "egli" are extinct, replaced by "Lei" and "lui." "Eglino" and "elleno" are now both replaced by "loro." How confusing is that? Sheesh! I am quite sure I am the last surviving English speaker to use the subjunctive mood. Well, to my dismay, the subjunctive is extinct in current-day spoken Italian as well. How do people manage to express thoughts nowadays? The answer is simple: They don't. Will I be able to speak after completing this Ollendorff course? No. I predict I'll be able to read with confidence, though. As for speaking, well, for speaking I'd need to be plopped in the midst of a crowd of Italians who know not a single word of English. Pretty soon I'd be speaking.

 Should be done with this volume by early March. Then I'll read Foresti's chrestomathy and study a few rival courses. Joseph Louis Russo's First Year Italian and Second Year Italian look promising. Hossfeld's New Practical Method for Learning the Italian Languagelooks sufficiently challenging to hold my attention. Then I'll do this Ollendorff course all over again, as a review. 
By becoming a patron, you'll instantly unlock access to 1502 exclusive posts
By becoming a patron, you'll instantly unlock access to 1502 exclusive posts