British Pound Trend Forecast vs "Dead in a Ditch" BrExit Civil War General Election Chaos
Usually the primary driver for currency market trends tends to be economics and geopolitics, but for Britain the primary driver for sterling's trend has been BrExit CHAOS, where just when you thought things couldn't get any more chaotic the clowns in Westminster up the anti to a new level. The battle that has waged since the people of Britain voted by 52% to 48% to LEAVE the European Union has been one of a REMAIN establishment (70% of MP's) seeking every trick in the book to SUBVERT Brexit. That started the ball rolling with the selection of Remainer Theresa May who would turn out to be the worst Prime MInister in British history.
My consistent view since the triggering of Article 50 in March 2017 has been that the only way Britain can achieve victory of sorts in it's path out of an insidious European Union is for a CLEAN NO DEAL BREXIT. Instead the past two years have been one of politicians doing what they are expert at - LIEING, piling LIES on top of LIES, on top of even more LIES, all sowing the seeds for the rise of the far right, the likes serial opportunist Tommy "fake name" Robinson trying to capitalise on Brexit chaos. 
And just as did the expenses scandal before it, the failure to Brexit scandal once more illustrates that most British MP's are primarily focused on furthering their own careers rather than doing what's in the best interests of the British people which was to execute the result of the EU referendum in a competent manner, for which they have had over 2 years following the triggering of Article 50 to implement, where at the time I laid out what the British Government should do to execute a successful Brexit.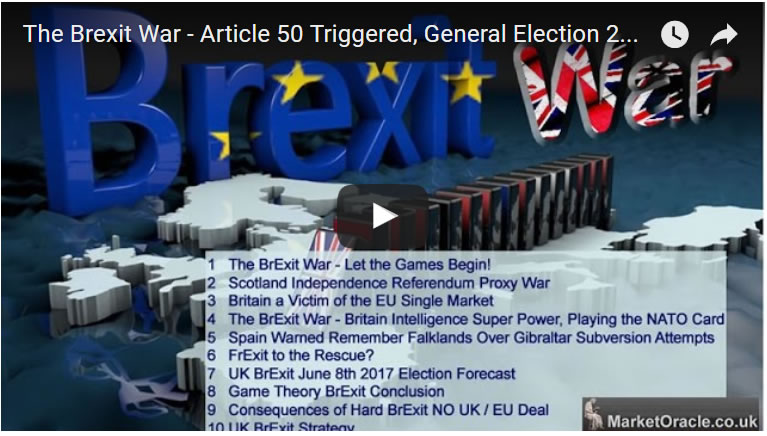 Britain in a Pre-Civil War State
Instead the remain establishment continues to deeply damage British democracy by deliberately subverting BrExit which as I have often warned has put Britain into a pre-civil war state, where the primary game being played is towards a fixed 2nd EU referendum that would ignite millions of angry LEAVE voters to march into the arms of right and left wing extremists, the likes of rump UKIP, and far worse who promise those who voted LEAVE the message of Britain being able to INSTANTLY LEAVE the EU.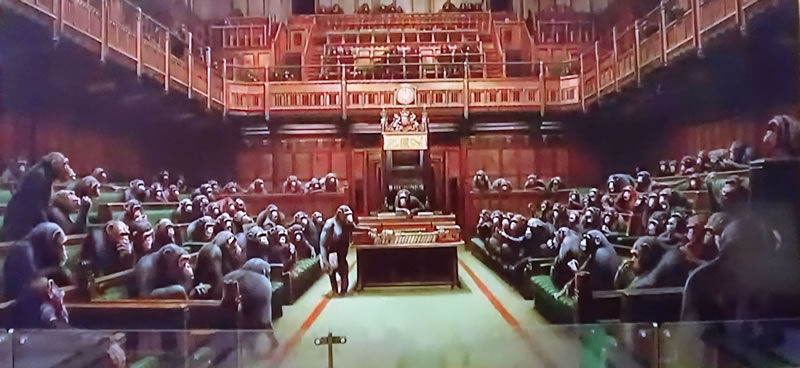 Thus the REMAIN Parliament has sown the seeds for the destruction of Parliaments authority where after the chaos of the past 3 year years as many as 10 million voters no longer recognise Parliaments authority after the subversion of their 2016 vote to LEAVE the EU, instead the remainer establishments primary objective is to engineer the holding of a blatantly FIXED second EU referendum that would open pandora's box as the result would NOT BE TRUSTED.
Boris Johnson a Crippled Prime Minister
Following the ejection from office of the worst Prime Minister in British History, finally a person who actually voted LEAVE took hold of the leadership of the Tory party and the keys to No10 as correctly forecast in my series of articles dating back to November 2018 which offered great betting market odds of as much as 6-1 to capitalise upon.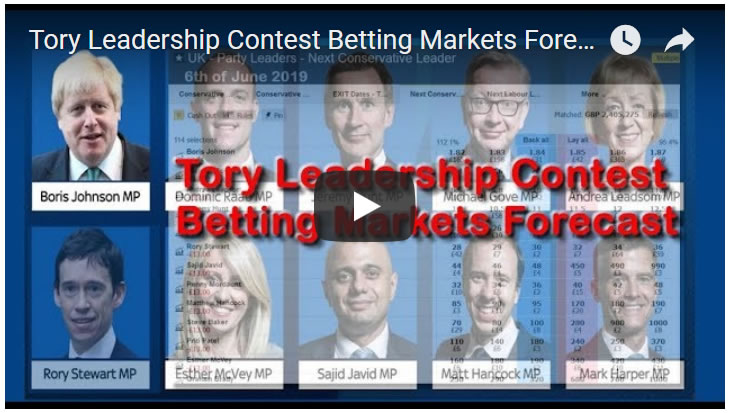 However, Britains ruling political, corporate, banking and media establishment immediately went into overdrive in attempts at crippling his premiership right from the outset. You only need to watch the likes of BBC and Channel 4 news for a few minutes to see the depth of propaganda that BJ is being subject to from perpetual ridicule, to twisting his words against him, to digging out stories from decades earlier, to prying into his private life with borderline illegal invasions of privacy bugging of his personal space. The establishment definitely have their knives out for Boris and remain determined to SUBVERT BREXIT!
Boris Johnson's "Do or Die, Dead in a Ditch" Brexit Strategy
Boris Johnson's strategy towards achieving an exit from the EU by the deadline of 31st October (extended from 29th March) is to prorogue Parliament for 5 weeks as of midnight 9th September, returning on the 14th of October in attempts at preventing the remain establishment from subverting the exit date of 31st of October.
However, this has galvanised the Remain establishment to erase Boris Johnson's meager majority of 1. That and 21 remain Tory MP's betrayed their party by voting against the government in last weeks vote to force Boris Johnson to go and beg the EU for another extension, likely for at least 3 months though the decision as to how long will be in the EU's hands.
In response to which Boris Johnson stated that he would "rather be found dead in a ditch" then seek a further extension to existing from the EU.
Boris Johnson's Plan B was to trigger an early General Election on the 15th of October on the assumption that the Tories would gain a few seats by offering Brexit certainty, that and purging the party of 30 or so Remainer Extremists, and given that Corbyn's Labour party has been permanently demanding a general election for the past 2 years would allow BJ to ensure Brexit happens by the 31st of October deadline.
However, to call an election, 2/3rds of MP's need to vote under the fixed term parliaments act. And now Labour after 2 years of crying wolf, has decided that they don't want an early general election anymore, fearing loss of MP's in their own vote LEAVE constituencies. Nevertheless a vote will be held on Monday seeking to trigger a general election which is likely to fail as the Labour party has chickened out of letting the people decide who governs them and thus the next general election looks set to take place after the 31st of October 2019
Furthermore REMAINER's in charge of Parliament are likely to pass a bill into law on Monday that demands BJ request an extension from the EU by the 19th of October, something that he is loath to do and thus the remain media establishment is peddling the line that BJ would be breaking the law and be at risk of being arrested and imprisoned should he fail to comply with the Remainer Establishment which illustrates just how CHAOTIC the situation in Westminister has become!
Therefore there will be a battle between the Government and Parliament to prevent an extension to the deadline. 
Current State of Westminster Chaos 
1. An election on the 15th of October, in fact before the 1st of November now looks highly unlikely.
2. BJ is being forced to write a letter to the EU requesting an extension of at least 3 months by the 19th of October, that he will seek to avoid doing.
3. Another Tory cabinet member Remainer Amber Rudd resigned on Saturday, further weakening BJ's government.
So the remain establishment is in the ascendancy and it is not clear that BJ is capable of counteracting this trend which suggests he could even resign before the end of October rather than be forced to be on his knees for another EU exit extension.
General Election 2019 - Opinion Polls
The latest opinion polls (for what they are worth) show the Tories gaining ground under Boris Johnson's clear cut do or die Brexit leadership, rising from 26% in July to 34% today, virtually all of the gains coming from the Brexit party which fell from 20% to 13%. Whilst the Labour party has stagnated on 24%.
Conservatives 34%
Labour 24%
Lib Dems 18%
Brexit Party 13%
Greens 5%
SNP 4%
UKIP - Dead
As things stand, the remainer parliament looks set to get crushed like a bug at the next election, where the only thing that can prevent the Tories from forming a majority government aided by Brexit party voters is if they ditch Boris Johnson and select a Theresa May mk II. So it is no wonder that the Labour party and Lib Dems are running scared of the electorate by trying to delay an election for as long as possible. Instead their primary objective is for a 2nd EU referendum that REMAIN would easily win because it would be FIXED as I explained why in this earlier video -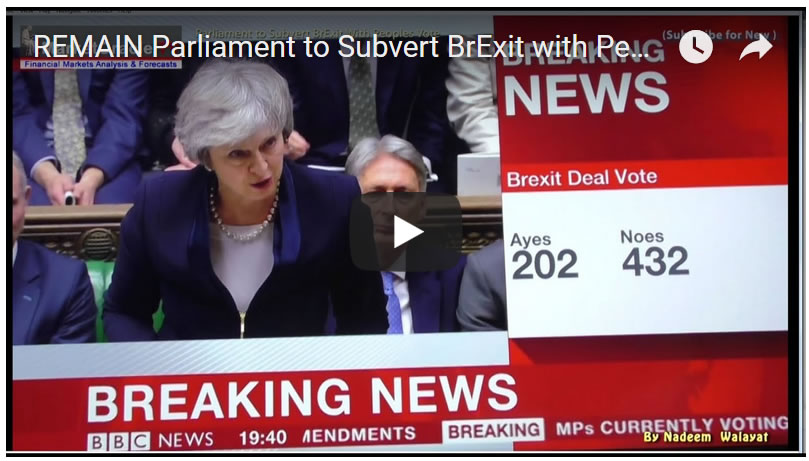 https://www.youtube.com/watch?v=YiIBc7qACxg
General Election Forecast
This is the current state of the parties, after Boris Johnson ejected 21 MP's from the Tory party last week.
Whilst it is a bit early to conclude in a definitive election forecast, nevertheless as highlighted earlier, I am expecting the Tories to GAIN seats at the next election under BJ, primarily against Labour and perhaps lose a few seats in strong remainer constituencies to the Lib Dems and SNP for a net gain of about 25 seats on the 2017 result which would deliver the Tories a working majority of about 20 seats to stand on around 335 MP's (preliminary forecast). 
Betfair Betting Market Odds
The current betfair market price favours an No overall majority outcome trading on 1.6. Whilst the price for a Tory Majority is 3.05 which would translate into a profit of £205 for every £100 bet. 
Given the level of political uncertainty, i.e. that BJ could be replaced! Then I would have preferred a little better pricing than currently on offer. Nevertheless it may be worth a nibble now and hope that Westminister Extreme Chaos delivers better odds over the coming weeks, though looking at the dogs dinner that is the Labour party then that hoped for better pricing may not materialise.
British Pound vs Brexit Chaos
The consensus view is that the market seeks a resolution to Brexit uncertainty of when or even if the UK would leave the EU. Which given current extreme chaos would suggest that the British Pound should be an death spiral of sorts.
(Charts courtesy of https://stockcharts.com/)
The Pound fell sharply following the announcement that Parliament would be suspended so as to enable a hard Brexit. However subsequent chaos of the Governments loss of control of Parliament with Remainer's taking control of business of the house has seen a sharp bounce in sterling which is contrary to what one would expect given extreme chaos and uncertainty.
Taking a look at the British Pound since Theresa May took office July 2016 against key Brexit events paints a different picture of what is driving the British Pound where the Brexit factor is concerned.
The message from the chart is that Sterling favours Britain REMAINING in the European Union and the further Britain is from that Objective then the weaker Sterling tends to be. So certainty or uncertainty of outcome does not matter as much as the direction of travel. For instance sterling entered into a mini bull market following Theresa May's disastrous June 2017 general election, as the result had crippled her chances of achieving a Brexit in anything other than name only. Likewise the Chaos of a paralysed May government since the publication of the EU Brexit deal in November 2018 with it's Northern Ireland backstab resulted in sterling rally from 1.26 to 1.32. Against which Brexiteer Boris Johnson taking control saw sterling fall from 1.27 to a low of 1.195 before Remainer's took control of Parliament.
Therefore for sterling strength there needs to be NO Brexit or a very weak Brexit. Whilst sterling weakness would accompany a Hard No Deal Brexit which is what the market had been pricing in since Johnson took office. However on the flip side the market has already priced in a NO deal brexit to some degree which is on par with the original drop of October 2017 on No deal fears.
In terms of the range of possibilities for sterling for the remainder of this year then GBP could range as high as 1.34 or as low as 1.10. And no one knows which is more likely given the state of extreme chaos in Westminster.
However, I am not going to just leave things at that, instead will seek to conclude in the most probable direction of travel for sterling over the coming months.
Political Implications 
An expected Tory general election win favours GBP strengthening as it delivers political certainty even if under BJ implies a hard Brexit outcome is more probable.
Fundamentals - GDP 
Extreme Brexit uncertainty is translating into business and economic uncertainty so it should not come as much surprise that the UK economy has slowed down against the recent trend of about +2% per annum. This year has seen growth slow to 0.5% for Q1, -0.2% for Q2, to currently stand on a weak +0.3% for the year that has had the remainer mainstream press collectively pronouncing that the UK economy is on the brink of a Brexit recession. 
Yes 0.3% is bad, and we may even get a technical recession i.e. two quarters of marginal negative growth. But I suspect that the UK economy will rebound strongly during the remainder of this year, especially if BJ enacts his recent end of austerity spending pledges of pumping upwards of £20 billion into the UK economy, where even the expectations of are enough to galvanise economic activity in anticipation of stimulus spending. So I don't expect a recession this year. Instead Q3 and Q4 should show increasing positive growth whilst 2021 depends on what happens to the global economy.
So just as the Q2 0.2% dip was accompanied with sterling weakness, so should a stronger economy over the next few months (Q3,Q4 data) be accompanied with sterling strength which implies GBP trading north of 1.30.
US Dollar Index Trend Analysis
A good technical starting point would be a quick look at the prospects for the US Dollar.
A quick take implies: 
a. The dollar is in a bull market, though in a shallow peak to peak uptrend.
b. Is at resistance of between 99 to 100.
c. Trading higher in a 4 cent trading range,.
Therefore implies to expect the US dollar to correct over the next month or so which is supports GBP strength over the next couple of months of about 4-5 cents so to around 1.27. Beyond which dollar trend strength could bring GBP down off its high by about 5 cents so to the low 1.20's.
GBP Long-term Trend
What stands out from the long-term chart is that GBP has been in a downtrend for many years, a good 20 years in fact for I recall sterling trading at over £/$ 2.0 a few years earlier than this graph. So whilst the clueless mainstream press have been crowing since 23rd of June of how the Pound has collapsed following Brexit. What they fail to understand is that Pound would have fallen regardless of the results of the 23rd June 2016 referendum because it's in a bear market.
All that the rally in run up to the referendum was is a counter rally in a bear market. How low would the British Pound have fallen if the UK had voted to REMAIN? Well to at least to 1.30. So maybe not as low as recent sub 1.20 levels 20 but 1.30 was still doable in GBP's long-term bear market.
The second thing that stands out is that after sterling breaks to new lows it then tends to settle into a multi-year trading range as was the case from 2009 to 2015, a 25 cent trading range of between 1.675 and 1.42.5. 
The current range is for an approx 30 cent trading range from 1.15 to 1.44. This suggests that the downside is limited to around 1.15 with probability current price action resolving in a bull run higher towards the upper end of the trading range resistance area of 1.37.5 to 1.44 with key resistance on the way at 1.33.
GBP Trend Analysis
GBP is in a downtrend off of the 1.33.5 high. Most recent price action saw a bounce off of support at 1.20. Which given the spike nature of the 2016 1.15 low then could hold. However Westminister chaos induced volatility is high which means on a short-term basis sterling could revert to trending lower, as GBP was / is over sold so was due a technical bounce. So the most recent move higher could just be that and nothing to do with Westminister Brexit chaos.
Support is at 1.20, Resistance is at 1.28, then 1.30 and 1.33. Further is 1.37 and 143.
Formulating a forecast conclusion.
Contrary to the doom and gloom in the press of seeing £/$1.10 or lower. Instead this analysis is painting an overall bullish picture for sterling over the next few months i.e. into late November. Whilst GBP trend during December is harder to determine due USD dynamics.
So GBP should have already or be very near to making a bottom at around 1.20 for a bull run higher. How high? First stop would be 1.28, then 1.30, 132, 133.5 which would likely prove a significant hurdle to overcome, though a break above would likely propel sterling to over 1.40.
GBP Forecast Conclusion
Therefore my forecast conclusion is for sterling to target a trend to at least £/$ 1.32 by late November 2019. 
On face value this does not bode well for Boris Johnson's "do or die", "dead in a ditch" Brexit. as sterling has a tendency to favour REMAINING in the EU. However, sterling rallying could also be implying that the markets will discount a Tory majority government at the next general election and given trend expectations into late November then that is the most likely time for when the next general election will be held.
Scheduled Analysis
Bitcoin Update
UK Housing market series
Stock Market Trend Forecast Sept to Dec 
Machine Intelligence Investing stocks sub sector analysis
US Dollar Index
NASDAQ
EuroDollar Futures
EUR/RUB
Recent Analysis includes: 
Your Analyst
Nadeem Walayat 
Copyright © 2005-2019 Marketoracle.co.uk (Market Oracle Ltd). All rights reserved.
Disclaimer: The above is a matter of opinion provided for general information purposes only and is not intended as investment advice. Information and analysis above are derived from sources and utilising methods believed to be reliable, but we cannot accept responsibility for any trading losses you may incur as a result of this analysis. Individuals should consult with their personal financial advisors before engaging in any trading activities.
By becoming a patron, you'll instantly unlock access to 57 exclusive posts
By becoming a patron, you'll instantly unlock access to 57 exclusive posts