I've ridden every train in the Amtrak North American system. I've sat in midnight commuters whistling through the rust belt, and watched sunsets and waterfalls on double deckers as we lumbered over the rockies. I've watched city after city pass on quiet electric trains through the east coast and felt the sun on my face in high-speed cars heading down the California coastline. But up until last September, one train eluded me: the Cascades.
It runs from Eugene, Oregon to Vancouver, Canada. I was going to Vancouver for a short trip, and was blown away by the modernity of this train. Trains in the US are a far cry from Asia and Europe's. Like, I remember, just five years ago, being surprised to find an outlet at my seat on my overnight ride from Chicago to DC. Whether or not I could charge my phone, I've sat in Amtrak's well-worn seats and looked through streaked windows, blissfully, at the landscape. I did the same here on the Cascades, but the seats were new and firm. Outlets were everywhere. The windows were spotless.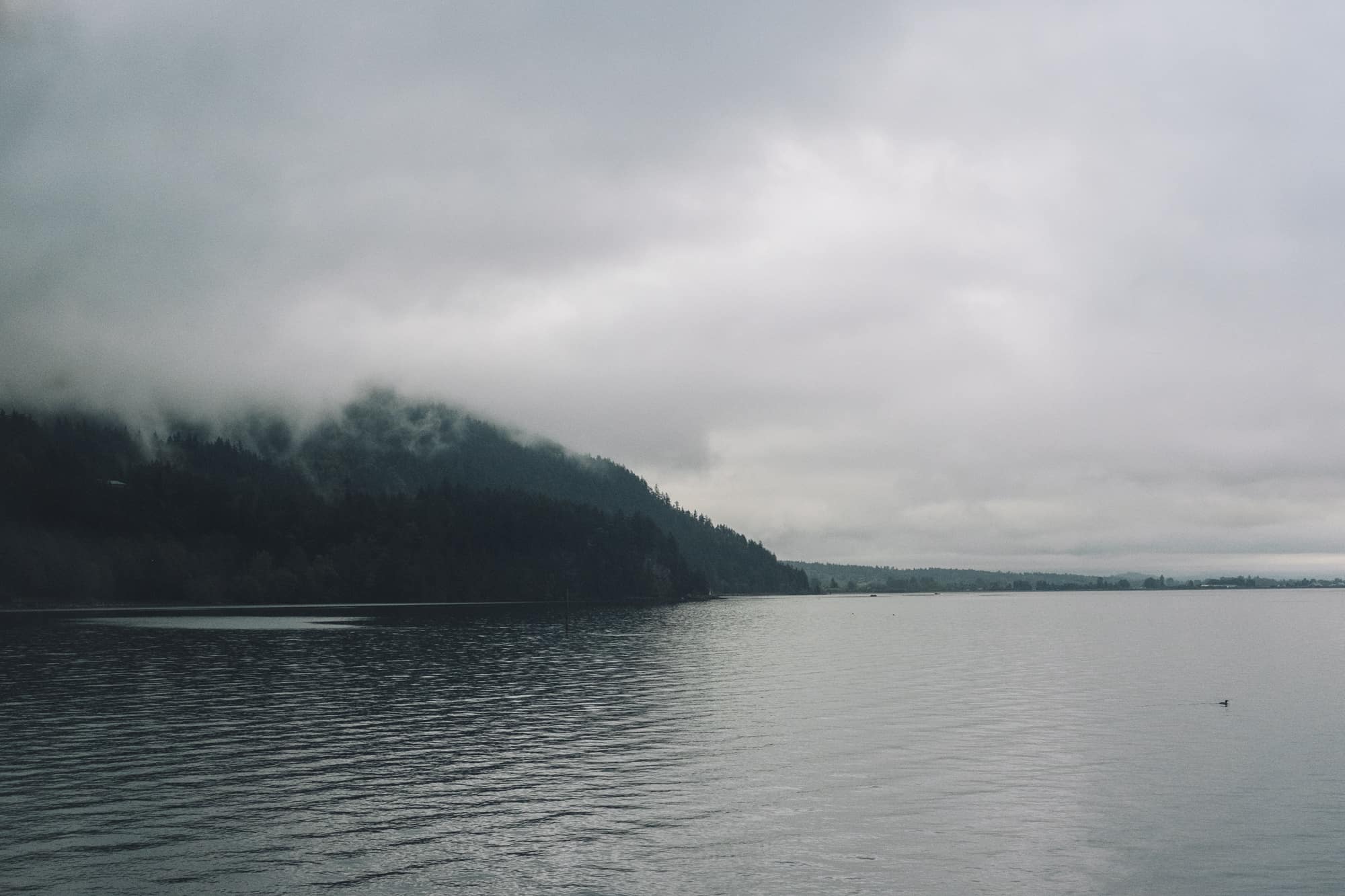 The pacific northwest had dressed up in its finest slate for my trip north. We rode the shorelines of bays and sounds whose water rippled out to meet the mountainous islands on the horizon. Fishing boats of all sizes sat out on the grey water. We'd cut inland and pass timber-framed towns then the farms and logging operations that supported them, the green of the landscape fading alongside the evening light.
We crossed the border in darkness. I barely finished downloading maps of Vancouver's Provincial Forests before my cell service disappeared. I filled out my customs form, ignoring all the violations that were likely buried in my backpack. It was after 11pm when I walked through customs and out into downtown Vancouver. The station's currency exchange was closed. I walked to a subway station to buy a transit pass, but my credit card got declined. Then my debit card. My phone still had no signal.
It was raining now. I only needed to take one bus to get to where I'd planned to camp: a quiet neighborhood I scouted online, at the end of the bus route. The trailhead for tomorrow's hike just a half mile away. I saw a discarded transit pass on the ground. Expired of course, but then the bus pulled up. I held onto the pass and got on the bus, said hi to the driver, and got ready to gamble on how the rest of this night would turn out.
---
Brent Knepper released this post 2 days early for patrons.   Become a patron