Christmas Special Commentary!
Coming your way (finally) by popular demand is Fanboy Commentary for the Christmas Special! And maybe the Ewok movie, if we can stomach that much cringe in one day.
We'll be recording before the Patreon call this Sunday. We won't be able to live stream the dang thing, but you better get ready for some of the most absurd commentary you'll ever hear!
Pledge $0 or more per month
Everyone
Pledge $0.01 or more per month
Patrons Only
Buy us a Beer
$5 or more per month

∙ 17 patrons
Help us continue the beer review amazingness by donating the equivalent of ONE BEER per month.
Submit your deepest, darkest desires for our weekly Q&A episodes (only patrons get to submit questions)
Join your hosts and all other patrons on the weekly Patreon group call - which becomes a podcast episode!
Access to a private Patreon-only podcast feed with bonus episodes
All previous tier rewards
Buy us a Six Pack
$10 or more per month

∙ 8 patrons
Give us more of the money and we will give you more of the things.
Entry into our monthly giveaway! (Drawn at random from all patrons in this tier and higher)
Constant confusion as you question your financial decisions
All previous tier rewards
Buy us a Case
$25 or more per month

∙ 0 patrons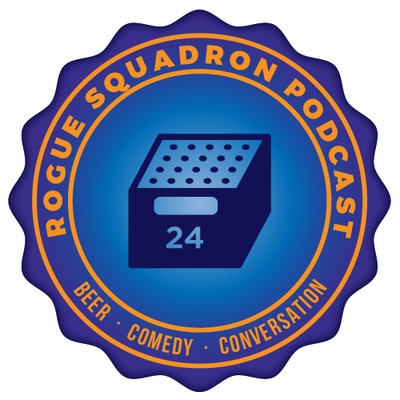 Such dollars you give us. Reciprocate, we will, with stolen Star Wars merchandise.
Monthly Squadron Boxes with a random assortment of notes, stickers, toys, & miscellaneous bull shit
A monthly feeling of horror as we slowly sap your bank account
All previous tier rewards
Buy us a Keg
$50 or more per month

∙ 0 patrons
Ok this is getting out of hand; this is way too much money just to listen to us drink beer.
Receive a free RSP shirt of your choice
15% discount on ALL Squadron merch
Shame & humiliation as your entire life savings is wired to us
All previous tier rewards
Quiff hair to Jessus
$100 or more per month

∙ 0 patrons
Help donate extra hair product for Commander because Anakin knows he needs as much as he can get his hands on.
Absolutely no reward for you at all
No previous tier rewards either
Mopar's Math Tutoring & English Homework Help
$250 or more per month

∙ 0 patrons
Having trouble finishing your homework? Donate your soul to us and Mopar will cuss you out while doing all your homework. We can't guarantee that you'll pass, but at least you won't have to do any work yourself.
Brand new Five-Star college-ruled notebook
The ancient Jedi texts
All previous tier rewards
This reward is certainly not clickbait
$1,000 or more per month

∙ 0 of 1 patrons
We will come to your city, buy you tons of beer, and record a podcast episode with you! That's right, you get to be a guest on the show. You're basically Drew Karpyshyn now.
RSP vacation in your city + podcast episode extravaganza
Standard IPAs
Bad decisions
Bankruptcy
Ultimate nerd fame & glory
All previous tier rewards