The Comedy Button: Episode 338
We've got some hot takes on Hot Topic, Brian cherishes his final pre-fatherhood moments, and we debate which cereal mascots are the most bangable. Starring Brian Altano, Scott Bromley, and Max Scoville.
Pledge $0 or more per month
Everyone
Pledge $0.01 or more per month
Patrons Only
The Treehouse of Trust
$1 or more per month

∙ 2369 patrons
You get a special, full-length ad-free Patreon-exclusive bonus podcast every single month, and your name will be enshrined in the Special Thanks area of our website. You are helping us make our stupid show, and that's awesome.
The Comedy Button Plus
$5 or more per month

∙ 1268 patrons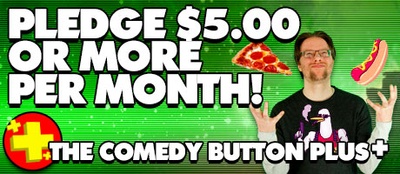 Full access to our archive of bonus episodes, deleted content from each episode, and the whole library of movie commentaries. PLUS: every episode of the regular podcast a day early (and ad-free!), access to all new audio or video content that we create, and a monthly Q&A thread where you can ask us questions to answer on the show.
The Comedy Button Live
$25 or more per month

∙ 17 patrons
You're invited to a monthly Google Hangout with the Comedy Button cast! Chat with us live on video about... well, whatever you guys want! We'll give you advance notice, but these are usually on weekends (occasionally weeknights) and we're in the Pacific time zone.
Executive Producer
$100 or more per month

∙ 5 patrons
You get a shout-out at the end of every episode produced while you back us at this tier, as well a written credit on our site. You are helping fund The Comedy Button in a large and meaningful way, and we sincerely appreciate it. But also: Hollywood! Big time! Rock and roll! Let's go throw champagne bottles from our private helicopter!