Coronavirus Parabolic Pandemic, Bitcoin Price Trend Forecast
Coronavirus Infections Outside China Going Parabolic 
The latest official infections data, which despite a proper record of Africa and the South Central America's numbers has the number of infected literally going parabolic, soaring by over 1735 overnight to 10,298 to well above my trend forecast that projects to an official tally of 129,250 infections outside China by the end of March 2020.
Were this trend to continue into the end of March 2020 then the number of infected outside of China would total 245,000, which would not bode well for what was to come for April and May 2020. Whilst the number of deaths could be estimated to be at least 15,718 based on a case fatality rate of 0.64% as per the conclusion of my analysis of 21st Feb.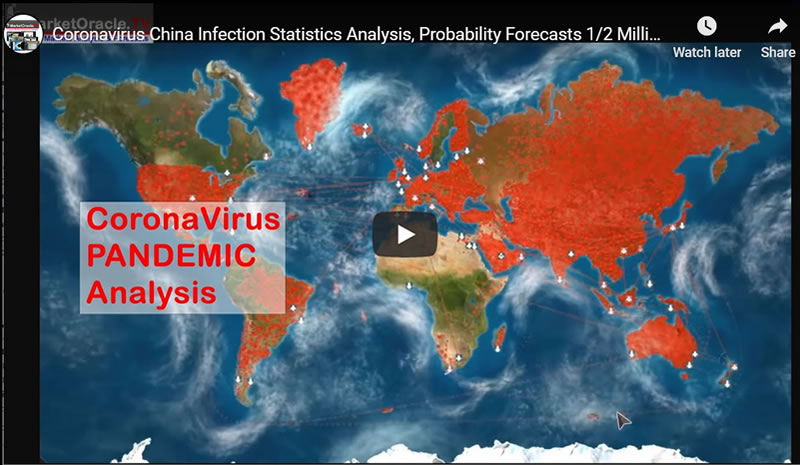 UK Coronavirus Infected Numbers Going Parabolic - Day 35 Update
The total number of infections recorded in the UK has now started to increase on a daily basis, which now include community spread that is unable to be tracked back to one of the growing outbreak hot spots across the world i.e. people who have brought the virus into the UK from China, South Korea or Italy which currently are the main transmission points for the virus.
Also I observed puzzling BBC and Channel 4 news reporting today on the case fatality rate of 3.5% only being twice as deadly as the regular flu! When 3.5% is 90 times as deadly as the flu! So it looks like the UK Government has instructed the mainstream broadcast media to start preparing the general population for a lot of Coronavirus deaths! And thus to start peddling propaganda that it is only twice as deadly as the flu! Which I will include the footage of in future videos.
The fact that the UK only has 51 cases does not alter the fact that the UK is in the calm before the coronavirus storm stage as my forecast of 14th Feb 2020 concluded in the number infected to trend to 5000 by the end of March resulting in some 90 deaths which would represent a huge parabolic increase from the current tally of 51 infected. 
However, my analysis of what is happening in South Korea illustrates that community spread outbreaks tend to be explosive, soon jumping from 1 to 1000 infected in a matter of days, which is the likely pattern to expect in the UK, that I am sure will prompt emergency even a panic response such as cancellation of virtually all public events, schools, universities and colleges being closed, and infected hot spots being quarantined, all likely to start taking place by Mid March as I first warned to expect to happen several weeks ago. And where Britain's schools could remain closed until September!
US Coronavirus Infections About to Go Parabolic - Day 42 Update
Apparently the CDC has been sending out Coronavirus test kits that don't work! So how many hundreds of infected have been roaming US streets infecting fellow citizens because the CDC is incompetent. it looks like the CDC wants to 'control' media attention on the Coronavirus than actually do their job in preventing outbreaks, much as the WHO have been shown to be little more than media whores rather do anything proactive in preventing outbreaks, an example of which is failure to halt all flight from China! That they should have done in January!.
My US trend forecast is for 13,000 infected by the end of March resulting in about 180 deaths. Though the actual number may turn out to be significantly higher because I see little sign that the US is taking the Coronavirus seriously enough, where many are still shrugging it off as being not that much worse than the flu. Instead it is at least 15 times as deadly as the flu, and depending on quality of healthcare can be 100 times as deadly!
The bottom line is that most western nations are still in the calm before the coronavirus storm stage where outbreaks could spread at nearer to r0 5.0 rather than oft mentioned r0 2.6, at least for the first 4 or 5 days of an outbreak, which means the UK and US having only 50 managed cases each is nothing to get complacent about for there WILL be outbreaks that will be just as bad as in South Korea and Italy, it is only a matter of time that should not be wasted but rather utilised to prepare for, especially given the fact that the likes of Britain's NHS has only spare capacity for 400 critically ill patients that could number 1000 by the end of March alone, let alone be able to cope with what looks increasingly likely for April and May. And worse still most of the beds by then will likely be occupied by infected HEALTH care workers, as they are most at risk of becoming infected. So the general public stands a hope in hells chance of getting treated for Coronavirus once the epidemic gets going by Mid March.
Implications for the stock market
Is the stock market fully discounting the parabolic Coronavirus Infections trend and economic consequences thereof ?
In my opinion NO. Whilst the UK appears to be finally waking up in terms of 'promised' government actions to counter the looming threat of the Coronavirus. Unfortunately what I see in the US resembles a nation in large part that is in a state of denial! There was a time when I was expecting western nations to do a much better job of controlling Coronavirus outbreaks than China. However, now from what I see I think the US looks set to take a bigger hit both in terms of infections and economic consequences than China has! It's like watching the titanic sailing towards an ice berg!
I could be wrong and things could quickly change, after all the West has had a good months advance warning of what to expect! So should be better prepared. Instead what I am seeing is NOT GOOD ENOUGH! NOWHERE NEAR! A mixture of half measures and serious mistakes that this virus will NOT forgive!
So is the stock market discounting what is to come? NO, NOWHERE NEAR! Whilst I will cover the prospects for the stock market in my next analysis as the focus of this analysis is the prospects for the Bitcoin price. However, I do not see any signs for an imminent end to the Coronavirus bear market, in stead it looks like it could run on for several months, i.e. it's increasingly looking like it could be May before we see the bottom!
Bitcoin Price Trend Forecast
It's about 6 months since I last looked at Bitcoin because as it's not a market that I trade or invest in, in fact I consider it a gamblers market which is born out by it's volatile price action, lack of volume on exchanges where many tend to report dubious trading volumes, a market that is subject to the whims of threats of regulation and even actions to ban trading in crypto's altogether, with the list of crypto ban countries expanding every few weeks that includes the likes of China, Russia and India etc.
And then investors run the risk of their bitcoins holdings being stolen as exchanges disappear over night taking investor holdings with them. That's if investors don't lose their holdings all by themselves either through corruption of wallets or cyber crime such as phishing.
So Bitcoin is not a currency or investment, instead trading in Bitcoins is gambling and worse for the ever expanding list of alternative crypto's. Nevertheless, here is my analysis that seeks to conclude in a probable trend forecast for the Bitcoin price.
My last analysis on the 17th September 2020 concluded that after a probable correction into late November that the Bitcoin price should enter into a bull market targeting a trend to first $12k and then $14k. 
17th Sept 2020 - Bitcoin Price Analysis and Trend Forecast  
Forecast Conclusion
Therefore my forecast conclusion is for the Bitcoin price to hold support at $9,400 in preparations for an assault on $12k, a break of which would target a break of $14k. However if support at $9.4k fails than Bitcoin could trade down as low as $6k BEFORE heading higher.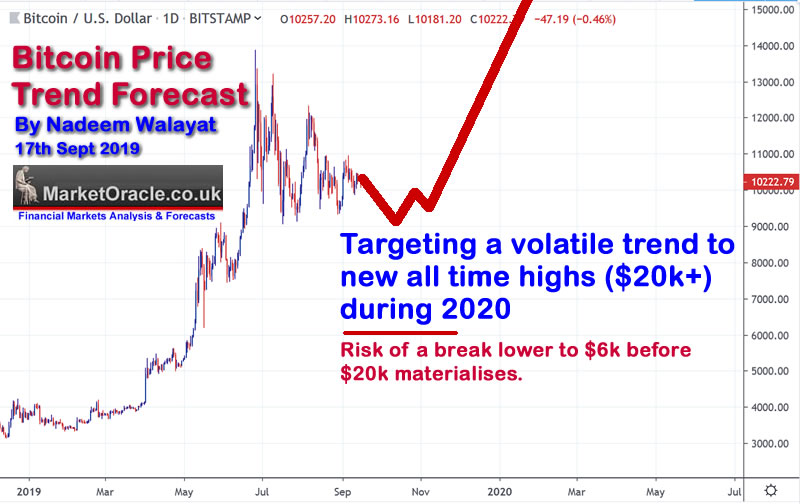 Subsequently the bitcoin price did enter into a correction into late November before bottoming and entering into a bull market to the recent Mid February high of $10,500 before the current down trend. to just under $9000.
Bitcoin - Long-term Trend Analysis
The bitcoin price peaked in December 2017 at $19,666 following which entered into a severe bear market which bottomed at $3000 in December 2018 resulting in a rally to $13,900 by late June 2019. The resulting peaks and troughs have resolved into a wide converging trendline within which the Bitcoin price could trade for several years. The triangles current resistance is at $10,900 and support at $5000.
Chart support is at $6000 and resistance at $10,500 and than $12,000.
The overall impression from the long-term chart is that the Bitcoin price does appear to want to go higher, pending a breakout beyond the converging trendline. Whilst failures to breakout higher would likely target a trend to $6,000 before the eventual break out higher.
Trend Analysis 
The Bitcoin price rallied to resistance at $10,500 and corrected hard to where it currently stands at $8,900.
Resistance is at 13900, 13100, 12000 and 11000 and $10,500, $9000. Support is at 7600 and 6000.
The current correction failed to hold at $9000, thus implies could correct down to $7,600.
Elliott Wave - The EW count remains little changed from my last analysis and continues to look bullish i.e. implies this is a Wave 2 correction that 'should' resolve in a Wave 3 trend to above $10,500.
Formulating a Trend Forecast 
The Bitcoin price has retreated from hitting resistance at $10,500. It would have been better to have corrected from a little higher level of say $11,000 as that would more likely imply a continuation of the bull trend higher. Nevertheless the current price action 'looks' corrective. 
Another negative is that the bitcoin price failed to hold $9000 that implies that the Bitcoin price could trade down to the next support level of $7,600.
Elliott wave theory is definitely bullish but on its own it's not going to be more reliable than a coin toss. 
So the key issues here are- 
1. The bull run terminated before breaking above resistance.
2. The subsequent decline failed to hold support at $9,000.
Forecast Conclusion
My forecast conclusion is for the Bitcoin price to mark time by trading down to as low as $7,500 before basing for a run higher to resistance of $10,500 that 'should' break to propel the Bitcoin price towards the next resistance level of $12,000. Thus the bitcoin price could drift lower for the next couple of months or so before resuming a bullish trend as illustrated by this chart.
My next analysis will likely be on stock market.
Your Vitamins D, C, B3 and E popping analyst.
By Nadeem Walayat 
Copyright © 2005-2020 Marketoracle.co.uk (Market Oracle Ltd). All rights reserved.
Disclaimer: The above is a matter of opinion provided for general information purposes only and is not intended as investment advice. Information and analysis above are derived from sources and utilising methods believed to be reliable, but we cannot accept responsibility for any trading losses you may incur as a result of this analysis. Individuals should consult with their personal financial advisors before engaging in any trading activities.
---
Nadeem Walayat released this post 27 days early for patrons. Become a patron
By becoming a patron, you'll instantly unlock access to 58 exclusive posts
By becoming a patron, you'll instantly unlock access to 58 exclusive posts