So tomorrow (Sunday) I will do a Cosplay stream! <br>I did a poll on Twitter asking what you'd like to see me cosplay as tomorrow whilst playing Overwatch! 💖💖💖 Pretty hyped about it because I got a new mic so my voice won't be so silent 😂<br><br>
Twitter.com/pixie_late
<br><br><br>See you tomorrow lovelies!<br><br>xoxo<br>Pixie
Pledge $0 or more per month
Everyone
Pledge $0.01 or more per month
Patrons Only
Thanks for the Love!
Thank you for supporting my work! You get to see some updates on progress with this tier. Every little helps!
BRONZE PIXIE
♥ Access to all my Patreon wall posts!
♥ Exclusive Behind the Scenes Content
♥ Participate on voting for my next cosplays and polls!
♥ Yearly Cosplay Care Package (Once you've been around long enough I'll send you some prints!)


SILVER PIXIE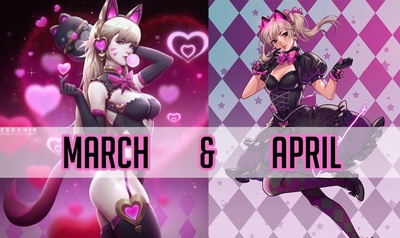 ♥ All previous tiers rewards
♥ Access to all Patreon wall Posts!
♥ Exclusive Downloadable Photo Sets
♥ Monthly High Quality 8"x10" Cosplay Prints!
♥ Twice a year Cosplay Care Package (which includes exclusive crafts, polaroids, prints!)

GOLD PIXIE
♥
Access to all Patreon Posts
♥ Behind the Scenes and Progress content!
♥ BTS and Exclusive Cosplay Video Clip of the month!
♥ Exclusive PHOTO SETS downloads!
♥ Hand written letter
♥ x3 Large (8"x10") COSPLAY PRINTS! Signed by me!
♥ Signed Cosplay POLAROID! (Once every three months)
♥ Once you've been around for a while, I will give you a personalised surprise gift in your care package! It will be handpicked by me with a geeky craft or drawing from me or my shop!

PLATINUM ACCESS
So this tier is for NEW PATRONS who wants to access previous  sets they have missed!
You can then downgrade to GOLD once  you've caught up with all the previous cosplays you want!
♥
This tier enables you to PICK three previous  prints and their download sets! 
♥ Three Previous Cosplay Sets by messaging me personally so I can arrange which Cosplay Sets you want.
♥ You will get a total of 9 High Quality Cosplay Prints (8x10 Prints!)
♥ One Kitty Fansign from me! You can ask what you want written on it!
♥ Hand written letter
♥ All the downloadable sets from the chosen cosplays!
♥ Access to everything else like Behind the Scenes and all Patreon posts.