Craft Beer Bar iBrew Shimbashi in Shimbashi, Tokyo
Sorry for not doing this sooner but been a bit busy with some behind the scenes stuff.
If you like cheap craft beer, and who doesn't, then Craft Beer iBrew Shimbashi doesn't stray from the successful formula that has worked so well for the other two places. In fact, with this branch opening at 13:00 and with Shinshu Osake Mura a stone's throw, you've got the makings of a potential bar crawl. Craft Beer iBrew Shimbashi is completely non-smoking, has no table charge, and all prices include tax. While the tap list may be quite staid for some people, the menu does include some English for the beer titles. The food does leave a lot to be desired so make sure you do eat before hand.

After two successful bars - the original Craft Beer Bar iBrew and the second Craft Beer Bar iBrew Wired, Craft Beer Bar iBrew Shimbashi opened up in October 2017 on the east side of Shimbashi station - in the same building as one of our favourite places - Shinshu Osake Mura. A new location had been on the cards for a while now with the two original locations proving to be so popular that they have to turn away people - perhaps due to the bars being two of the cheapest places to get craft beer in Tokyo.
Craft Beer Bar iBrew Shimbashi doesn't stray at all from the formula either. It's located less than two minutes walk from the JR station as well as the Yurikamome line, and is styled like the original places - cramped with no room to really stretch out. Thankfully the whole place is non-smoking - well the whole building the bar is located in is non-smoking - and there is no table charge either. There's space for about 20 people at tables, another 10 at the counter, and some standing room as well - but you are going to be packed in there so if you have to stand, make sure you stand in the alleyway.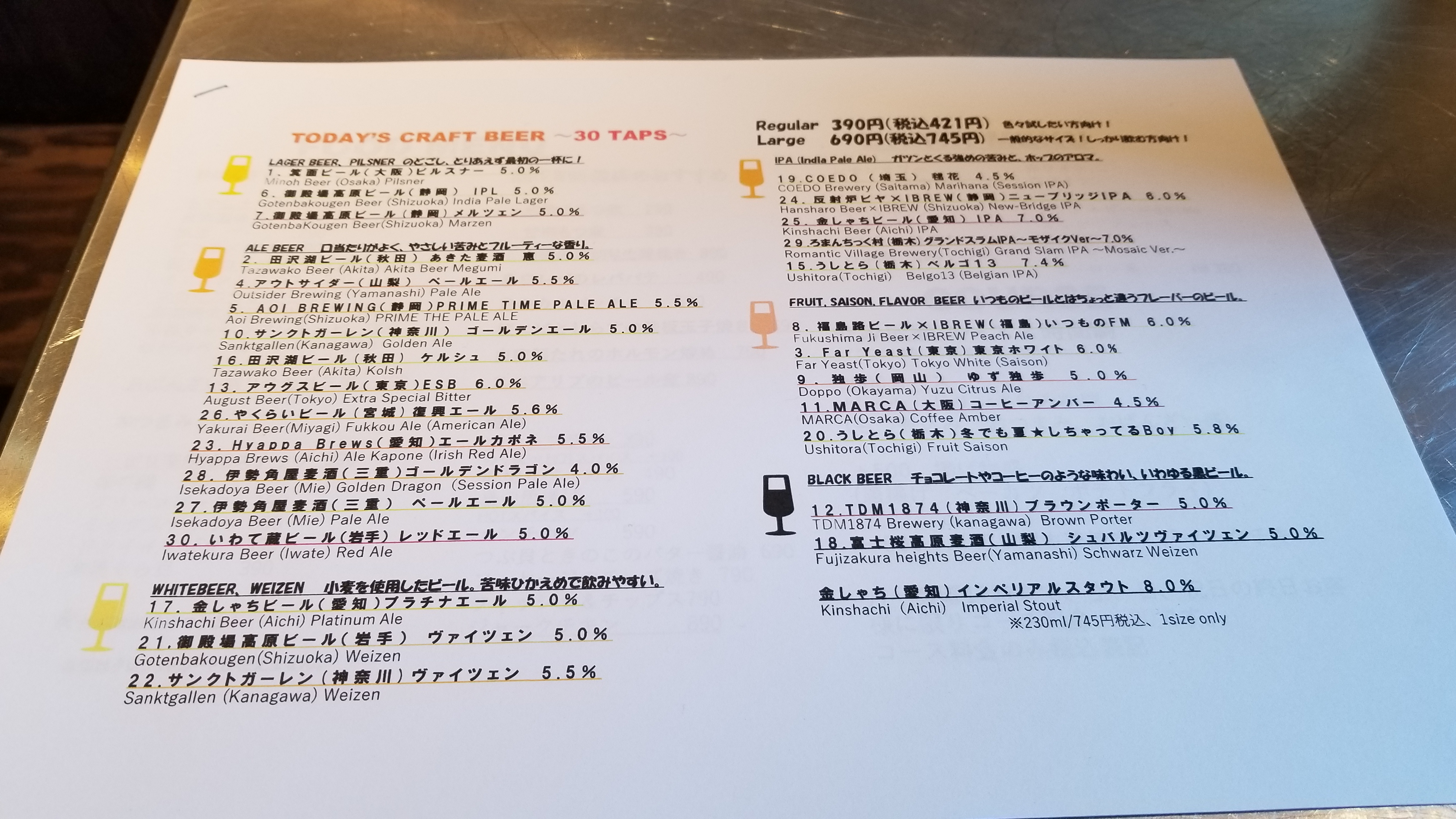 Craft Beer Bar iBrew Shimbashi has the largest selection of taps of all three iBrews, with anywhere between 25 - 35 beers on tap at any one time. The majority, it not all, the beers are domestic and they regularly post on their Facebook page the tap lists. Beers come in two sizes: medium, about 220ml, are ¥421 which includes tax, and large glasses, about 450ml, are ¥745 which also includes tax - so the same as the other two bars. However, there is no happy hour nor any beer flights but at these prices you can't really complain about it.
---
BeerTengoku released this post 21 days early for patrons.   Become a patron
Become a patron to
Unlock 244 exclusive posts
Connect via private message