At age 11, my dream was to be a talk radio host.
And I was. For more than 20 years. My career spanned top name networks and Top 10 Markets around the Nation.
I got to live the dream.
But now my dream has been re-envisioned.
I realize what I've always dreamed of doing is creating compelling and relevant and enjoyable content for YOU...
YOU the listener and supporter, not a radio boss or corporation.
Patreon allows me to do just that, and possibly make a living again from what I love to do most. 
Only THIS time, I'm creating exclusively for YOU.
If you've ever listened to my radio shows in the past or even if you are brand new to my news and views and philosophies, I urge you to show your support TODAY.
For as little as a buck a month, you will ensure access to my Podcast and Adventures for YEARS AND YEARS to come.
Thanks to all who have joined already and to all those just joining today.
I appreciate each and every one of you more than you can know! 
Pledge $0 or more per month
Everyone
Pledge $0.01 or more per month
Patrons Only
The Spencer Hughes Pal
A daily audio podcast, 7 days a week!
The occasional video segment "Ask Spencer's Views" in which you can message me a question about anything (politics, pop culture, paranormal, spirituality, philosophy) and I may answer YOUR question on this segment for all our fellow Patrons to see!
The Spencer Hughes Buddy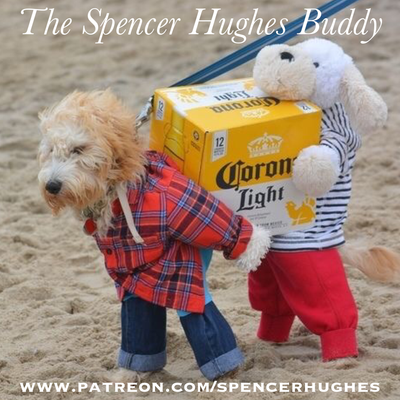 Two daily audio podcasts, 7 days a week!
The Spencer Hughes Friend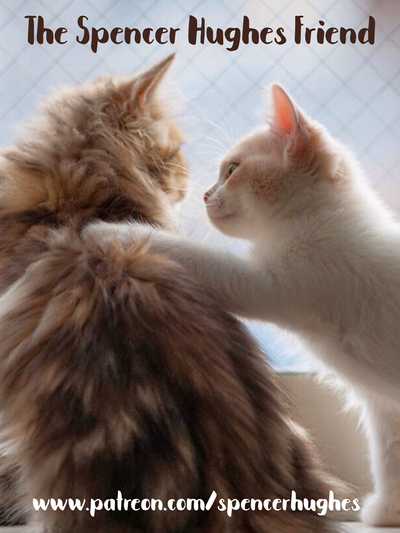 Two daily audio podcasts, 7 days a week!
One daily video, 7 days a week!
"Talk From The Trees" is a relaxing and inspiring video segment shot in our own personal forest. Topics are meditative and introspective in nature and it quickly became one of my most popular features!
The Spencer Hughes Best Friend Forever
Hours of bonus content per month, including podcasts not available at lower tiers. 
SPENCER TV! 15 minute "newscasts" and my unadulterated take on the days top stories.
The "Fear Cam" segment where I face my fears, honestly and sometimes reluctantly.
Classic radio segments from the archives!
Plus all lower tier rewards!
The Spencer Hughes Adventurer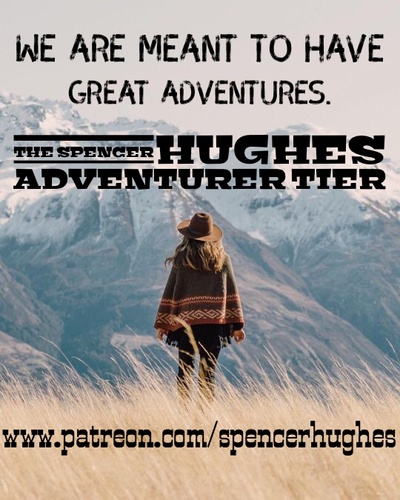 Studio Spencer: Longer form video segments that have me in the studio chatting about all sorts of topics.
Video excursions and backroads adventures and travels.
Bonus content daily.
All lower tier rewards!
The Spencer Hughes House Guest
Only the most personal videos are reserved for The Spencer Hughes House Guest. Family stuff, personal videos, adventures, and more.  
A personal phone call a month from me to check in and say hi and get your feedback and ideas!
Sarah giving telemarketers a run for their money!! Classic phone calls!!
Gingy's Thoughts...Our youngest shares her thoughts on a variety of subjects and topics.
Plus all lower tier rewards!
The Spencer Hughes Golden Child and Sponsor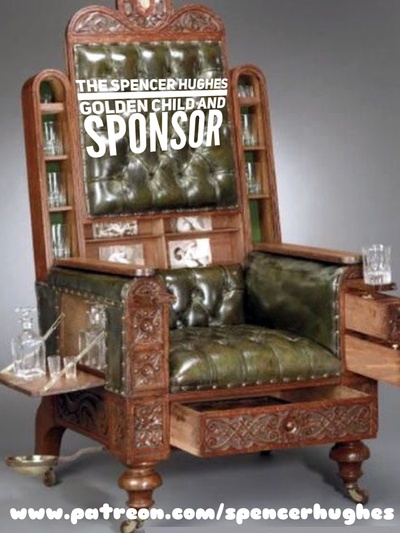 A sponsorship on my podcasts, with a personal mention of your company, product, book, blog, website, or anything else you want people to discover. You will be mentioned in my Podcasts, videos, and social media as well! My sponsorships have been very successful for clients spanning the course of 25 years.Get yourself some extra exposure! 
Of course, all the lower tier rewards, too!