The Crew (Beta): First Impressions and Thoughts By Jason Heine
Roll with me as I discuss my first impressions and thoughts on The Crew (Beta). This is easily one of my most anticipated games of all time!
Pledge $0 or more per month
Everyone
Pledge $0.01 or more per month
Patrons Only
The Big Thanks!
Give as little or as much as you like. Any amount you can pledge is greatly appreciated!
Pledge what you feel my content is worth, and within your means. This tier is equivalant to a virtual tip.
Patreon only updates will be posted for you to view.
The Heine House Party Pack!
 Everything in the Thank You Tier, plus...
1 free drum cover performance song request per live drum session (send us a PM on Twitch during the show to request a song).
Access to the Patreon only Discord voice and text server!
Exclusive " Sauce Bearers " Role in the Twitch server with Color badge in the public Twitch Discord server!
Exclusive "Sauce Bearers" role in the Patreon only Discord server with color badge!
Early access to all new uploaded YouTube videos (at least 1 day) You will see them a day early!
ALL of my music productions past and future FREE! (video game, personal album, OST and remix albums Music files will be available to you after your first successful months pledge)
Special $20+ only VLOGS  showcasing in depth behind the scenes, ideas, concepts and other content. 
Access to pre release music, demos and recording session videos! 
If you choose too, We will exchange contact info on STEAM, so we can hang out and play games online together!
Your name in my YouTube video credits, showing YOU are a top tier supporter of Heine House.
This tier also allows you to continue to get ALL of my music productions that I release in the future free, forever!!
 This tier allows you to get my entire current discography for only $20.00 saving you over $100.00 off retail on iTunes and Noisetrade. Albums include:
-Personal Invitation (2004)
-Higher Standards (2006)
-R*N*B* (2007)
-Conquest (Official Video Game Soundtrack) (2010)
-Nothing's Forever (2012)
-Video Game Remix Album Vol. 1 (2012)
-Video Game Drum Covers Stage 1 (2014)
-Video Game Drum Covers Stage 2 (2014)
-Video Game Drum Covers Stage 3 (2015)
-Horizon Shift Official Video Game Soundtrack (2015)
-Justice Beaver Original Super Nintendo Video Game Soundtrack (2017) (Release date TBA 2017)
- Racing Apex original Video Game Soundtrack (2017) (Release Date TBA )
The Entertainment Ultimate Experience!
Everything in the Party Pack Plus...
A live drum performance sponsored by you, just for you once a month! (make use of this for your private event, birthday party, house party, or after party!) 
A personal voicemail message! I will record a funny or serious voice mail message for you to use to greet your friends! (you can provide the script)
Pick a game for Stephanie and I to play and stream live on twitch, we will play it for the entire evening (at least 3 hours) heck, we might even complete the game! 
Your Song, Produced by Jason Heine!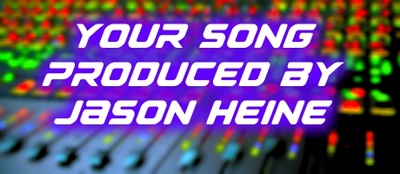 Let's work together on your upcoming song.
This is a 2 way collaboration on your upcoming song.
I will executive produce or co-produce your song, whichever role you would like me to fill.
Recording, mixing, mastering is all included. (local to arizona musicans welcome, or over internet music file transfers are easy peasy).
Tips, input, advice, andfocused  musical direction on your song will be given, this is a great if you want to learn my ways.
Musically, I will play, perform and produce what I feel the song needs.
If you need some bangin' drums for a song you are working on, I got you covered!