Pledge $0 or more per month
Everyone
Pledge $0.01 or more per month
Patrons Only
"GOOD" CinemaWins Fan
Access to my patron-only feed, where I'm way more likely to see your comments, questions, and suggestions. Also, my undying thankfulness, and the joy of knowing you help make each video happen and keep me from working for THE MAN!
"GREAT" CinemaWins Fan
Access to
MY SCRIPTS
the day the video is published, which are full of typos, research questions, time stamps and descriptions for every important scene in the film, and most importantly
DELETED WINS
that only the most die hard fans will appreciate. Most scripts have at least 2-5, some have upwards of 10-15. FYI they're generally bad puns/jokes or references so obscure I don't even get them. (4 or 5 scripts/month)  
(Side Note: All scripts from 2018 forward will be immediately available, but I'll slowly be going back through to the beginning, cleaning scipts up for your eyes.)
"THE BEST" CinemaWins Fan
Everything from previous tiers and the opportunity to PICK one movie still in theaters for a 60 SECOND REVIEW. Cards on the table, I won't see a horror film in theaters. I just don't have the stomach for it.
"WHAT EVEN IS MONEY?" CinemaWins Fan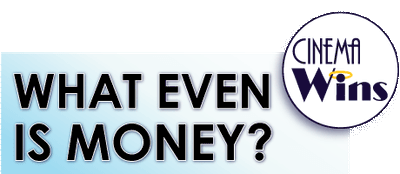 Everything from previous tiers and you can make me go see a
HORROR MOVIE
in theaters and do a 60 second review that I cry through. 
Also, you can pick whatever film you want for an EGA video, cus why not? Nothing X rated obviously, and depending on the movie, (ex. Hardcore Henry) I may have to censor the crap out of it so I don't get a community strike, but it might be a double publish week as wel-- why am I still writing this? Don't pay me $1000/month to do anything, it's definitely not worth it.