Our world is just a spinning blue sphere in an endless abyss of stars. I imagine floating through the sky, seeing constellations up close, and planets as tiny dots in the endless sea of space. 
Pledge $0 or more per song
Everyone
Pledge $0.01 or more per song
Patrons Only
Music Supporter
$1 or more per song

∙ 0 patrons
Thank you for your support! You'll gain access to the 
Patron-Only Stream
which includes:
Hear new music the minute it's finished!
See what I'm working on -behind the scenes, creative process... stuff 
Let's chat! About video games, music, life, cats - anything!
I also release content every now and then for patrons at all levels.
Music Lover
$2 or more per song

∙ 4 patrons
MP3 download of the new song as soon as it's done! 
You also get access to Patron Only Stream  
Bees have knees?
$5 or more per song

∙ 3 patrons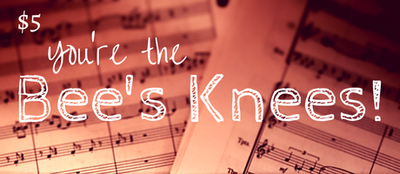 Thank YOU!! All previous rewards and the knowledge that bees do, in fact, have knees, and you are them!!