Excellent Resource for Heathens -- Free eBooks
You're probably looking for decent heathenry references.  Here's a boatload -- and they're free! From the Norse Mythology Blog.  
Pledge $0 or more per blog post
Everyone
Pledge $0.01 or more per blog post
Patrons Only
Become A Patron
$1 or more per blog post

∙ 9 patrons
So, what does $1 a post buy you?  How about exclusive content you won't see anywhere else which includes The Muse is a Bitch series? Published for your enjoyment.   So, you get news and cool stuff.
Unlock exclusive content and join my community of patrons. Thank you!
An eBook copy of The Wight Stuff: Neither Rational Nor Heathen, Volume 1. A $10 value!
Access to a feed of patron-only content
Access to a special patron-only forum which gives you a direct line to The Rational Heathen (me) and my other patrons.  Way cool!  Chat all you want!
Social Media Follow and Monthly Rune Reading
$5 or more per blog post

∙ 2 patrons
Okay, so it's not so big, but it does let you show off that The Rational Heathen is following your page on Facebook.  And, by golly, you get exclusive content too!
I've also added a monthly three rune reading.  I've been told I'm accurate, but YMMV.  Contact me and we'll set up a day for a rune reading where you can ask questions.

Will follow you on social media.
Will provide a monthly 3 rune reading.
Plus all previous rewards. 
Early Access
$10 or more per blog post

∙ 1 patron
Want to see what The Rational Heathen is writing BEFORE everyone else?  Now you can!  It's like having your own timelord and seeing things before they happen.  
What you get:
Access to posts before they're released to the general public.
Plus all previous rewards.
Name In The Credits
$20 or more per blog post

∙ 1 patron
I love my patrons, and if you're in my $20 a post category, you get a special credit as my patron after each of my posts.  That is way cool!  I'll even put an ad up for your business on the blog free of charge.
For a $20 donation, you get:
Credit after each post.
An ad for your business up on The Rational Heathen blog.
Plus all other previous rewards.
Wallpapers
$50 or more per blog post

∙ 0 patrons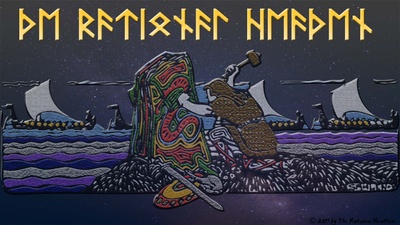 How cool would it be to have a new Heathen wallpaper delivered to you every month (including the one above)? These wallpapers are in high resolution and are yours for your personal use.  
So you get:
New desktop wallpapers each month
Plus all previous rewards