Facebook Live for September 15
We have a great program for you this week! Ken Conaway and Gene Kirkham of the Route 66 Cruizers will be with us to talk car show, cruising, and charitable causes. Gregg Arnold will be joining us to talk about new projects and the Antares Point Gallery. Steve LeSueur of MyMarketing Designs will be sharing insights into development of the Jim Hinckley's America video series and community marketing. This program is made possible through the support of patrons. 
Pledge $0 or more per month
Everyone
Pledge $0.01 or more per month
Patrons Only
Patron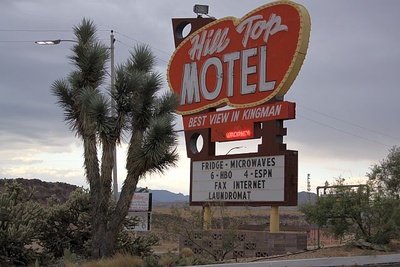 Thank you! One dollar may not seem like much in the grand scheme of things but your contribution enables us to keep the Facebook live programs rolling, develop new content for the blog posts, provide travel planning assistance, and promote small town America. 
Exclusive patron posts and a standing invitation to Facebook live programs and presentations are just our way of saying thank you. And, if we can coordinate our schedules, you have an invitation to a half price walking tour through the historic business district in Kingman, Arizona. 
Welcome To Jim Hinckley's America
Posts about travel tips, restaurant and motel reviews, new projects, and pending appearances - 
10% discount on books and DVD's by Jim Hinckley - 
1/2 price Kingman, Arizona district walking tour 
Jim Hinckley's America Travel Club
As our way of saying thank you for the support -
A copy of 100 Things To Do on Route 66 Before You Die
Personal invitations to Jim Hinckley's America events, appearances, presentations, etc. that coincide with your trip
When applicable, coffee with Jim
When applicable, 1/2 price walking tour through Kingman, Arizona historic district
Discounts on books by Jim Hinckley
Adventures With Jim
 Thank you! With your support we can take Jim Hinckley's America to a new level, and expand the scope or our Facebook live programs
Personal invitations to Jim Hinckley's America events, appearances, presentations, etc. that coincide with your trip
A weekly invitation for coffee, beer, or, perhaps, fresh ginger ale
Access to exclusive posts 
An autographed copy of 100 Things to Do on Route 66 Before You Die 
Making Route 66 History
This is our most ambitious project to date - 21 Days of Route 66. We are making plans for 21 Facebook live interviews with business owners, authors, artists, travelers, and Route 66 enthusiasts in 2018. Twenty-one days, Chicago to Los Angeles, 21 interviews plus a few surprises. Each interview will be added to the YouTube channel, each interview will preserve a part of Route 66 history. Lend your support and let's make Route 66 history. 
In exchange for your support, exclusive updates on the project 
Where applicable, dinner, breakfast, or coffee with Jim (I can promise some lively conversation)
10% discount on signed copies of books by Jim Hinckley (domestic shipping only) 
Recognition of your support in promotion of the project in social media network 
10% discount on our travel planning service 
Promotional Partner
Thank you! A promotional partner is greatly appreciated. As our way of saying thank you -
Your business, organization, or museum noted as a promotional partner on various platforms including social media, blogs, etc. 
Where applicable, Facebook live programs at your business
Through limited partnership with MyMarketing Designs, Facebook live programs and other content shared through the Promote Kingman and Promote Route 66 network
Listing as a promotional partner, with website link if applicable, on the Jim Hinckley's America blog 
Distribution of promotional materials at applicable events attended by Jim Hinckley
Inclusion of your business, when applicable, in travel planning assistance provided to tour groups or individuals
Feature profile in Mail Chimp campaigns 
Product placement where applicable 
Distribution of samples or materials during some events, Facebook live programs 
Jim Hinckley's America Sponsor
listing as a sponsor in blog posts, in presentations, and Facebook live programs as well as advertisement for these programs -
exclusive posts for this sponsorship level -
Facebook live programs from sponsor business -
for business owners or communities, distribution of promotional materials at events and select locations during travels