Faith, Hope and Fear: Eleanor Crook's New Sculpture Santa Medicina: Morbid Anatomy in Conversation with Artist Eleanor Crook
This month marked the inauguration at the Science Museum London of the new Wellcome Galleries of Medicine, which prominently features "Santa Medicina," an epic, large scale bronze sculpture by our good friend and oft-times collaborator Eleanor Crook. It is placed, appropriately enough, as a sort of gatekeeper between the sections of medicines and faith. 
Her piece was one of four art commissions for the galleries by the Science Museum Group. You can find her - an allegorical figure of Medicine sheltering her patient in her ample skirts - in the Faith Hope and Fear gallery at the far side of the exhibit. 
The new Medicine Galleries have been 8 years in the making, as showcase the history of Medicine, contemporary medicine and Henry Wellcome's collection of medical and cultural artifacts. Friends and followers of Morbid Anatomy will find much there that fits their interests. 
Inscribed a few steps from the statue are Eleanor's words: 
I offer Santa Medicina as a patron saint for all who ever placed their hopes in the Science of Medicine: a defender against pain, sickness and mortality who faces down death with kindness and technology. We trust her endless ingenuity to keep our body stitched firmly to our soul, and when the end comes, to share that body with the living by transplantation.
A large bronze Baroque saint containing a wax reliquary is not the first object one might expect to encounter in a Science Museum. Morbid Anatomy had the good fortune to interview Eleanor to uncover the meaning and motivation behind the monument. 
Q: How did the commission come about?
A: I had known for some time that the History of Medicine section at the Science Museum had been closed for a few years pending redevelopment. I'd even pressed my nose against the hoardings covering the space and wondered whether the museum would like something from me, given my track record of anatomical and pathological sculpting for London's medical collections. Out of the blue I received an email inviting me to submit a proposal, but not the medical proposal I would have expected. The request was for a piece that would help the public contemplate their mortality, a piece that would help open conversations about what might constitute a good death. 
Q: An open invitation to be morbid?
A: Indeed! I visited the museum for a whole day mixing with its public and found quite an age range and visitors from all over the world. Notably, many children. How to raise the topic of mortality for such a broad audience without terrifying the children, without patronizing the elderly, without traumatizing the sick? Quite a brief. I thought back to when I myself was very young, what made me understand the idea of death. I knew the gallery for that particular commission was called "Faith, Hope and Fear", which seemed emotional given the setting. The idea of a protective saint, also a doctor, began to form. The hope we place in medicine, the faith in our surgeons and physicians, the fear we feel despite our trust in them. I thought also how in an increasingly secular UK, our closest experience to the spiritual is often during serious illness, the time when even a nonbeliever might turn to superstition, prayer or place the faith they would have placed in God in the medical profession itself. How we invest medicine with so much hope and expectation and ask of it a miracle. 
Q: So is Santa Medicina a goddess? 
A: Not something to pray to, no. Perhaps a saint in the sense of a person of great qualities whom we can ask to stand between us and what we fear. The image of a protective surgeon jumped into my mind, one who can cut 
and sew back together
One who literally listens to our heart. I made medical substitutions for saintly attributes: the halo has become a surgeon's head mirror, a rosary – actually a wooden one carved by monks at the healing shrine of Lourdes – has become a stethoscope. The buttons of her surgeon's gown make a Y shape that Forensic drama fans might recognize – it is an echo of the Y incision of an autopsy.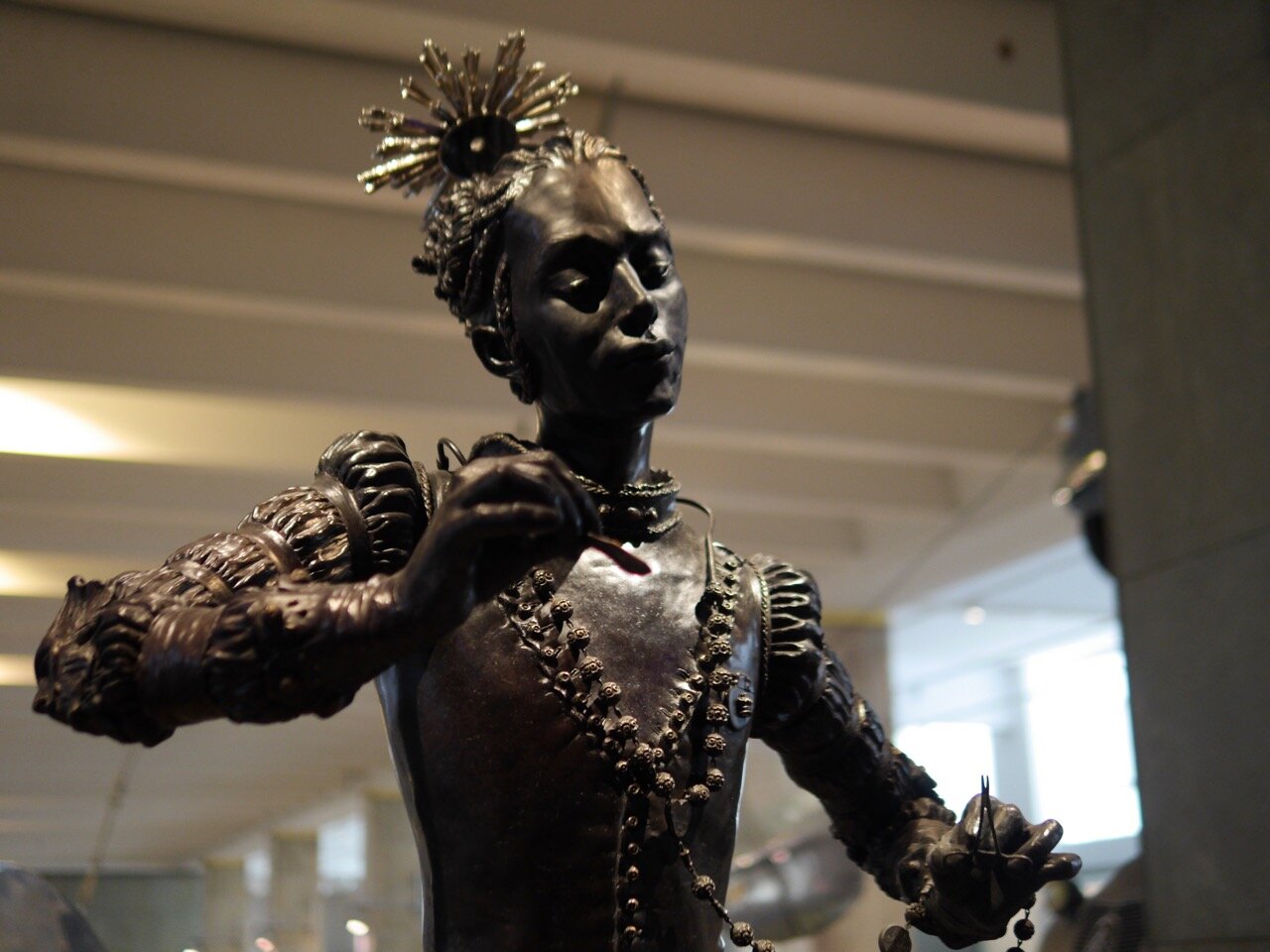 Q: I see other faces emerging from her robes – who are these?
A: On her right arm which cuts, is an anatomical face at her elbow in the form of a Renaissance Green Man, a symbol of life. 
On her left, which stitches together with needle holder forceps, a Death's Head, shown here prior to coloring. So between her arms the patient lies in the balance, she has the power of life and death. The gesture of her arms is the moment before operating: she raises her instruments like a conductor about to direct an orchestra, it is the pause before a decisive moment. Even sculpting can feel like that sometimes, when you take a tool up to make a major change. There is a moment's thought, and that is what I have tried to capture. 
There is even a strange bandaged face of a satyr near her knee, whose bandages are taken from a 19th century surgical manual showing an operation for double cataracts. Don't ask me why he is a satyr; I got rather carried away while modelling that afternoon and the detail turned whimsical. 
Photo: Pascale Pollier
Q: Let's take a look at the back of the figure. Do I see back muscles? That part looks very exposed. 
A: We have all had an experience in hospital of those gowns that tie up at the back whilst leaving the nether parts of the body rather naked? A depersonalizing experience for the patient. The open backed surgical gown is an echo of that. The back is dissected, yes, showing the superficial layer of muscle under the skin: trapezius, latissimus dorsi, cervical fascia. I find it an elegant area of anatomy and wanted to capture some of the beauty under the surface for everyone to enjoy. Running up the edges of the gown you will find the snakes from the Caduceus of Mercury, a medical emblem but also an emblem of commerce. 
Photo: Debbie Maizels for Medical Artists' Association of Great Britain
Q: The sleeves seem oddly familiar. Are they a direct quotation from…
A: Cranach, Lucas Cranach, yes, and that was a tip-off from the founder of Morbid Anatomy herself who loves Cranach, the German renaissance artist of mysterious females in comely sleeves, and pointedly of Judith decapitating Holofernes. Rather irreversible surgery, that, but it is pleasing to hint at the cutting power of the blade in her hand. Sculpting those ribbons and pleats and making them believable was one of the hardest stages, technically, and running them convincingly into the hands. The hands in gloves decorated with the weeping eyes of St Lucy. 
Q. The hands look masculine. And real?
A: They were life-cast from the eminent cardiac surgeon Francis Wells, hands that have saved countless lives at Papworth Hospital in Cambridge and elsewhere. He is a great friend, both to me and  to the art and science movement and is involved in a number of collaborative projects, including publishing a book on Leonardo's dissection drawings of the heart. Covering those hands with silicone for the mould felt like a terrible responsibility. 
Q: The decoration to the skirt, the medical votives, where do they come from?
A: I hand sculpted pretty much all of them in wax to be cast to bronze, although obviously they are influenced by Catholica, by anatomical imagery and by Roman votive offerings, Milagros, Buddhist amulets and some are sui generis. They are key to the meaning of the piece: the hopes and wishes with which we invest (literally clothe) the science of Medicine. 
Many of them were nominated by members of the museum team, the bronze foundry team, my own friends and family, colleagues from the other medical museums I work with. I will take up a whole second blog post for you by listing and showing them all, as they are all on your theme. Here is the foundry dog, Bruce; there are the eyes of St Lucy chosen by Joanna Ebenstein; there the Vrolik Museum twins chosen by curator Laurens de Rooy. Henry Wellcome's mermaid; my friend Bobbie Dewsbery's kidney transplant. 
Photo: Pascale Pollier
Q: Am I right in thinking the whole bronze is an elaborate reliquary for the wax figure within, surrounded by twinkling candles as though on a saint's altar?
A: Exactly, and he represents every hospital patient, every medical subject who has ever submitted to treatment with an uncertain outcome. Of course an echo too of immaculate saints' bodies , wax martyrs and priests, a precious incarnation on display. In his voice I wrote a poem right at the outset of the sculpture, which sums up the spirit of the work, like a child's night time prayer.
An Ode, to the Spirit of Medicine
SANTA MEDICINA, be
A helper and a friend to me
From pain and sickness set me free
With kindness and technology. 
By healing miracles inspire us,
Conquer microbe, slaughter virus;
Sticks and Stones may break our parts
But you can fix them, and our hearts. 
When my body can't be mended
And my little life is ended
Not a moment's pain or fright!
Release me gently into night
And if bits of my mortal shell
Still have use, Transplant them well
So I know that, though I die,
A stranger lives, and in them, I. 
Q: The style of the statue is deliberately ambiguous: we could be looking at something very old, until the details give away that it is contemporary. Why did you choose to work in an antiquarian form?
A: Partly to answer the other objects in the Faith Hope and Fear gallery, partly to step out of time altogether, and partly in homage to a great funerary monument which I will talk about for you on another occasion, the Maximillian cenotaph in Innsbruck, a great moment in Renaissance bronze work. That's a whole other story. 
There are many art styles and approaches I admire, but when I work this is what comes out: an impossibly Baroque antique style which seems stubbornly outside of time. I can't question it any more, it just seems to be my way. Then there's all the pleasure of rediscovering lost techniques, a practical archaeology, and setting the bar for sheer hand-working as high as I dare. These are personal pleasures which I hope communicate through the thing, making something I guess I would enjoy seeing if I just came upon it while traveling. 
I partly made it for those who share the Morbid Anatomy aesthetic and set of preoccupations, who face mortality and allow superstition, faith and spirituality into their understanding of science and the body, who approach art and science with curiosity and wonder. 
To be continued in a future post…..
The artist would like to thank to the Curatorial team at the Medicine Galleries and to Sculpture Castings Foundry Basingstoke UK.
Santa Medicina can be seen in the Science Museum, South Kensington, London on floor 1 in the new Wellcome Galleries of Medicine, in the Faith Hope and Fear Gallery. Open daily: 10.00–18.00 (last entry 17.15). Galleries start to close 30 minutes before the museum closes.
++++++++++++++++++
Eleanor Crook is a sculptor and wax modeler who works between the UK and several  international medical museums. She trained in sculpture at Central St Martins and the Royal Academy Schools, working from life and as a medical artist in the dissecting room. She is artist in residence at King's College's Gordon Museum of Pathology and the Vrolik Museum Amsterdam. Her work is in the collections of the Science Museum London, Gordon Museum of Pathology Guy's Hospital, the Museum of Pathology at the University of Padua, the Royal Pharmaceutical Society London and the Hunterian Museum Royal College of Surgeons of England. Her specialism is handmade effigies, baroque bronze and eerie lifelike waxes.
Become a patron to
Unlock 630 exclusive posts
Connect via private message