Featured Duel 9/17/17 now on Youtube
If you missed the game yesterday, don't fret: the recording has been uploaded to Youtube, so you can rewatch the action between Grand Pause and EBugle (complete with live commentary) whenever you want! Thanks again to all our patrons for voting for their preferred decks to be played in this match; stay tuned for another poll coming soon!
Pledge $0 or more per month
Everyone
Pledge $0.01 or more per month
Patrons Only
Background Pony
$1 or more per month

∙ 1 patron
You rock, woo-hoo! Patrons at this tier will receive:
Access to Patron-only polls
Your name in thank-you credits at the end of videos, along with our undying gratitude!
Side Character
$5 or more per month

∙ 5 patrons
You're definitely at least 20% cooler! Patrons at this tier will receive:
Access to our Slack general channel, where you can better communicate with CiM members and other Patrons
Ability to submit one decklist of your choice, to be featured on a future "Deck Check" video or post!
Plus all previous rewards
The Great and Powerful Patron
$10 or more per month

∙ 3 patrons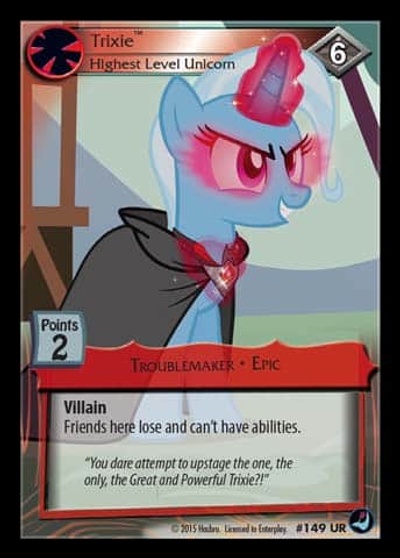 No Alicorn Amulet needed; you're just naturally awesome! Patrons at this tier will receive:
Ability to submit one decklist per month, to be featured on a future "Deck Check" video or post!
Challenge a member of CiM to a game in the format of your choice, up to once per month!
Plus all previous rewards
Mane 6
$25 or more per month

∙ 2 patrons
Rarity should be jealous of your generosity! Patrons at this tier will receive:

An invitation to help plan and appear as a special guest for one of our future streams, to focus on a CCG topic of your choice!
Early access to custom Villain Challenge cards and rules during the testing process
Plus all previous rewards