February rewards overview
Thanks for you support this month! Your reward links will be sent to you tomorrow via Patron Message. Here's an overview:
Tier 1 | $1
Lich King mobile wallpaper + Twitter banner
Tier 2 | $3
Lich King desktop wallpaper (1920px)
Tier 3 | $5
Lich King desktop wallpaper (2560px)
Poison Ivy desktop wallpaper (2560px)
3 art studies
I doodled one request this month (for Alvilda). Aiming to do a livestream later this week and add the avatars to your rewards folder!
Tier 4 | $7
Tutorial: Draw accurately from reference (3 videos + written companion, raw PSD, process steps + tips)
Brushes: for eye lashes / ambient occlusion and to blend the iris.
Process steps: Poison Ivy + Portrait study
Tier 5 | $10
Tutorial: Feather wings (PSD, steps, gradients, 6 pose references, video) + 2 mini tutorials: gradient maps, and color balance highlights/shadows separately.
Tutorial: Draw accurately from reference (PSD, 3 videos, steps, written companion, extra tips)
Tutorial: Eyes (3 PSD's, 3 videos, 3 steps, 1 gif, 2 brushes)
Process: Lich King (video, PSD, references), Poison Ivy (gif, video, PSD, steps), Portrait (PSD, steps)
Tier 6 | $15
Digital art: Signed hi-res PNG-file of the Lich King for homeprinting.
Tier 7 | $25
Prints: Lich King, Submerged and Kaldorei, Children of the Stars.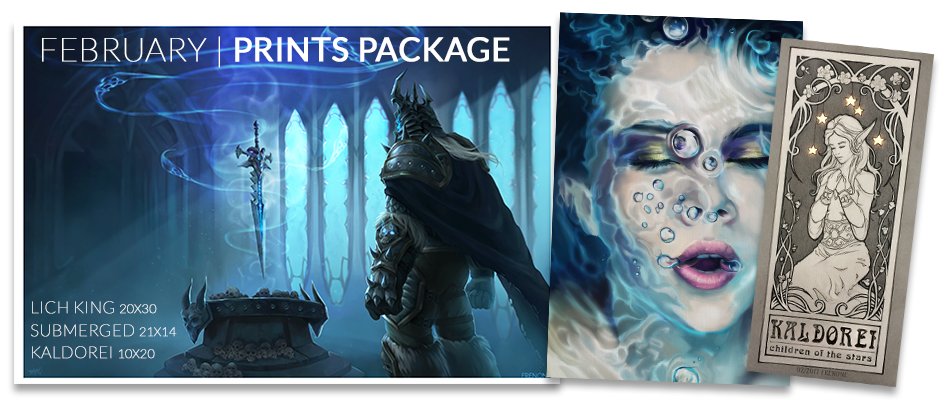 Tier 8 | $50
So far I've finished 6 custom sketches but will post them all tomorrow once I finish the remaining ones! :)
Next month (March):
How to turn your sketch into rendered art (starting with values)
Brush economy and edge control. Also going over custom brush settings! And of course including some new custom brushes :)
1 Step by step tutorial (one of these two things I'd to improve: necks or hands?)
Wallpaper: heaven or hell? Poll will be posted soon...
$25+ patrons will get the poison ivy bookmark and a print of the wallpaper.