Good Afternoon!!
Every so often I like to get some opinions and feedback from you lovely people :)
How're you guys finding the tutorials? Is there anything I can implement to make them easier to follow/watch?
For the 10$ + Tier...Are there any particular subjects you'd like me to focus on in-depth for the e-books?
Are there any rewards you guys think would be good to add? I am considering rein-stating my "Facebook Art Group" tier to go hand in hand with the draw with me sessions... This is a complete work in progress at the moment.

***CHANGES***
From September, I will be featuring 1 wildlife tutorial per month alongside the usual pet/technique tutorials. A lot more variety will come with this!! (I'm so excited!)
While I think about possible patron rewards, Draw With Me will be suspended until I've figured something out.
Any comments or feedback welcome!
Amie xo

Pledge $0 or more per month
Everyone
Pledge $0.01 or more per month
Patrons Only
Club Honey Bee
$1 or more per month

∙ 11 patrons
Support my work and help me grow as an artist and tutor!

Club Lioness
$5 or more per month

∙ 47 patrons
All Previous Rewards Plus ...


Tutorial Drawing Videos
: Access to tutorial drawing videos recorded in real-time, with full voice over as I am working. These videos will be based on certain parts of a current drawing, i.e detailed eyes, noses, tone within a piece etc. Up to 2 videos will be provided each month and will be roughly 30 mins to an hour.

Wildlife Tutorials: Each month we will focus on a particular wildlife drawing to help expand your skills from drawings pets. Wildlife tutorials will also include various non-animal objects such as moss, bark, grass etc. The number of tutorial videos will differ from each subject matter.

Free Reference Photo: For each monthly wildlife tutorial series, you will receive the reference for you to draw from for free!

Club Kingfisher
$10 or more per month

∙ 57 patrons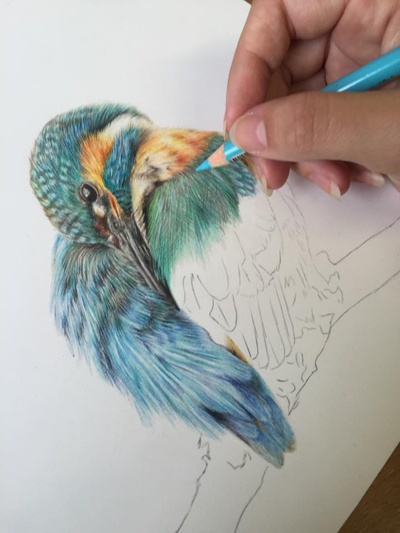 All Previous Rewards Plus ...
Detailed, In-depth Technique Tutorials: Each month you will receive a number of small technique tutorials which will cover a certain aspect in a lot more detail than those on the Basic Tutorial Reward.

Message Critiques:
Get access to exclusive art critiques and support via message or email. Submit your images, either in progress or complete, for a short critique to help you improve and grow as an artist.
Extra Tutorials:
Exclusive tutorials based on what you want to see! Cast your vote each month to determine your extra content.
1-2 tutorials per month extra to $5 tier and technique tutorials

Club Puffin
$14 or more per month

∙ 16 patrons
All Previous Rewards Plus...
Access to Website Content:
gain access to my members only area on my site where I also host all Patreon tutorials plus a few extra tutorials, along with a dedicated forum and a whole load of reference images!
*Once signed up to this tier, I will message you with instructions on how to sign up to my site and access the extra content.
Club Goldfinch
$20 or more per month

∙ 1 patron
All Previous Rewards Plus ...
A5 Giclee Art Print Each Month!
These will be of one of my original artworks, either wildlife or pet portrait!
Hand Written Thank You Card
A thank you note, just for you!
Club Tiger
$30 or more per month

∙ 2 patrons
Help me grow as an art tutor and YouTuber
This tier will give you access to all previous rewards PLUS:
Special "Club Tiger" credit at the end of all my YouTube videos
My eternal gratitude and thanks <3
Subscribing to this tier means a whole lot to me as it means I can further my career and feed my family by doing something which I love every single day. You Rock!