Hey everybody it's Chase!
[NOTE: Today's post is exactly the kind of behind the scenes content you'll see for supporting Channelate at the $5 level!]
Greetings enjoyers of the finer side of cartoons! I'm Chase. Nice to meet ya.
I've animated for a living since about the 2005 days and I wouldn't trade it for anything outside of a ninety-five pound sack of dollar bills and a free steak dinner. Maybe less. But anyway, I live to cartoon and I do it just about every stupid day, which I love. What I don't love is deadlines. Those damn things are always cramping my style and forcing me to rush through some things I might otherwise wish I could spend more time polishing. That's why I'm so excited about these animated Channelate shorts! After ten(-ish) long years I'm ready to show the regular deadlines that hamper me down the big middle finger and put QUALITY FIRST!
Here's an example of how I get to do just that. Spoiler alert! You'll soon be able to view this comic in animated form: http://www.channelate.com/2012/01/02/hypnotized/
Today we're focused on the bonus panel specifically: http://www.channelate.com/extra-panel/20120102/
Now check out the animated version: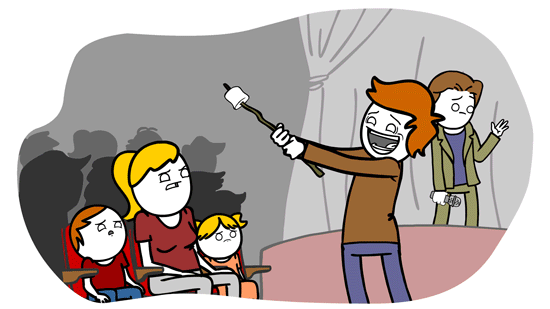 This is something I'd never get to do in a regular timeline, but since we're able to put quality first on Channelate I'm able to tell a little story of each individual character if you're watching closely. Phil is wholly absorbed in his hypnotized burning fantasy, roasting marshmallows over the flaming corpses of his loved ones. His Son pleads for him to snap out of it but is instead met with the horror as he watches his dad relish in his torment. His Daughter doesn't quite understand what's happening and buries herself into Mom's side when Dad starts resembling Jack Torrance. His Wife puts an arm around the Daughter to comfort her, and doesn't seem totally convinced Phil's not just being an asshole…. Meanwhile our Hypnotist in the background ponders if he really does have hypnosis magic in those fingertips.
PHEW! That's a lot packed into five seconds!
Join me this Sunday at 9pm EST when I'll be live streaming my screen while I animate Channelate and get a taste of how much goes into these things. Link will be posted on here on Patreon.
By becoming a patron, you'll instantly unlock access to 625 exclusive posts
By becoming a patron, you'll instantly unlock access to 625 exclusive posts