History Comics Panel from VanCAF
Hey friends!
Yet ANOTHER panel recording for you to listen to on your lengthy days in the comics mines. This one was a definite highlight for me: Jonathon Dalton led a wonderfully nerdy discussion about history comics at VanCAF this year. It was such fun to sit down with Steve LeCouilliard, Tony Cliff, Kris Sayer, and Rachel Kahn to discuss all our various history niches, including weird things we're extra passionate about (Viking underwear, carriage accuracy, intelligence vs. the wheel, etc.), research tips, and common pitfalls. 
It's just a treat to talk to other people who get really wrapped up in the work they do—especially when it's from a different corner of history from mine.
Anyway, I really hope you enjoy this recording. Thanks for making it possible for me host all these talks on SoundCloud!
<3
Lucy
Pledge $0 or more per month
Everyone
Pledge $0.01 or more per month
Patrons Only
General Rejoicing
$1 or more per month

∙ 98 patrons
Pledging $1 per month? You're a champ! I really appreciate your support. You get a big smile fresh off'a my face plus access to any general Patron-Only posts.

Project Process Portal
$2 or more per month

∙ 133 patrons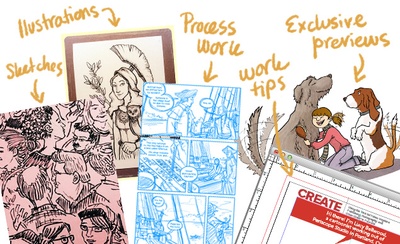 Pledging $2 per month? Righteous! You gain access to the Patron-exclusive Project Process Portal, where I'll be posting a weekly summary from the drawing board with pictures and behind-the-scenes info about my work process.
PDF Club
$5 or more per month

∙ 92 patrons
Pledging $5 per month? Heavenly chorus! You gain access to the Patron-exclusive Project Process Portal PLUS access to a bundle of all my comics in PDF form—updated whenever I release something new!
Monthly Bucket o' Wisdom
$10 or more per month

∙ 27 patrons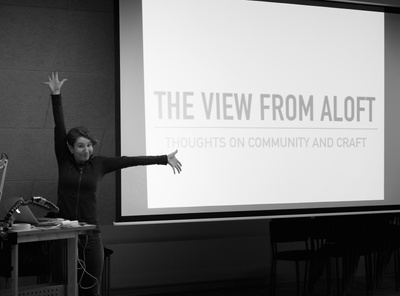 Pledging $10 per month? Well hell! Let's get acquainted. I'm using this tier to send out a monthly audio recording or livestream covering different aspects of the creative process. Some months I may chat to fellow creators in Portland about our craft, others I'll post exclusive content from classes I've taught—sometimes we'll even do a livestream Q & A! This tier is for folks who want to better their creative practice. It includes all previous perks, plus one joyous whoop from me.
Sketchbook Society
$15 or more per month

∙ 20 patrons
Pledging $15 per month? You get the biggest parade! This tier grants you access to the Monthly PDF Sketchbook Club. Each month I'll pull together all my studies and sketches and compile them in an attractive digital package. I make a solid effort to draw something new in my sketchbook every day, so these PDFs will contain a lot of content not previously seen in the Process Blog updates! There's life drawings, observational crowd sketches, color studies, character designs, and more.

(Note: this tier also includes the $1-$10 rewards!)
HEY BIG SPENDER
$50 or more per month

∙ 9 of 10 patrons
WHAT'S THAT?! YOU'RE GIVING ME $50 A MONTH? You are truly the best. It's just that simple. Pledging at this level will entitle you to weekly process posts, monthly sketchbook PDFs, classroom recordings, AND a quarterly thank-you package of various TBD goodies—original art, stickers, postcards, AND MORE!