I thought I'd drop in to let you know the plan for when yee shall all expect printables and videos over here :)
I will upload the printables (including the art print) on the 5th of the month, which allows payments to be processed from the start of the month. 
Vid Squad peeps! >>> You can look forward to videos on the 1st, 5th, 10th, 15th, 20th, 25th and 30th of every month (with the chance for some extras along the way!). 
All tiers will have access to the exclusive blog posts and questions which will pop up a few times a week. I can't wait to chat with you all!
I have created a secret Facebook group for the $12+ Inklets which I will post about in the next few days. To add you to this group I will ask for your Facebook email address (But not yet! Wait for the special post!) as the group is hidden. 
Any questions or queries, please post them below! I get a tonne of messages and emails every day, so the best way to contact me will be through the comment sections on Patreon posts. 
Thanks again for all your love and support Inklets!
Del xxx
Pledge $0 or more per month
Everyone
Pledge $0.01 or more per month
Patrons Only
Sneaky Peekers
Calling all Sneaky Peekers! Fancy spying into my most recent projects, creative thoughts and ideas? 
At this level, you will get access to exclusive blog posts and deliciously colourful images on my Patreon-only feed. This will include questions and challenges about supplies, journaling, scrapbooking and anything arty!
Artie Farties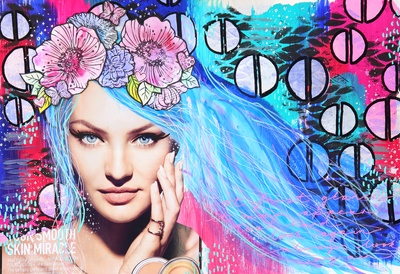 In addition to my Patreon-only feed, you will receive a digital art print once a month created exclusively for Patreon. 
This art print can be printed out and displayed in your home, gifted to a friend or even used in an art journal page!
Print Party Peeps
If you love adding unique bits and bobs to your projects, this is the tier for you! 
As well as access to my Patreon-only feed and the monthly art print, you will receive at least 4 extra digital downloads every month, including custom designed pocket page cards, collage sheets, journal prompts, mixed media backgrounds, tiny word print outs...and more! 
The Vid Squad
Need more videos? At this tier, you will have access to all previous rewards PLUS at least 7 extra videos every month!
Everything from art journaling and mixed media techniques, to scrapbooking supplies and journaling videos, and even craft room organisation and DIY embellishments. All exclusive to Patreon - you won't see these videos anywhere else!
Chatterboxes
Ready to hangout? With this tier, you will receive all previous rewards AS WELL AS a two hour (at least) google hangout small group session with me, every month! 
This tier will be capped at only 15 peeps, and you will be placed in groups of 3-5 people in similar time zones. We will use Google Hangouts to chat on a Friday or Saturday once a month. We can plan to chat about anything you'd like in your small group - a Grab 5 challenge, show our journals, talk about struggles or arty challenges...anything you like!