Inspiration Trip: Yayoi Kusama's Infinity Mirrors
One of the goals I have for this year is to get out of the studio more and to start nurturing my soul more!  As much as I do enjoy working alone quietly on art, I feel like after awhile I need to escape my familiar surroundings, constant to-do list, and worldly troubles.
I do believe artists need more than just art to be creative.  We're problem solvers and its our life experiences that help us make those seemingly unrelated connections that help us solve visual and creative problems!
I really wanted to see Yayoi Kusama's amazing exploration of lights and space for my birthday last year, but tickets sold out almost as soon as they were released for pre-sale!  I was shattered and the only way to get tickets was to hope you could get one of the 100 they would sell each day (which meant an hour drive and bad traffic without the promise of being able to get in).  I had given up on actually going until a friend informed me that they wouldn't be able to make their time slot and graciously gave me her two tickets!
So off to museum I went with my mother in tow!  We also visited the SCAD Fashion museum beforehand, but I'll save that for the next Inspiration Trip post.
My mom and I in the room of Dots Obsession - Love Transformed into Dots. 
Kusama's art invites you into an obsession with form and shape.  Polka dots abound alongside countless phallic shapes and psychedelic colors!  It is when she discovered the power of installation art that she says she truly found her power of expression.
There are 7 rooms in this exhibit, each exploring the infinite void of vision and the power that losing our sense of self grants us when we realize how small we are.  The very first room, entitled The Souls of Millions of Light Years Away, overwhelms you with a field of stars blinking brilliantly, only to flicker out to complete darkness.  Then, the stars appear once more, restarting the life cycle. (You can see video I took in this room here).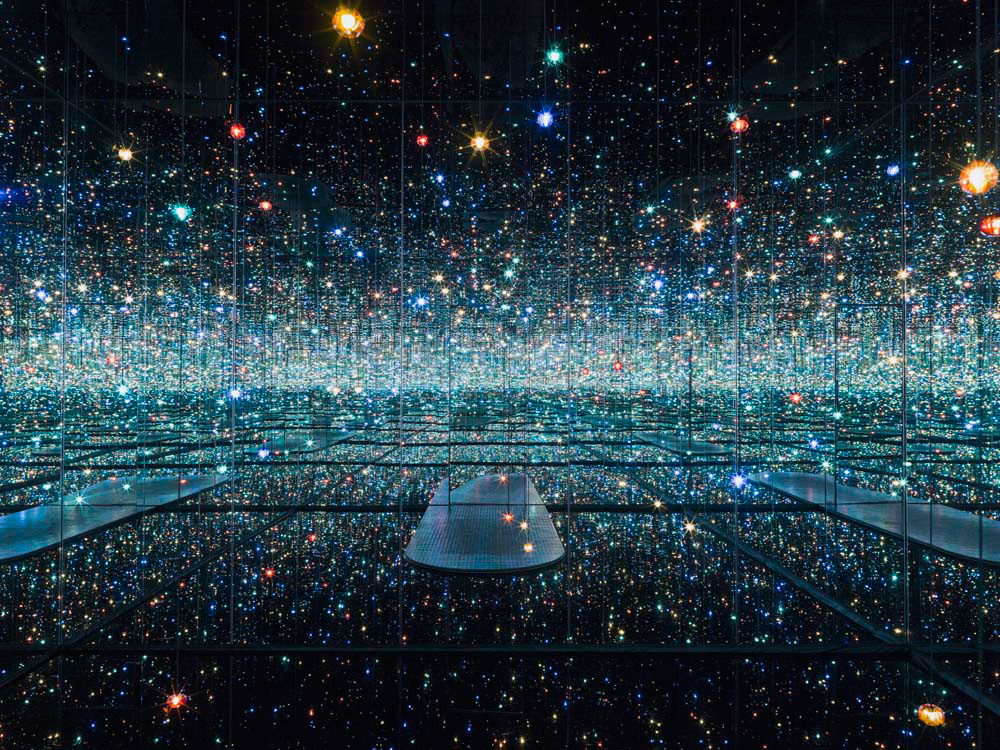 Each room was surprisingly small with room to comfortably fit 3-4 people.  At the artist's request, visitors only have 20-30 seconds to appreciate this awe-inspiring site before they must exit!  To me, this perfectly reflected Kusama's message of the brevity of life and enjoying fleeting beauty.
The 3rd room, Aftermath of Obliteration of Eternity, was my favorite room!  Countless tiny lanterns float in space, flickering gently and receding into a dark expanse.  I was reminded of the floating lights of Obon, the festival of lanterns, each lantern representing a soul floating back to its place in the underworld.  I thought of my Lady of August, the guide of souls, and thought of her floating among the lanterns.
There was much more to explore in this exhibit that I shall leave as a surprise for those who might view it themselves.  The final room in the experience was the Room of Obliteration.  This room begins completely white at the start of the exhibit.  As patrons complete their experience, they are given a sheet of stickers and asked to adhere the stickers wherever they like!  I chose to continue a chain of hanging stickers that other patrons had built coming off of the light fixture.
Room of Obliteration 
It's amazing to see how this room has changed and to feel like we're taking a small part in the creation of a piece of art!  Everything we as insignificant beings do starts as a raindrop that creates a flood. 
My souvenirs from the trip!  I enjoy collecting magnets to remind me of fun times when I look at our fridge.
I could have spent much more time in this exhibit, but sadly all things must end.  If Yayoi Kusama's exhibit ever comes to a museum or gallery near you, I highly recommend it as an thought-provoking existential and sensory experience.
---
Angela R. Sasser released this post 2 days early for patrons.   Become a patron
By becoming a patron, you'll instantly unlock access to 189 exclusive posts
By becoming a patron, you'll instantly unlock access to 189 exclusive posts