Flying with these guys is helping kick my butt to get back at it. 
I have to admit I've felt a little defeated at times over the past couple years intermittently IFR training where I often felt I was not making progress due to the gaps between lessons.  The struggle is real to try to focus on one thing at a time - But it has ben a fun ride fitting in all sorts of other aviation adventures to become a better aviator in some less tangible / quantifiable ways. That said, Osama is going to help me crack down and study to get that instrument written test done. 
Please enjoy this one; more IFR in lots of different types of aircraft is coming (and so is some more "not IFR" fun flying :) 
Happy almost weekend, and thanks for the support creating the productions, 
Steve
EDIT: I am actually packing up to fly this thing TOMORROW with Osama! 
It will be a longer flight, so I hope to get supporter exclusive Phenom 300 content out of it - watch for that coming soon!
Pledge $0 or more per Awesome Flying video!
Everyone
Pledge $0.01 or more per Awesome Flying video!
Patrons Only
Pledge $1 or more per Awesome Flying video!
After a great deal of debating, I decided not to go with a "swag" company such as cafepress; Mainly because I'm not about swag, and what I am really trying to do is efficiently raise some funds to make this project great. If I were to set up a store at a place like that, you'd spend ~$25 for a shirt, and the "Flight Chops" project would be lucky to get $5. This way, I bet you can get a cool shirt made for under $15 and Flight Chops still gets $1
(well actually $0.70 because the fee per transaction here is $0.30, (which is a deal after I looked into setting up a merchant account or a Paypal "donate" button, but I digress - so if you really wanna gimme a dollar, see if it lets you put $1.30 :)
I will provide you with a high resolution digital file (sample above)
that you can use to print your own "Flight Chops" T-shirt or whatever else you'd like.

Pledge $3 or more per Awesome Flying video!
You'll get the hi res digital file above,
PLUS additional other alternate logo / slogan lay out designs (new ones are currently being worked on, and I'll take requests if you'd like a certain lay out or wording to be added such as "Keep your Flight Chops sharp!", or "My Flight Chops are sharp!", etc. We're working on several ideas like that.)
PLUS a digital template that I use as a flight journal to augment my logbook - I think this is a critical way to grow and improve as a pilot, and especially as a private pilot like myself who doesn't get to fly a ton; review and reflection are a huge part of staying current and improving!
PLUS a ~30 minute monthly google hang out to talk flying or offer some input on the current thing I am editing / shooting or anything you guys want!
Pledge $5 or more per Awesome Flying video!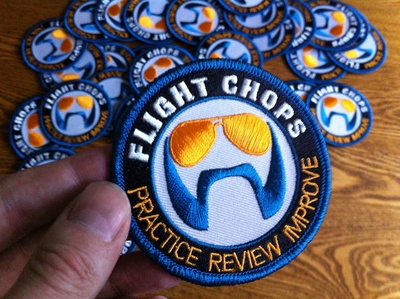 You'll get all the perks above,
These won't just be boring raw unedited GoPro shots - They will be engaging, contextual and sunc with multiple angles - but they won't be fully cut down yet - essentially you'll be getting to see the "extra stuff" that I end up struggling to cut away, when I make my shorter videos for a wider audience.
I will give exclusive updates and links via the Patreon feed.
NOTE: Remember to check the feed for existing posts with links to exclusive content!
PLUS I will personally mail you a "Flight Chops" embroidered flight suit patch!
(I'm not about swag, but these turned out rather nicely, if I do say so myself :)

The standard 3" size is also great to stitch onto a hat, flight bag or jacket!

PLUS access to additional flight training and flying footage and bonus videos when I am editing.
Pledge $10 or more per Awesome Flying video!
Everything above PLUS... 
I dunno yet, I'm just launching this Patreon thing and still figuring it out - you tell me...
What are some cool extra perks that I could offer?