Interview with SciArt Magazine
What a wonderful way to start 2018. No random resolutions, instead a positive impression being impressed into me again as I re-read and re-committed to what I wrote for this interview with the curator of Submerged at SciArt Center, NY.  
http://www.sciartmagazine.com/blog/interview-colleen-flanigan-discusses-her-work-in-submerged 
I head down to Mexico on the 9th to go to a Healthy Reefs event and learn their latest, and then take care of Zoe. The glass globe needs some cleaning (see those calcium spots?). 
It's important to document and transplant, reconnect with the volunteers, and get to know more visitors arriving from the cruise ships. We'll share about corals, regeneration, and invite them to participate. Time for some new initiatives.
Heading down?  I aim to be in the area for about a month, más o menos.  Would be great to see you there!
Felíz año nuevo
Pledge $0 or more per month
Everyone
Pledge $0.01 or more per month
Patrons Only
Polyp Patron
$1 or more per month

∙ 1 patron
You're officially among the Earthlings who are creating the conditions for life to flourish. We need your support and savvy. You'll get behind the scenes posts, invites, and updates, and we want to hear from you. You rock! Polyp by polyp a reef is made.
Fish Kiss
$5 or more per month

∙ 0 patrons
Puffers, parrots, sergeant majors, and whole schools of other tropical fish will be puckering up for you in gratitude for helping to provide them homes, food, and shelter. Plus all the above.
Virtual Aquarium
$10 or more per month

∙ 6 patrons
This lovely trunkfish is a regular around Zoe. Every day you will see something unique pass by the webcam in Cozumel. Once a month you'll receive an email with a screenshot from our Zoecam. Plus all above perks and peeks.
22 and You
$22 or more per month

∙ 0 patrons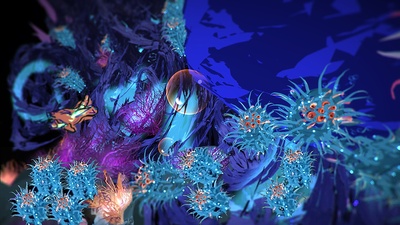 22 is my favorite number! You'll receive a custom Living Sea Sculpture tote or drawstring bag with images from a Virtual Reality (VR) Coral Reef I'm working on in Tilt Brush (1 example here), or from the livestreaming ocean webcam. Your choice. And you'll get all the above.
What's up?
$50 or more per month

∙ 0 patrons
Every 3 months we talk live. Even fish are taking selfies now. These guys are like, "Look mom, we want some more coral colonies growing here." And all previous rewards.  
Coral Reef Hugger
$100 or more per month

∙ 0 patrons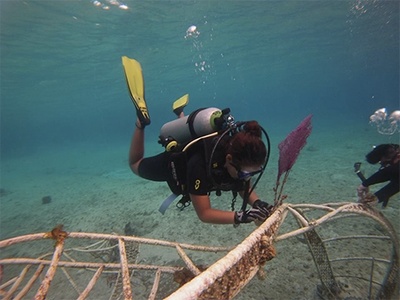 In theory, you'd swim right out there and hug a coral, but DON'T! No touchy unless you're planting them. We'll plant a coral in your name and send you a photo. Must back at this level minimum 6 months. Plus all previous rewards. 
Symbiosis
$500 or more per month

∙ 0 of 6 patrons
I'll be your coral polyp, you be my zooxanthellae. Or maybe better, I'll provide the photosynthesis and you secrete the livable structure. Coral reefs are the largest structures of biological origin on Earth because of this mutually beneficial give and take. You will receive a one-of-a-kind work of art. Plus all above.
Virtual Tour Guide
$1,000 or more per month

∙ 1 patron
You know who you are. You are the sand of the Earth created by corals, for corals, with corals. Living Sea Supporters like you are few. You have access to moving the tilt, pan, zoom webcam. Create a custom webcam tour for public viewing. Plus all previous rewards.