Is the Stock Market Correct to Ignore The Great Coronavirus Economic Depression?
RABBITS IN THE HEADLIGHTS are the UK and US Government Response to Covid-19. Nearly always acting about 6 weeks after they should have done so and only then when in the midst of a panic, likely due to being advised by mad scientists who should not have been let out of their ivory towers!
They do not have a clue, not a single clue whatsoever, literally are rabbits in the headlights cannot even understand the most basic aspects of what's taking place. If anything should come out of this crisis than it should be less reliance on governments! Though I fear the exact opposite may transpire as governments use the pandemic to expand their reach into every aspect of ordinary citizens lives which does not bode well for the next crisis!
For instance they still have not figured out the reason why so many ethnic minorities are disproportionately suffering and dying from covid-19 both in the UK and US with promises being made to investigate and likely waste millions on BS academic studies to report back in several months time.
We'll the answer why is straight forward! It is due to relative deficiency in Vitamin D! Thus the darker ones skin the less Vitamin D one produces especially during the the winter months, hence a disproportionate higher risk of serious illness and death amongst ethnic minorities at the hands of Covid-19.
And there are several new medical studies that CONIFRIM what we have known for several months now that Vitamin D3 can help PREVENT and DIMINISH the SEVERITY of viral infections. For instance the Irish government recently published a lengthy 33 page report that confirms this which you can read at your leisure.
https://tilda.tcd.ie/publications/reports/pdf/Report_Covid19VitaminD.pdf
The fact that the UK and US governments have yet to grasp such basic science illustrates why I consider their response to the pandemic to be CRIMINALLY NEGLIGENT! When the dust settles there needs to be a proper enquiry to hold politicians and the mad scientists fully to account!
Anyway if you have yet to start supplementing with Vitamin D3 then start doing so now! Where I am personally taking 4000iu / 125mcg per day. 
Another point to illustrate the insanity at work in the UK is that even at this late stage the UK governments lunatic scientists are advocating that the general public DO NOT WEAR FACE MASKS! Which I am sure people in China and South Korea and elsewhere will be viewing with much incredulity. Of course the reason is because the morons in charge did not prepare for any of this and so are scrambling around the world for face masks and gloves and other PPE supplies for NHS healthcare workers and so fear advising the general public to mask up as that would further reduce available supply.
The consequences of criminal negligence means that the Coronavirus pain is going to run much deeper and for far longer than it should have done! Basically if the UK government was competent than the pandemic would have been mostly over by the end of March with perhaps a UK death toll at under 250.
Paving the Way for War with China 
Meanwhile the CCP opened one of their desk drawers marked "Do Not Open" to reveal that the number of total deaths is actually 50% higher than previously reported. Expect more such revisions upwards though likely we will never know the true number since many bodies were disposed off in mass cremations, and I would not be surprised if the real number was at least 5 times higher than Beijing propaganda, all of which acts as accelerant on the War with China mega-trend as what the West is experiencing does not match that which China reported to the world to expect for which there will be a reckoning with China. As is the focus of my latest video based on excerpted analysis from my article made available to Patrons on the 6th of April.
WHO Pawns in the Great Game
The mainstream press reporting of the Trump Administration cutting funding to the World Health Organisation focuses exclusively on the madness of doing so in the midst of a global pandemic. However, this completely misses the big picture, one of an accelerated trend trajectory of the US paving the way for military action against China. For which it needs ammo for the War with China dossier. Therefore WHO which IS culpable and HAS sided with China that at the very least gives the impression of having been subverted by the Chinese Communist Party, is a pawn in the great game being played, as both nations converge towards the focal point of the artificial islands in the South China sea that the US will seek to dismantle which the Wuhan virus gives plenty of ammunition towards achieving. 
Thus the cut in WHO funding should be perceived as being as part of the checklist the US military, industrial and intelligence complex is running through in preparations for War against China.
As my analysis of 6th April concluded. You don't get to commit Pearl Harbour and September 11 X10 without consequences. For only the most ruthless empire will be left standing. So the United States will demonstrate to China that they are prepared to cross every red line including the use of tactical nuclear weapons to ensure US Supremacy, else it's game over for the United States and China will become the worlds dominant power.
Wuhan Bio-lab material for the War Dossier
An old report of the Wuhan virus originating from a chinese bio lab has remerged after doing the rounds during January, given that the lab is situated barely 1/2 mile from the wet market that deemed to be ground zero for the Wuhan virus pandemic.
Now, it does not matter whether the lab is or is not the origins of the virus, what matters is that both the US and UK governments have publically declared that they are looking into whether this is the source of the virus. Which is double speak for saying that this is good ammo to insert into out War with China dossier i.e. they will exaggerate whatever flimsy piece of evidence they have in pursuit of the objective of exacting a price from China for the catastrophe that both nations are suffering, which for the Untied States would start with the erasure of the artificial islands in the South China Sea.
So expect this story to be much embellished over the coming weeks and months to grow out of all proportions and likely be untrue, but over time will be seen by most to be true as to be confirmed by US intelligence agencies just as they had in the run upto the Iraq war.
So don't be under any illusion, the US at least is heading towards war with China, the extent of which I can only guess at his time being limited to the artificial Islands in the South China sea as then the conflict could be contained without escalating into a broader nuclear exchange involving nuking of military bases and eventually cities. 
Expect many such announcements and actions emanating out of the US and it's allies over the coming months as the US paves the way for War with China.
The Coronavirus Greatest Economic Depression in History?
It looks like the history books will need to be rewritten for if the noises emanating out of every nick and economic cranny are to be believed for the global economy is heading for an economic contraction WORSE than that of the Great Depression! Which will make the Financial Crisis of 2008 look like a walk in the park. And this is not from the usual perma doom merchants who like a broken clock will eventually be right.
However, even the UK governments Office for State Economic Propaganda (OBR) has warned to expect UK GDP to plunge by an unprecedented 35% in Q2!
Even information technology is set to tumble by 45%! So I guess those profiting from the great shift online will be the US tech giants rather than local tech firms. 
Whilst the expected contraction for the whole of 2020 is set to be at least 13% and possibly as high as 25% depending on when the lockdown ends. Worse than the Financial Crisis, worse than WW2, worse than the Great Depression, worse than WW1 and the Spanish Flu! Albeit with the caveat of a sharp rebound that exceeds the contraction, after all the OBR still is the governments agency for state economic propaganda.
Whilst at the same time the OECD is forecasting a fall in UK GDP of as much as 26% this year!
To be frank the numbers flying around seem unreal, so I have ask myself how can a stocks bull market be sustained if we are about to experience the worst economic collapse in recorded UK economic history of the past 300 years? With likely similar projections for the United States and most other industrialised western nations. This is far removed from the 2% or so drop in GDP that I was expecting going into the Mid March as stocks bottomed. 
So it's no wonder that many are resolving to a resumption of the stocks bear markets, sending the likes of the Dow down to under 10k!
However, I would be surprised if the UK economy contracts by more than 6% by the end of this year.
So maybe there is some upside to be discounted by the stock market in all the gloom out there?
Meanwhile whilst we we were all shocked at the 3 million surge in US unemployment claims 3 weeks ago.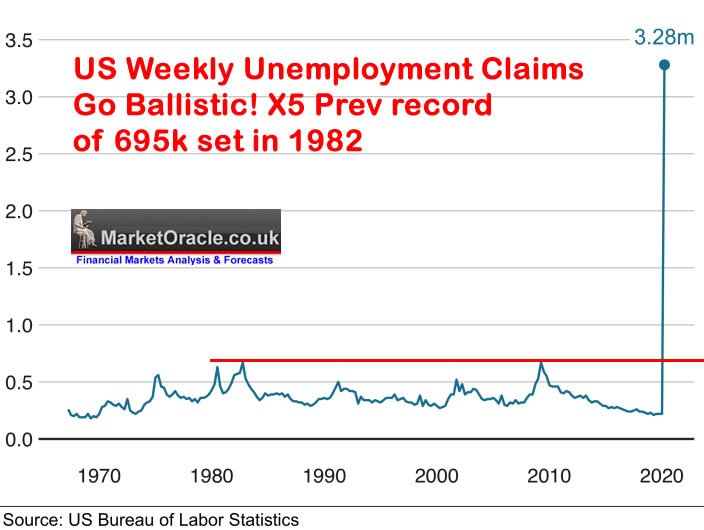 Well this is what the graph now looks like for the week ending 11th April, with likely another 4 million set to lose their jobs in the week ending 18th April.
So it's no wonder that many tens of thousands of americans are starting to protest in the streets demanding that the economy to be reopened given the extent of economic damage being done to the US economy as a consequence of the across the board incompetent response of US government agencies.
In terms of GDP the doom merchants vary from -6% to -12% for 2020. With most heavy on a Q2 economic collapse of as much as -40%! Though with a sharp rebound of sorts in Q3 and Q4 as this report by Morgan Stanley published 3 weeks ago illustrates.
Whilst here is a more recent report from Barclays Capital.
However, even more so than is the case for the UK, I suspect the US will surprise to the upside. It's as though the academics are not aware that all of the tech giants prospering from the corona lockdown's are housed in the United States! Surely this translates into boom time for silicon valley?
So I am not buying into the extent of the doom and gloom, the UK is not going to contract by 26% and the US by 6-12%, UK maybe 4-5%, US maybe 1.5-2.5%? Hard to say but I doubt we are going to be 1930's level contraction. Therefore my prevailing view remains to view the stock market sell offs as buying opportunities, a view that so far has proven correct. 
So maybe the world has become infected with perma doom and gloom and thus economic reality won't pan out to be anywhere near as bad as that which is being forecast today. That or the stock markets are strongly discounting a V shaped recovery as the earlier OBR graph illustrates. 
Meanwhile all those who were obsessed over the Fed unwinding it's balance sheet of a few months ago have gone silent, as I have often voiced for the past 10 YEARS that once money printing starts it DOES NOT END, instead expect it accelerate at the time of each subsequent crisis as we are witnessing in this crisis. Just like the AI mega-trend the Inflation mega-trend is EXPONENTIAL!
Crude Oil Prices Go NEGATIVE!
Negative oil prices is another corona consequences that no one saw coming. A 30% drop in world oil demand due to the corona lockdown's resulting in demand falling to 70m barrels per day, whilst the producers are pumping out over 90mbd meant that storage faculties had become saturated, thus nowhere to transport new supply to.
What actually triggered the collapse was the expiry of May NYMEX oil futures contracts on the 20th of April for DELIVERY in MAY. Only problem is given the lockdown no one wants to take delivery for May, as there's nowhere to put hundreds of thousands of more barrels of crude oil into storage. So those who usually are expected to take delivery were not buying into expiry which left traders LONG futures contracted who never intended on taking delivery but were just trading the futures, to panic sell to try and liquidate their positions into expiry at any price which given that there weren't many buyers sent the price NEGATIVE i.e. traders LONG oil futures were willing to PAY buyers to take delivery. An unprecedented event in the oil markets. 
It would be like your local petrol station paying YOU to fill up your car at their pump!
Negative oil prices whilst being a shockingly an unpremeditated event, and whilst there is a great deal of uncertainty in the markets nevertheless it should be temporary as open interest dries up and many futures traders avoid ending up in a similar position at the next futures expiry around the 20th of May as the current futures prices already illustrate.
However, there is still the issue of producers producing oil that no one wants to buy, which means prices going negative again is more probable than not.
This unprecedented event also confirms my message of several years primarily as a consequence of the climate change megatrend which is to disinvest from the oil sector, this industry is going to continue to experience more pain with or without covid-19 lockdown's.. 
This also flags a potential issue with ETF's that track the oil price like USO being forced to take delivery, and I would not be surprised if it could even cease trading, which is another reason why I generally prefer not to invest in funds but rather individual stocks because instead of reducing risks as the investors assume, they in fact INCREASE risks at times of crisis. 
So what's next for oil prices?
In terms of price the trading range is $20 to $29 as I imagine a lot of supply destruction is taking place below $20, in fact I suspect anything below $40 is destroying supply. Which means that the oil price should resolve to it's trading range of $20 to $30 from the current $13. However that does not include the front month going into expiry i.e. June which could go negative once more as likely most western nations will remain locked down into late May and thus far more supply than demand and storage.
Fundamentally, the corona depression means that the supply far exceeds demand for crude oil price, so unless there is a supply shock where OPEC cuts production by a further say 20% then it's going to be difficult to see crude oil price going anywhere north of $30 anytime soon.
Again in terms of the big picture this just confirms to avoid oil stocks at all costs! No matter how enticing the collapse in their prices looks, just as they might have looked to all those who were tempted into buying oil stocks during March, only to see them go cheaper still during April.
Which brings us to the current state of the Wuhan virus catastrophe that is unfolding in our nations, lets see to what degree the US and UK administrations have been competent or incompetent in handling of the Chinese virus.
UK Coronavirus Catastrophe Current State
My last analysis (Are Coronavirus Death Statistics Exaggerated? Worse than Seasonal Flu or Not?) focused on answering the question are Covid-19 real extra deaths or are they people who would have died anyway. The answer to which was expected to be in the weekly total registered death statistics as published by the ONS Where my analysis concluded in a central expectation for the number of total UK deaths registered for the week ending 3rd April to jump by 44%. And for every percentage below then Covid-19 could be deemed to be less significant, but for every percentage above then would deem to be more deadly.
The actual data as published by the ONS showed a shocking 59% jump in the number of weekly deaths as the updated table illustrates.
So there you have it, Covid-19 deaths ARE REAL EXTRA DEATHS of people, most of whom WOULD otherwise be alive today! Furthermore my analysis at the time warned of worse to come for the subsequent week ending 10th of April 2020 projecting to a 69% increase over the 5 year average.
ONS data published on the 21st of April showed a 80% jump in the number of weekly deaths, a trend that would have continued to worsen in subsequent weeks had it not been for the lockdown which is expected to moderate the number of extra deaths over the coming weeks.
So unfortunately the Covid-19 deaths are real extra deaths, which means the lockdown's are necessary because the UK government is incompetent, unable to manage outbreaks in a competent manner as South Korea has which gave advance warning of what was necessary instead we have two clueless morons advising the government at daily press briefings, hopefully they will be held to account for their incompetence.. 
My trend forecast as of 22nd of March concluded in the UK trending towards 123,000 infected testing positive, and 8,100 deaths by the end of April 2020.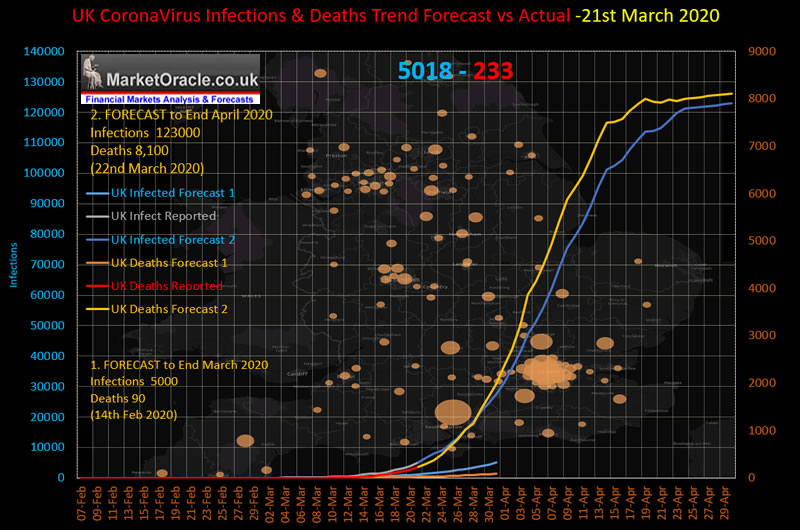 My latest update as of 20th of April has the number infected at 124,743 and the number of deaths at 16,509 against 8,064 forecast that resolves to a shockingly high case fatality rate of 13.2%. Were this trend to persist than the UK would be heading for about 22,000 deaths by the end of April. Meanwhile 125,000 testing positive X15 and X30 translates into herd immunity of between 3% to 6%, so the price paid in lives lost does not amount to much immunity in the general population.
Which just illustrates the degree to which the Boris Johnson's government has been negligent in the handling of Covid-19! So instead of 100 deaths the UK looks set to become Italy 2.0!
Lets hope a future public inquiry does not result in a whitewash of all those in charge who have proven to be criminally negligent! Who sat on their asses until Mid March and then hit the panic button when the deaths started rolling in!
This also brings into the question the competency of all facets of Britain's institutions from the civil service, to the NHS to the city clowncil's. 
Imagine if Britain had to go to war? It would be a total disaster ending in obvious defeat because the morons in charge would be so unprepared they would probably run out of bullets on the first day!
So the UK response to the coronavirus has been disastrous, heading for where Italy currently is on 24,000 deaths. This despite advance warning! With the Italian Prime Minister screaming down the telephone to get ready for what was coming our way, instead BJ would joke about shaking hands with covid-19 patients, so not much of a surprise the idiot got infected. 
Also what's the point of making forecasts when morons are in charge who repeatedly FAIL to ACT! Even now the morons are making calls around the world hunting for PPE equipment! There needs to be justice for the 16,000 dead and likely many more thousands to come!
US Coronavirus Catastrophe Current State
US buck passing has started as Trump de funds the WHO in the middle of a pandemic, yes the WHO has been infiltrated by the CCP as have many western institutions just as the CCP was planning on having the likes of Huawei infiltrate western 5G networks that they were offering at deep discounts to the fools in the UK government who were eager to blindly lap it up despite warnings from the US.. At least the US did not fall for China's 5G cunning plan. Though of course following the corona catastrophe many nations should be waking up to the full spectrum Chinese threat that includes bio-weapons as the story of the lab in Wuhan being the source of the pandemic has once more started to make an appearance in the mainstream press. And It does not matter if it is true or not for it is all for inclusion in the dossier that is being quietly assembled by US Intelligence agencies in preparations for military action later this year..
My forecast as of 22nd of March is for the US to trend towards 531,000 tested as infected by the end of April coupled with 26,550 deaths, for a Case Fatality Rate (CFR) of 5%, as it was hoped that valuable time would not be squandered on political bickering during this escalating national emergency where every day literally counts.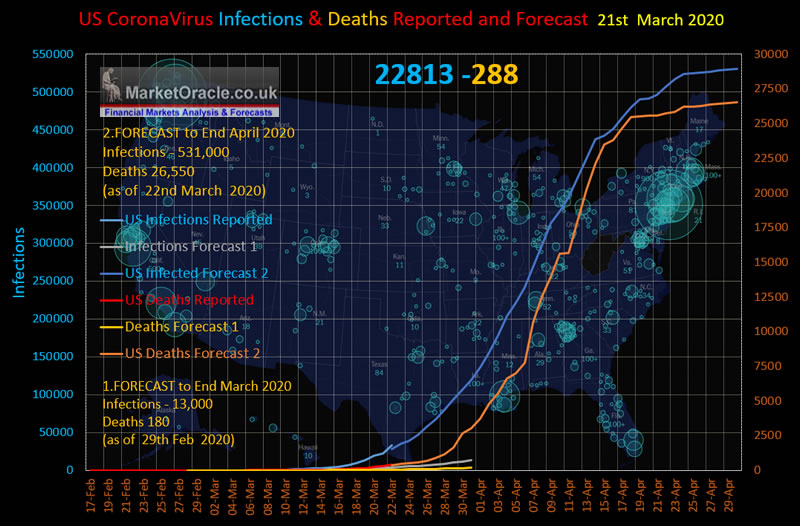 My latest update as of 20th April has the US testing positive rocketing to 792,000 well beyond my forecast for the end of the month, and more than 35 times the number of a month ago! 
Whilst the number of deaths at 42,514 is also well beyond my forecast of 26,500 by the end of April with a trend trajectory that targets 60,000 Covid deaths by the end of April .Meanwhile the CFR continues to rise to currently stand at 5.4% 
So just like for the UK, any hopes for a competent response have been well and truly blown! We are now well on our way into the twilight zone all courtesy of the morons in charge, mad scientists advising and not fit for purpose CDC! 
All this whilst there are growing calls for an end to the lockdown's. This does not bode well for the US for what is likely to transpire during May, how can the curve be flattened if the the outbreaks are not being contained? Lack of competency could result in an even higher peak during May.
Stock Market Implications
My existing forecast as of 9th March is for the Dow to make a low late March and then to target a volatile uptrend into the end of April 2020.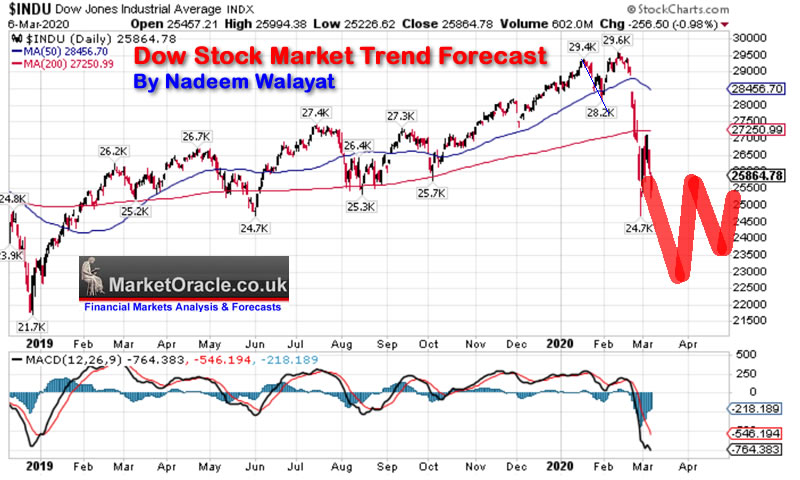 The updated chart shows the Dow trending largely in line with my forecast expectations
(Charts courtesy of stockcharts.com)
But how can the stocks bull market continue when the economic data points to a worse contraction than the 1930's Great Depression?
How can the stocks bull market continue when we have morons and mad scientists in charge who's incompetence has sent the death tolls sky rocketing to well beyond anything anyone could have imagined a month ago when the US had less than 300 deaths?
The answer is ............. it cannot. So the stock markets should be heading lower rather than higher over the coming weeks..
DJIA Stock Market Trend Analysis
This analysis will continue in my next article that I aim to complete during the weekend to resolve in a detailed stock market trend forecast as well as updating AI stocks buying levels for Q2. 
However, my preliminary analysis suggests to expect the Dow to target a downtrend to about 20,000 by Mid May.
Your analyst waiting for the day when AI's publically advise governments on how to respond to crisis in a competent manner.
Nadeem Walayat 
Copyright © 2005-2020 Marketoracle.co.uk (Market Oracle Ltd). All rights reserved.
Disclaimer: The above is a matter of opinion provided for general information purposes only and is not intended as investment advice. Information and analysis above are derived from sources and utilising methods believed to be reliable, but we cannot accept responsibility for any trading losses you may incur as a result of this analysis. Individuals should consult with their personal financial advisors before engaging in any trading activities.
---
released this post 18 days early for members.
By becoming a member, you'll instantly unlock access to 62 exclusive posts
By becoming a member, you'll instantly unlock access to 62 exclusive posts