it doesn't have to be a snowman. thoughts of the night - and a chat, if you're up.
(public post)
maybe it's just because neil is out of town and the child actually got to bed before midnight and maybe it's the collective consciousness that i was reminded of posting late last night and maybe it's the song i managed to squeeze out all of you through the vessel of my own hands or maybe it's the conversations i've been having with all my friends in the wake of the path of the hurricane
(aren't we always all in the wake of the path of something).
today's observations.
a cosmic reminder to myself and maybe to you: every single choice has lead you to now. as coco just said to me, sylvia boorstein reminded us that suffering is simply the attachment to the idea that now could be otherwise.
fuck it. here you are, now, and it shall always be so.
here is a clip of the chick who played the voice of anna in "frozen" singing for a bunch of kids in orlando because they're all stuck there so why not. i have something in my eye. no wait i don't i'm bawling. do you want to build a snowman?
https://twitter.com/amandapalmer/status/907080231982419968
"ok bye..."
reminder two: everything is relative. i'm going through a period of relative stress right now. my husband is buried under a matterhorn of stress and absentee, my child tried to run away from home for the first time today (we found him, but not before i went into full panic mode), i'm leaving the states when i want to do nothing but stay in one place for a while and batten down the proverbial hatches, but here i go again, packing three suitcases of clothes and potties and diapers and ukuleles, i don't know where we are going to live, i don't know where any of my equipment is because i don't keep track of things and i keep prioritizing everything but organizing, my car has a flat tire, my phone isn't working. in my temporary office - in this bizarre house in the woods that neil picked to be his upstate writing retreat where i never planned to set foot for more than a cozy week here and there - is a pile of boxes stacked ten high that i do not want to open. and i did an interview on film today with my old fiend alina about the tragedy of losing my wedding dress, which was also my street performing costume. oh.
but
during this morning i started thinking about all the people who have died. wesleyan brought a lot of that up. i went on a three block walk and it was just death everywhere. my brother karl. my boyfriend matty who died when i was a sophomore. my lover conor from senior year who put a gun to his head and pulled the trigger a few years ago. shannon my housemate from eclectic who drowned right after we graduated. chuck, who i cuddled with for a while but we never kissed. he died of an aneurysm when we were all still in our twenties.
i started thinking about all of my friends and friends' friends who have lost children. to stillbirth, to miscarriage, to fatal car crashes.
i thought about the people whose homes are underwater. i thought about what it must feel like to lose everything.
and then i thought again about the boxes.
and the wedding dress.
and i was like: shut the fuck up amanda.
lost is relative.
sometimes i can't believe how lost we can get.
here i am
here you are
and everything's probably relatively fine if you're still able to read this.
it doesn't have to be a snowman.
if you want to chat, i'm live below. at least until a baby creaks and i have to go.
forever now,
elsa fucking palmer
(ps the live function is part of the patreon app but it works just fine on desktop / web browser if that's what you're using. just comment and i'll be here. it's 11:43pm ny time.)
Pledge $0 or more per thing
Everyone
Pledge $0.01 or more per thing
Patrons Only
YOU ARE HERE TIER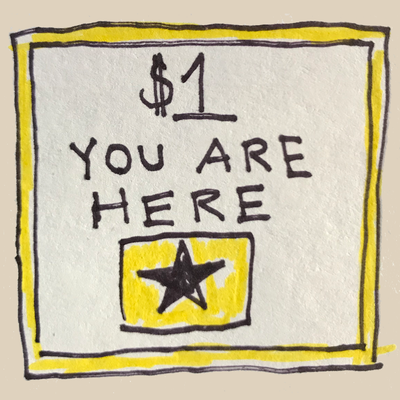 you are...here. you're supporting me and that's huge. thank you. you'll get my patron-only posts and access to the patron-only feed, where the community centralizes and everything gets posted & talked about. you'll also get downloads of some of my larger projects. and so you know: your voice is just as important as some well-off mofo giving me $100. 
DOWNLOAD TIER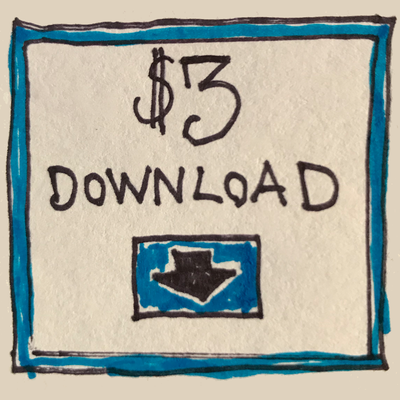 you're supporting me even more, and you are also awesome. thank you. you'll get access to the patron-only feed, as above, where we hang, and you'll also be DIRECTLY emailed keepable/playable/readable downloads of any content (PDFs, MP3s, etc).
RANDOM SURPRISES TIER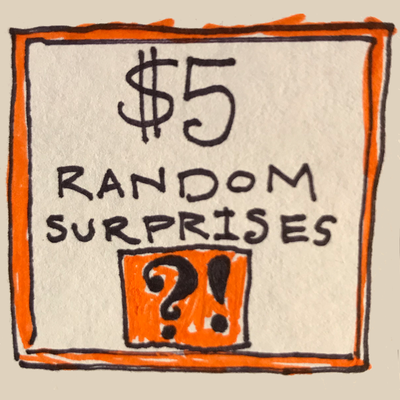 you're supporting me a lot here, dear one, and $5 a song (or Thing) is really generous. thank you! you'll get all of the above, plus you'll get random surprises in your email. i'll share extra stuff with you every once in a while, including more personal videos and photos (and sometimes voicemails) that i don't want out in the public. so far i've sent random little digital tidbits every few months that seem to really delight people. i'm always open to ideas and feedback about how to get weirder.

WEBCHAT TIER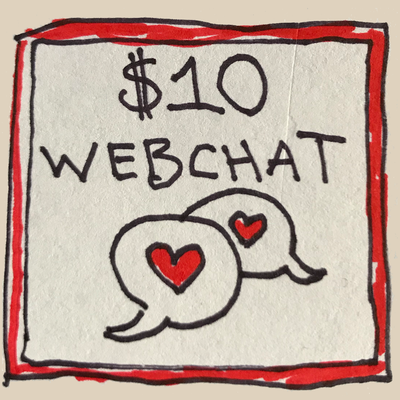 this is a lot of money to give to an artist, and you are really showing me some serious art-love here. THANK YOU. i'll try to make it worth it: you'll get all of the above, random surprises and all, plus access to my patron-only webchats in which i'll chat/perform live/discuss things with you. for the last few years, i've really enjoyed and appreciated these talks with the higher-level patrons, and we talk about some serious stuff. i usually do these chats from my home or from whatever recording studio i'm working in, so you get a glimpse of what real life is looking like (there are often babies and husbands and friends around). i love doing these, but not with thousands of people. i'll do the monthly webcast even if i haven't made any art, so you may be getting free webcasts if i'm in a funk, and we'll just talk online about how unproductive and fucking depressed i am. FUN!
ART-IN-THE-MAIL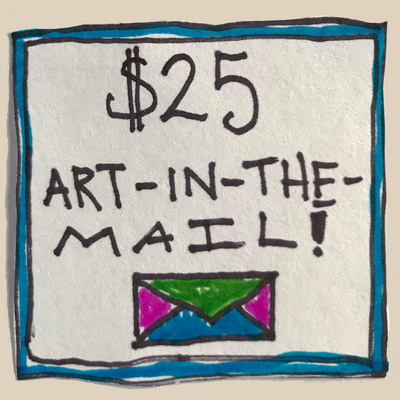 THIS IS A NEW TIER!
i have been thinking for ages about how to reward people who want to support at a higher level, and i've found it! introducing ART-IN-THE-MAIL. this tier will get all of the above (access to all downloads, webchats, etc) AND every few months, as a gesture of my extreme gratitude, you can opt-in to receive a piece of beautiful physical art. the art may be something i draw and print in a limited edition, or something i commission from another painter/artist/maker. it may be a watercolor print that was created for a tour or an album, it may be a rolled-up print of a panel from a comic i'm working on. it may be socks. we can fit socks in an envelope. we're gonna have fun with this one. 
(Signed) ART-IN-THE-MAIL + GUESTLIST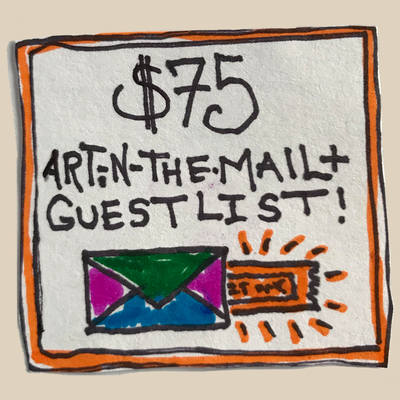 THIS IS A NEW TIER!
same as the ART-IN-THE-MAIL Tier, except you have the option to have your art (or socks) personalized + signed by me; the personalization can be for anyone (including you). it's a massive undertaking to get things signed/shipped from place to place (especially if i'm in japan and you're in brazil), so we try not to do too much of this....but i love the idea of being able to do this as a gesture of gratitude for the massive amount of dough you are putting into the system. you will also get access to the guestlist (+1 - note that not every appearance i do has a guestlist, i.e. if i'm playing a festival, but for my own headlining shows, we should be able to accommodate everybody). THANK YOU AND I LOVE YOU.
OLD-SCHOOL POSTCARD TIER
(limited to 30) - hello, Amazing Art Angel. this is massive. you'll get all of the above...patron-feed, random surprises, webcasting, plus i'll also
send you weird vintage/kitschy postcards from weird places i wind up
(i've been having a TON fun with this). and you'll get access to the guestlist, +1, anywhere. we will email.

note: this tier is VERY FULL, but spots open up occasionally. 
EVERYTHING IN THE MAIL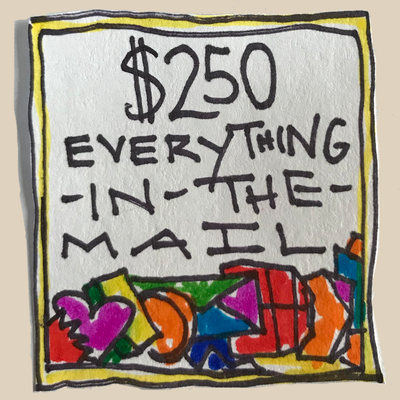 THIS IS A NEW TIER!
HELLO AMAZING PERSON. you will get EVERYTHING the $75 tier gets, plus we will will give you extra guestlist access (if you'd like to bring 2 guests with you to any given official AFP show) and we will invite you to request ANY physical merchandise whenever new items are added to the store (you want a few copies of the new poster? you got it). you'll basically get personalized concierge service and we'll sign and send stuff to you for you/your loved ones anywhere in the world. thank you so, so so much. holy shit.
ALL THE THINGS
wtf. we'll talk. we'll have dinner; i will probably cry. you may cry. all the things, pretty much. thank you (holy shit the end).