It's August Skype time with Double O's!
Dear Double O's!
So apart from having a Skype call with
James Mercer
and
Daniel Shillhito
recently, for most
Double O
supporters the Skype calls are long overdue! I promised you guys to make sure I stick to it this month, and I now have some free hours ahead to get some conversations going again! (Will have some more time during next week too) 
So I hope to speak to you all this month! (And to Mark Howley and Daniel Ryan, our debuting calls should be made soon! Add me on Skype! (jeroenbrom) and lets talk! ) 
Pledge $0 or more per month
Everyone
Pledge $0.01 or more per month
Patrons Only
The DBF Community
$3 or more per month

∙ 27 patrons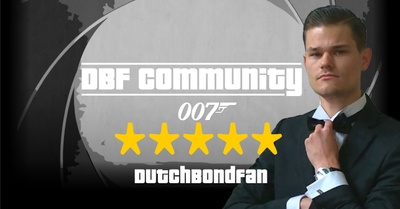 Rewards and benefits for joining:
•
Early access
to all videos uploaded to the channel
2 weeks before the regular viewers
get to see the content!
 (With the possible exception of occasional Bond news discussion videos, which all viewers will get to see instantly) 
• A Personal video message
• Your name featured on supporters Wall of Fame
• Access to my Patreon feed (Exclusive looks behind the scenes, vote in polls etc)
 • You will receive my custom made Bond Blu Ray covers in your e-mail inbox as a sign-in bonus! 
  • You're now part of the elite group of fans of the channel!