January 2016 patron supported
Thank you so much for the support this month!
Pledge $0 or more per month
Everyone
Pledge $0.01 or more per month
Patrons Only
Thanks for supporting us!
$1 or more per month

∙ 4 patrons
You get our gratitude and some good karma!! Yay you! Also guarantees that Giant Girl will never step on your house, unless she is helping you with that house you can't sell.

Be Like Ronni!
$2 or more per month

∙ 0 patrons
For patrons of our work willing to pledge two bucks, we'll post the script a week in advance. You can read what's coming, and you spoil the plot. But hey, some of us like spoilers.


Spoiled!
$4 or more per month

∙ 1 patron
I'll just link you to the script and you can read everything that's coming to the last page. Although given my penchant for rewrites I am liable to change a few things along the way.

Mail Bag!
$5 or more per month

∙ 3 patrons
You can write letters to Giant Girl and ask her anything. Your answers might very well see print- we've done mail bags at the end of issues previously, and we'll do them again. If you are curious about the characters or universe we're building here, this tier enables you to ask us anything, and the answers will be visible only to this tier of donation and above.

Guest-starring YOU! Hopefully not as painfully as this.
$8 or more per month

∙ 0 patrons
You will be featured in the Giant Girlieverse as a character- maybe a hero, maybe a villain, perhaps a not-so-innocent bystander. But your name will appear in print in the strip as a character and you will totally be a part of the world of Giant Girl Adventures. So you can point it out to your friends, who probably won't know what you're talking about, but will smile and nod politely.
Custom character doodles!
$10 or more per month

∙ 0 patrons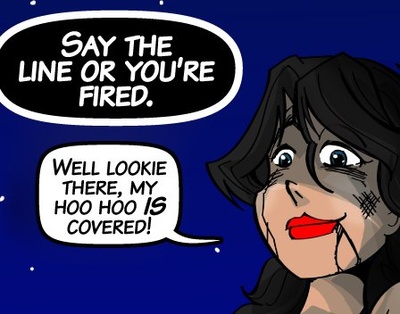 Including the previous rewards, every month we'll send you a digital doodle of your favorite Giant Girl Adventures character's head shot, possibly saying something snarky of your choice! Or hers. Because Giant Girl.

Screenwriter's meeting!
$100 or more per month

∙ 0 of 3 patrons
If you give $100 a month, we'll write a story with you. Seriously. For a hundred bucks a month, you can experience the excitement of being a webcomics creator. We'll craft a five page story with you and give you input into the Giant Girliverse, your name in lights and all of the glory that comes with it. Literary immortality to be certain.

This is for a one month offer. If you want to keep paying us this much I will write stories with you monthly. Happy to do it.