January 2018: Raven Gravity Rush
 The main theme on Patreon for this month is
RAVEN from GRAVITY RUSH
and this is the first photo <3
I've previously done a Christmas version for December month and some contents are still available. Now it's time to the full cosplay set!
You have now access to:
- photoset preview (early access for 1 month or more)
- photoset selfies
- fansign - a photo of mw with your name on a piece of paper (I already took the first 2 here)
- unique polaroids (first 4 are here)
- backstage video
- wallpaper (the photo on this post in HD, without text)
In addition:
- access to all previous WIP and fitting test since I started to post about her in January and some contents are stil online.

NOT ONLY RAVEN!
Then the "classic" rewards:
- Giveaway A5 print
- Signed prints
- Gift box
- Skype chat - group (from 10$) and private video (from 100$)
- Telegram group (info here)
- Know my next projects before anyone else


CREDIT PHOTOSET:
Irish Gerry 
Level 1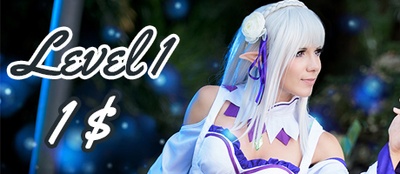 You can support me with 1$ or more. Select it and write the $ you want to pledge!
This tier has no rewards, it's just for who wants to support me without asking something back.
PICK A COSPLAY
~ Contact me before to pledge please ~ 
I should agree your proposal first 
Pick a cosplay for me!
You can choose a costume we both like and I'll order it from a good cosplay shop or a seamstress or I'll make it by myself.
Costume value: 400€ for a complete costume - I mean dress, wig, lenses, shoes, props.
You will have: 
► Thank you handwritten letter 
► 1 Polaroids
► 1 Fansign  
► First social network post about the cosplay with your name as credit
NOTE: please understand I have to order items online, this can take more than a month! Then I need to create the outfit and organise a photoset + wait for the edited photos. I'll keep you informed of everything, just be patient please! Of course you just need to pledge once even if it will take more time!