Jodo Cast RPG: Triumph & Despair, Episode 2
Welcome back to our own RPG series from The Jodo Cast! I know it's been forever, but we're finally getting back into the adventure where we left off last time after having gotten the team assembled.
Big thanks again to all our Patrons for sticking with us and constantly encouraging us to keep up the work and requesting frequently for us to get back to the RPG! We love to hear from you, especially over at our Discord where we chat daily!
Please have a look at our patron rewards and milestone goals at our Patreon! Leave us a comment on our website on what you'd like to see as a future reward or what you'd like to see us produce with your generous help!
Share your thoughts with us on all our social sites, as well as leaving us a review and comment on iTunes!
You can find us anytime at our new Discord server! Come say hi and hang out at any of our public chat rooms!
Be sure to join the conversation at our new subreddit at reddit.com/r/thejodocast!
After you finish listening, check out our YouTube page for past recorded video game streams and our twitch channel for upcoming live streams!
If you want to get in contact with us, there are many and various ways, including these:
Subscribe to us on iTunes, Google Play Music, Stitcher, or our RSS feed
Follow on twitter
Also Follow on our new Instagram!
Add on Facebook
and email the show at
Be sure to tell all your friends and fellow Star Wars fans about us! Help us get the word out by giving us a review on iTunes! Also, remind them yet again to stop censoring our name. It's just annoying.
Pledge $0 or more per month
Everyone
Pledge $0.01 or more per month
Patrons Only
The Chosen Ones
$1 or more per month

∙ 9 patrons
For your generous support of our show, you'll get a hearty thank you on the air, we will add your name to our THANK YOU, PATRONS! wall over at our website, access to our Patron-exclusive Discord chat room, and you'll become eligible for future milestone goal benefits including giveaways! 
Noodle Scooter
$5 or more per month

∙ 5 patrons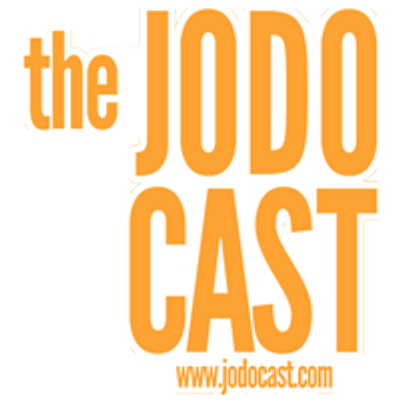 At this level, you'll receive everything from level one, plus a Jodo Cast sticker to show off how extra cool you are!
Jodo Junkie
$10 or more per month

∙ 3 patrons
If you support us at this level, all the rewards from the first two levels will be included, along with the opportunity to be a guest player on our Star Wars RPG show: Clumsy & Random!
Jodo Master
$15 or more per month

∙ 1 patron
Supporting at this level gets you all the rewards from levels one through three, plus a mystery "grab-bag" of various official FFG promo items will be sent to you! This may include official alternate art cards, tokens, and more!
Grand Admiral
$20 or more per month

∙ 0 patrons
If you pledge at this level, the first four levels of rewards will be yours. 
Additionally, you'll get a custom piece of artwork from Leo or a custom painted miniature from any Star Wars game (within reason) by Leo or Joe!