July 2016 patron supported
Thank you so much for the support this month!
Pledge $0 or more per month
Everyone
Pledge $0.01 or more per month
Patrons Only
The curious crowd
$1 or more per month

∙ 5 patrons
Yay, welcome on board!
- Here you'll get
weekly updates
, photos of the ongoing work, of exhibitions I visit... 
- a step by step view of the projects I work on from the application to the set up! 
- we'll be in touch: you can peep inside the studio, leave a comment, start a chat, this is a great way to get to know my work better!
- Additional contextual perks such as your name in the catalogue, poster, video... depending on the project I'm working on.
The fund-(h)er fonder
$3 or more per month

∙ 1 of 150 patrons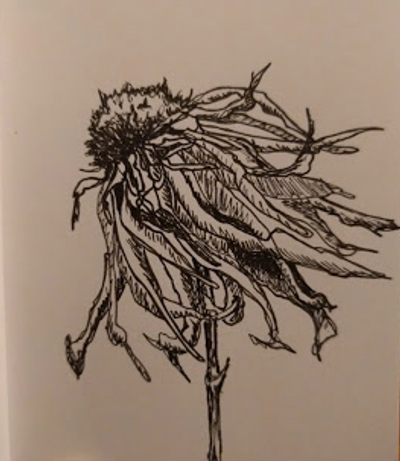 A big kiss through the ether to you! 
-if you support for a year, I will send you one of the
daily drawings
I do :)
- AND 3$ patrons have access to gif, small animated videos of how the works are done, so you can see more precisely how the paintings come to life!
The committed supporter
$5 or more per month

∙ 2 of 150 patrons
Amazing, thank you! This is great!
5$ patrons get: 
1 daily drawing after 6 months of support 
AND 1 small signed painting on paper as the one you can see above after 6 more months!
The art lover
$10 or more per month

∙ 1 of 25 patrons
You have so much of my gratitude, big hugs you art lover, I wouldn't be doing what I do without you!
So as a special thanks you'll receive a
Christmas card
(that I draw with my sharp pencils and podgy fingers), your card becomes my notebook and you keep the traces of my evolutions,
Plus all the other stuff like the others, your name in catalogues and videos and fresh news and gifs, and the right to suggest things you'd like to see!
The collector
$20 or more per month

∙ 2 of 25 patrons
You're being serious about this. Thank you!
Now we need something really special. On top of the other rewards described above, I would like to make you a handmade happy birthday canvassy post card, sent by snail mail, yes like in the old days! Don't forget to give me your birthday date!
The art commissioner
$50 or more per month

∙ 0 patrons
Wow you're fantastic, this is so helpful!
So now you have a birthday card and a christmas card, and what else? I don't know maybe we should talk and figure out what you would like...
Do you want to pay for a painting monthly? or maybe not but later if you see something that you like, we'll deduce what you paid as a Patreon from the price of that painting?
Pledge $100 or more per month
Ok.... wow, fantastic, terrific, awesome what else are you? You really like what I do, or you believe in this as much as I do and you want to help a lot. Well thank you so very much!
For this amount you get all of the above but you get a painting of the see the edge series (after your third month) or a painting discount if you would like to get a painting from another series. Just send me a message, tell me what you'd want and we'll figure something out!