June 2016 patron supported
Thank you so much for the support this month!
Pledge $0 or more per month
Everyone
Pledge $0.01 or more per month
Patrons Only
Capsule Roulette Party
$1 or more per month

∙ 1 patron
Capsule machine roulette!
Doesn't that sound great?
Once in a month I turn the wheel for you.
For every Dollar you give you have the chance win buttons, dice, vouchers for bigger stuff like shirts etc.
This is the most gambling reward I can offer to you. It's fun, exciting and maybe you are lucky and get something real cool. And if you want to I can send you small videos of the event!
By the way. Every dollar spent this way counts towards the big surprise:
After every 1000th use of the machine, I do a special lottery and give you something really big. A portrait of you in bottlecaps, a table made out of legobricks or something like this.
For this 1000 Dollar I do count the patreon money and the money I make on markets, conventions and fairs with this machine.
Hurry up and waste no time, it is turning time!
Yay or Nay? - You decide what I create
$1 or more per month

∙ 1 patron
Sometimes I have more ideas than time to do them all.
And then I need someone to decide.
So, what about you?
You receive the early sketches and ideas and give them red lights or green lights.

A wallet! Made of old Comicbooks or maps!
$2 or more per month

∙ 3 patrons
Each year a wallet made out of old comicbooks of your choice.
Tell me what your favourite wallet design is and I will do it for you.
You can even watch me doing it via streaming if you want to.
A Smile between bills - Postcards
$5 or more per month

∙ 1 patron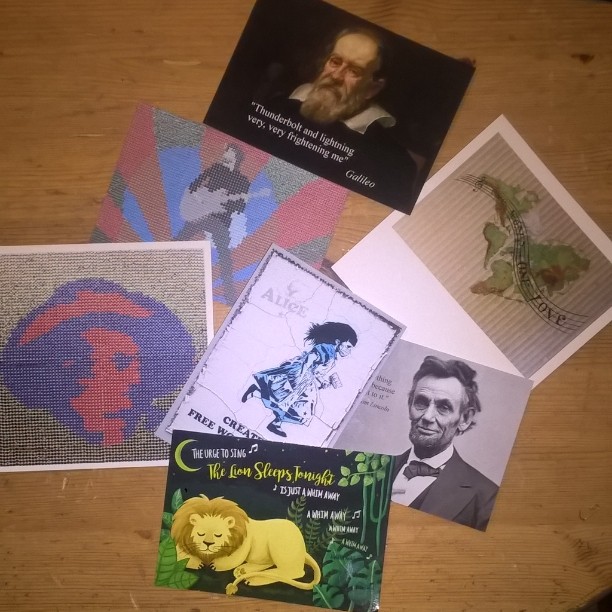 This is definitely my most favourite reward:
Once every month you do not only find bills, commercials and official stuff in your letterbox, but also a handwritten postcards by me. Designed exclusively for patreons and friends and filled with ideas, projects, strange stuff and some info about me. Maybe even some drawings?
You can combine this reward with the "Handful of postcards for an additional 6th free card to send yourself.
Ein Lächeln zwischen all den Rechnungen.
Definitiv meine liebste Belohnung:
Einmal im Monat liegen nicht nur Rechnungen, Werbung und Behördenkram im Briefkasten sondern auch eine Postkarte, die ich exklusiv für Mäzene und Freunde gestalte.
Auf der Rückseite findest Du handgeschriebene Infos über meine Projekte, Ideen, spinnertes Zeug, wo Du mich findest und manchmal vielleicht sogar eine Zeichnung?