This is the second idea I came up with at the conception of the book. Been thinking of redoing it.
Pledge $0 or more per month
Everyone
Pledge $0.01 or more per month
Patrons Only
Unlimited Access & Downloads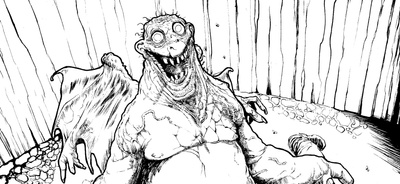 Thanks for your support!
For only
$1
you get:
Every coloring page, poster, or card that I post, you have free reign to download. Either color digitally, or print and color by hand.  When you do, please tag me on the socials and put a link back to here so people know where you got all that swag. 
The vast majority of my posts are for Patrons' eyes only. That's you. So you'll get to see them all. Watch my progress posts as I gradually put together some weird stuff, and then see the completed works. 
Unlimited, PLUS Monthly Drawing
For $2 you get: 

ALL the downloads and post access!
Monthly drawing! My $2 patrons will get one of their names drawn each month to win an original  sketchcard!
Shoutout PLUS Unlimited Downloads/Access
By donating a minimum of $5, you get:

Exclusive first access to the finished product! The completed, full works, both black/white AND color versions will be posted here first exclusively!
Hi-resolution downloads! You'll be able to download any of the finished pages for your own coloring enjoyment!
Social media shoutout! When you sign up, you get a personal "Thank you" on the social media platform of your choice, PLUS every month that you stay subscribed at this level I'll give a promo share/tweet/post about whatever project(book, kickstarter, etc.) that you would like mentioned!
Sketchcard PLUS Unlimited
By donating a minimum of 10$, you get:
Exclusive first access to the finished product! 
Hi-resolution downloads! 
Sketch cards!! By donating $10, you'll get an original one-of-a-kind hand-drawn sketch card every month! I'll send out a one-of-a-kind zombie sketchcard, unless you request a specific character.
Signed Print, Sketchcard PLUS Downloads
By donating a minimum of 20$, you get:
Unlimited access to every post!
Unlimited downloads! 
Signed Print AND Sketch card! By donating $20, you'll will receive (every month) an original hand-drawn sketch card AND a signed 11x17 print!