Let's Play the @LeafyIsHere Drinking Game!
Poisoning the Well - Episode 23: LeafyIsHere has arguably been the fastest growing YouTube channel of 2016.  With a new video out almost every day, millions of viewers get a dose of Leafy every 24 hours.  PhatPat and So Fain are two of these people.  With a vast collection of issues that they need to drown in a bottle, the guys at Poisoning The Well turn to a new activity...  The LeafyIsHere Drinking Game.  It's fun, it's fast, and it's a new game every day!  Prepare to let all of those worries float away...  Grab your livers and your booze and let's play the Leafy Drinking Game!
Thanks for all of the support!  The next video will be out within the next 2 weeks...  We promise!
Pledge $0 or more per month
Everyone
Pledge $0.01 or more per month
Patrons Only
Well Dwellers
$1 or more per month

∙ 25 patrons
You'll be in our hearts and dreams forever. Also, you will get early access to view and comment on our new videos. All patrons will get a link to our next big production up to 12 hours in advance!
We can't promise that your first dollar won't go into a stripper's thong tho.
Get Some Credit!
$5 or more per month

∙ 34 patrons
3x5 postcard of us with your money will be mailed to you.  If you want us to write some dumb shit on it, make sure to let us know!  We mail these things out once in a great while, so don't hold your breath on prompt shipping.

Also, this is the level where you land in the credits of our major videos.  We were putting in all patrons, but now we're cutting to the $5 and up level...  'Cuz we're lazy and it's a lot of typing!
Get a PTW TEE!
$20 or more per month

∙ 5 patrons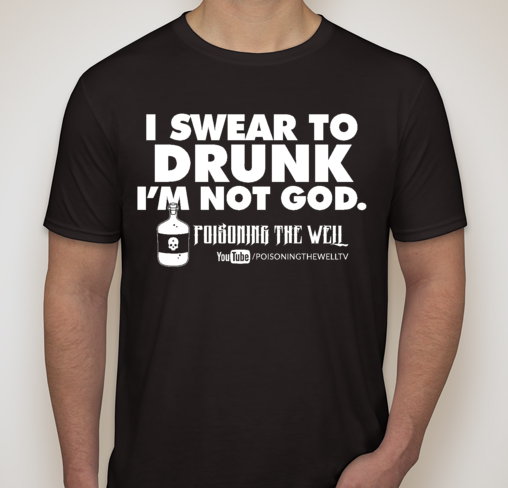 Receive a POISONING THE WELL t-shirt! Printed on a soft, athletic fit Tultex t-shirt.  We really like the fit and material of these shirts.  Please allow us up to 60 days to ship because... Well, you know.... We're lazy.