Liquid Mercury Cards ~ for Patrons
Actually it's a sunset reflected in the ocean, but I tell you the truth, that ocean looked like LIQUID MERCURY. It was thick and silvery, but the sky was purple and orange. I took this photo because I wanted to remember the exact shade of lavender splashed across the seafoam. I should paint this. Circles. Water. Light. Thank you so much to ALL my September Patrons! These cards are headed out to everyone on the $5+ tier. <3
Pledge $0 or more per month
Everyone
Pledge $0.01 or more per month
Patrons Only
supporting cast
You're in! 
Access to Patron-Only posts.
Overflow Theory giveaways, live broadcasts twice a month, behind-the-scenes video, interviews, bloopers, personal diaries, advanced sale notice and more.
featured players
Includes
Access to Patron Only posts. 
LAST CALL! - One 5x7 inch print of The Shire sent to you in the mail! This is your FINAL OPPORTUNITY to own a print of The Shire! I'm retiring it and the end of the month and once it's gone, it's gone.
guest stars
All of the above + 
The SOLAR SPECIAL! Prints made exclusively for Patrons and sent out automatically each season near the solstice and equinox. CURRENTLY AVAILABLE: In Dreams Begin Responsibilities. This is a process shot of the painting hanging on Patreon's walls. It has never before been released as a print!
co-stars
All of the above +
Second option to buy. You earn priority purchasing power. No original paintings are released to the public before going through you! 
Larger Solar Special prints each season.
$25 helps with supplies. My art is made with acrylic, sand, wax, glass, seashells, salt, and phosphorescent pigments on canvas, board, and wood. 
associate producers
All of the above +
First option to buy. Purchase a painting outright before it's available to others. Bypass the competition and save yourself the auction stress! 
VIP Perks and special mailings.
$50 keeps us connected. It helps cover the costs of my internet connection, live broadcasts, roundtable discussions, interviews, etc. It's the window into my life and studio. 
assistant directors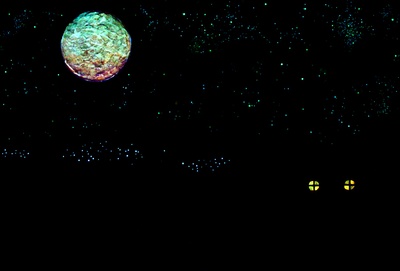 All of the above +
VIP Perks, including one original 5x7 Light Reactive Painting each year. Must be subscribed for (at least) 3 months.
$100 funds my ongoing study. I continually research new materials and refine my techniques. I think of my art kind of like a science experiment. :)
executive producers
All of the above +
VIP Perks ✨
One original 8x10 Light Reactive Painting every year. (Minimum subscription three months.)

$300 gives me the opportunity to do more events. I can collaborate with other artists/organizations as well as submit for fellowships and residencies around the world! It's good to be well-rounded, yeah?