Major Youtubers Hide Ownership Of CSGOLotto Pretend To Have No Connection
Pledge $0 or more per month
Everyone
Pledge $0.01 or more per month
Patrons Only
Tier 1
At this level you will be cooler than you were before. Straight up. You will also get
Private updates on games I am reviewing & channel plans, random Invitation to Patron only podcast & a patron only feed
Feel free to turn off ads without remorse
Tier 2
Imagine being cool but now being even better. That is this level, you also get
Includes
A chance to be invited to join in on one of the ACG International Friday Podcasts that's recorded & posted.
Tier 3
Private Discord, Talk with me and possibly win a game. Those 2 things will probably change your life. Here you get
Join the Private Discord Account/Game Chat/Help Karak Stay Alive
Chance to win any game I reviewed the previous month.
Tier 4
What is more fun than talking about games. Join our movie watching night and find out!
Monthly Online B Movie Night on Netflix with Karak
Suggest a game(1 a month) for Karak to cover in video form
Tier 5 - Karak Will Review Your Life!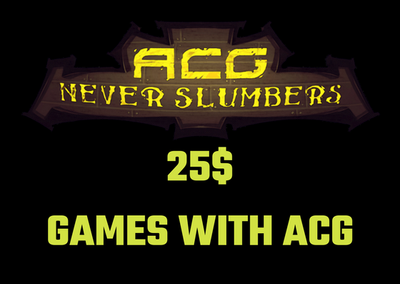 Karak will review your life or record you a message. Give him some data and off he goes. (not sure why you would want this but people have lol)
Want to jump into games with Karak this is the level!
Invites to Xbox Club and PS4 Community
Join Karak & team once a month for a 1 hour game sessions
Tier 6
Want to jump into more games with Karak and get some swag? This is the level!
Game with Karak and Team for 2 Hours a month. 
ACG Poster shipped to your home
ACG Personalized Avatar usable for YouTube/Google+ and so on
Access to discuss games with me personally on email
ACG Shirt - First month you get a Tee shirt, Long Sleeve Tee - or Beanie (If we redesign a new one will be shipped free of charge)
Tier 7
Includes
ACG  Channel Instruction
Karak and you can co-record a video or stream 1 time a month as well.
I will also work with you on developing a voice, setting goals, schedules, & helping you get your channel ready for Prime time. Continued support here means continued support for your channel as invites to the YouTube team videos. 
Solo Podcast with Karak once a month and posted to the channel. 
We can also stream together if you want to do that on Twitch or Youtube if you don't want to record
Tier 8
Includes
ACG Challange Accepted
All Previous Rewards

Challenge Karak to a game, any game that you both have. If you win you get a "I Kicked ACG's A$$" Tee Shirt
Listed as a contributing producer for ACG listed on the official pages & videos. 
Tier 9
Includes
Podcast and Channel help
Channel help and all services from above plus 

Join Karak as a Co-podcaster with full invites to all Podcasts to jump in and get the ropes.
Work together to try to get your channel setup. Art help, technical assistance when you need as well.
All Tier Rewards from Lower Tiers
Becoming a Patron Guest Podcastor with An Open Slot for All Inte