Malum and Varlet: Dagon Competitors
Dirk Malum is Gabe's antagonist through the comic and there's a manner of sexual undertones with him. 
Pledge $0 or more per month
Everyone
Pledge $0.01 or more per month
Patrons Only
Fetal Varlet
$1 or more per month

∙ 0 patrons
You get access to current concepts, story plots and Varlet FWT all a week early! 
Access to Varlet FWT a week early
Patron-only polls
Radio Varlet
$5 or more per month

∙ 0 patrons
Varlet is centered around 70s and 80s music- I love it- and I am often listening to Spotify to keep up the inspiration. You can have access to my private Varlet Radio playlist!
Access to the private Spotify Varlet Radio playlist
Old paper sketches and doodles.
All above rewards
Sketch Varlet
$10 or more per month

∙ 0 patrons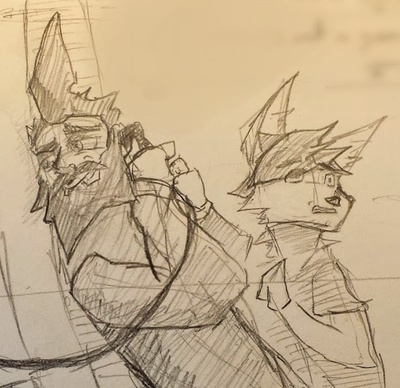 You'll see every concept and scrap I've ever made for Varlet (These are kept secret from the rest of the internet and can only be found on here!) You will also be entered into a monthly YCH raffle!
YCH character raffle entry
Text excerpts and concepts
Early developments into the comic
All above rewards