A commission from Mr. Coffee for his wife, depicting them on their wedding day.  It's been a long time since I've done a fully pencil, realistic drawing.  This piece is 11x17, larger than any others I've done.
Medium: Pencil
Completed: July 1st, 2017

Pledge $0 or more per completed artwork
Everyone
Pledge $0.01 or more per completed artwork
Patrons Only
Faery Dust
$1 or more per completed artwork

∙ 0 patrons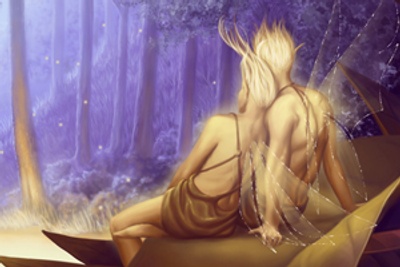 *Enjoy the knowledge that you are a patron of the arts!  Thank you ever so much!
*Also, you will get to see any completed artwork at least 3 days before any non-Patrons do.
*You will also get the first work-in-progress as a teaser for the up-coming project and any other random doodles that are not associated with the completed artwork.

Mermaid Tears
$3 or more per completed artwork

∙ 0 patrons
Everything from Faery Dust
PLUS
*You will get all the works-in-progress, detail shots, random doodles, and whatever else strikes my creative fancy until the artwork is complete.

Elven Ears
$5 or more per completed artwork

∙ 2 patrons
Everything from Mermaid Tears
PLUS
*You will receive a small gif that collects all the WIP images (including ones not previously shown on Patreon) into one short animation.
*You will get access to a high-resolution JPG of the completed artwork, showing all the details that can never be seen online.

Centaur Hooves
$10 or more per completed artwork

∙ 0 patrons
Everything from Elven Ears
PLUS
*You will get a link to every livestream event and another link to a YouTube video in which the stream session is sped up, in case you cannot attend the livestream event.
*I will send you a signed 6x9 print of the most recent completed artwork or a different one of your choice (free shipping, even international).
*I will share a portion of your pledge with another Patreon artist.  I have a LONG list of artists I want to support and your support will help me do that. <3

Vampire Fangs
$20 or more per completed artwork

∙ 0 of 5 patrons
Everything from Centaur Hooves
PLUS
*I will give you a free lineart character portrait sketch every month.  You will receive the original lineart with your print when the current artwork is finished.  Please discuss your ideas with me before pledging, or let me know you want a surprise.