MSAD - Week 1 - Face Mask Designs + 6 Outfits Suggestions Needed!
My Art Vacation has began in earnest with sketching every day for the first short week in May for May Sketch A Day!  I'll be sharing weekly compilations of this event here so I don't overwhelm you guys with daily posting.
Day 1 - Calavera Face Masks
I wasn't planning to sketch face masks until I saw that Art of Where announced they would be offering masks we can print art on soon!  These masks will have an adjustable nose piece, a pocket for a filter, and adjustable lining, which sounds swankier than many of the other custom printed art masks being offered by Redbubble and Artscow. 
So of course I needed to make one for myself and Kev!  He is medically vulnerable as a heart and cancer patient, so we're doing our best to stay safe and wear masks when we go out. Our handmade masks are going through the ringer being washed often, so it'd be nice to have an extra set!
My first attempt at a design was inspired by my Lady of November with her butterflies, marigolds, and underworld themes.
Day 2 - Akali Samurai Masks
My mask design exploration continued with exploring different shapes inspired by Akali's mask from the KDA music video.  I designed the oni look for myself and the samurai for Kev (because we're giant anime nerds), but ironically we ended up liking each other's designs instead.  I realized I made a head croquis years ago that ended up being perfect for this!
A glimpse at Akali's neon mask which inspired the look. So cool!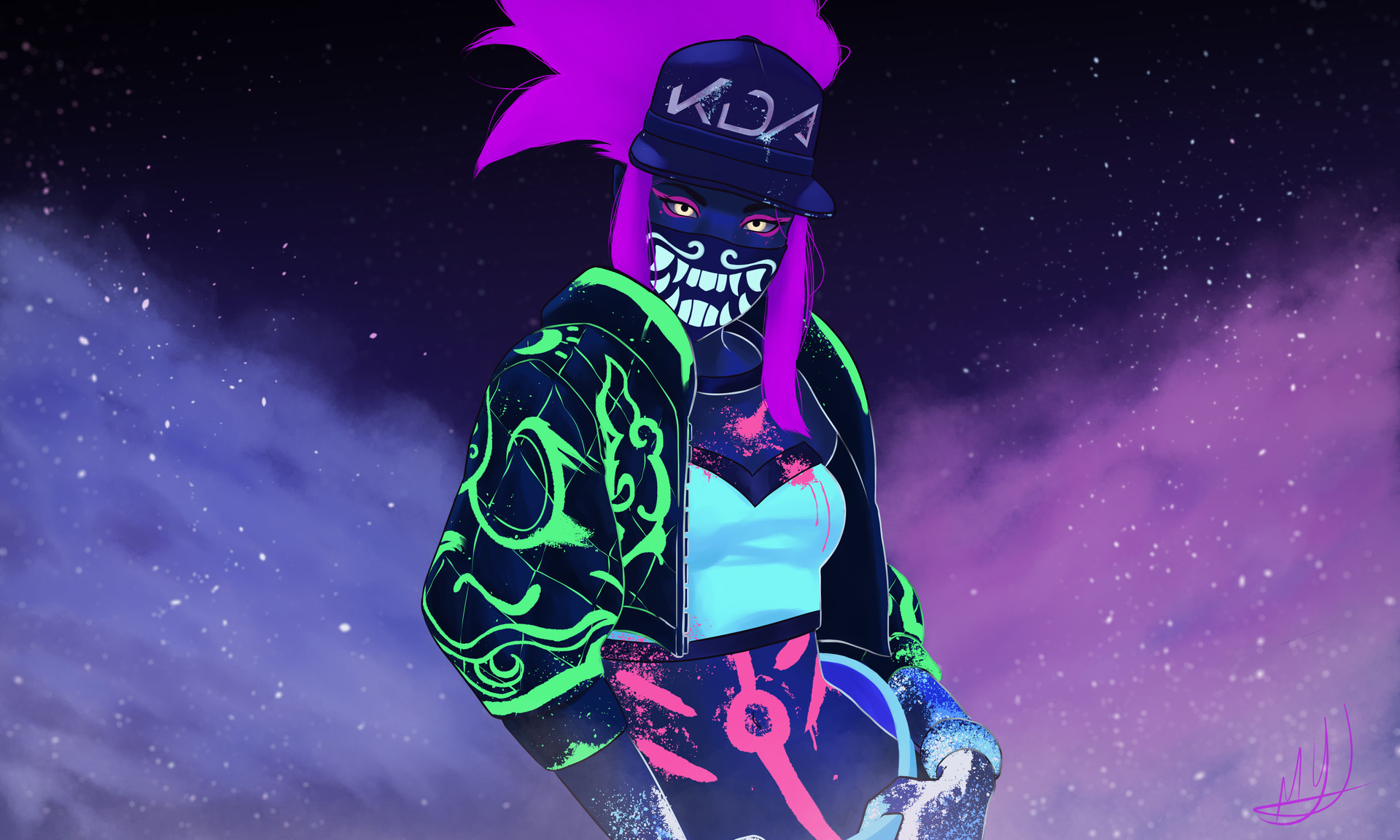 Art by Michelangelo Lanuza.
Day 3 - Persephone Moon Masks
MOAR masks!  I'm still searching out the design that feels like 'me'.  Stories of moon goddesses and Persephone have always been some of my favorites.  I wanted to play with moons and pomegranates as symbols!  I think I've gotten closer with the Persephone inspired design, the round shape where the mouth is looks a bit odd like a gas mask or a gag, so I may find another way to arrange these symbols.
Next week, I hope to finish up the 6 Fanarts meme that I got suggestions for on Twitter!  In the meanwhile, I need YOUR help to pick 6 outfits for my kind-hearted Tiefling gal, Anko!  I'll be working on them after I finish up 6 Fanarts.
I'll be saving 3 of these outfits JUST for my Patrons to suggest, so leave your suggestions on this Twitter post OR comment on this entry if you don't have a Twitter account.  Be sure to mention you're a Patron if you comment on Twitter!
Are you guys doing May Sketch A Day?  Link me yours!  I'd love to see.
More art coming soon!
♥ Ang
Become a patron to
Unlock 233 exclusive posts
Get discounts to an online store
Connect via private message