Network Trailer Soon! Patrons... Early Sceening.
That's right! GHOST CRIER was scouted by NICK GROFF & ELIZABETH SAINT to be apart of a progressive paranormal network.
TheHaunted.Space
What's this mean? More awareness! We're still doing events, developments, YouTube... and now we have a greater chance of turning this 'FULL TIME!' For the community. We've got you... and you, us. Those supporting GC. Enjoy being the FIRST to view our network trailer - see next PATRIN ONLY POST. Thank you for your time, Aaron G Thompson
Pledge $0 or more per month
Everyone
Pledge $0.01 or more per month
Patrons Only
We Love YOU!
$1 or more per month

∙ 2 of 1000000 patrons
$1
You Can See Yourself Backing This! 
'We #love you' for that -THANK YOU!!

When you were a child (or... yesterday) did you ever dream, "if only 1,000,000 people, around the world would give me $1.00 - than I would have $1,000,000?" Well... let's dream.
Hug IRL (when seen… if reminded... but we'll remember).
Gives you access to GHOST CRIER (GC) private feed.
Enjoy the world through LENS, a quick video glimpse at 'what's up' with GC.
Seriously; we LOVE you for allowing us to further the 'SCIENCE of GHOSTLY ACTIVITY.'
BONUS VIDEO(S)
$5 or more per month

∙ 6 patrons
$5
AN EXCLUSIVE BONUS VIDEO ONCE A MONTH! 
(Randomly... maybe MULTIPLE TIMES... we're crazy!)

PREVIOUS REWARDS
An unique GHOST CRIER video (or videos?) - for ONLY your eyes.
PERSONAL 'STUFF'
$15 or more per month

∙ 3 patrons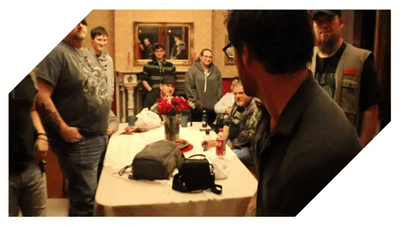 $15
YOUR PERSONAL, SIGNED, PHOTO! 
We're besties!

PREVIOUS REWARDS
One (1) 'Thank You' photo; autographed & mailed to you!
'Thank you' video on our social spaces!
GC CREDITS
$25 or more per month

∙ 6 patrons
$25+
WANT TO LET THE WORLD KNOW YOU'RE SUPPORTING US?! (maybe advertise w/link?)

PREVIOUS REWARDS
Name mentioned on all shows via title card (personal links in video description section// Also professional links shown, if let us know [ADVERTISE!])
Support mentioned on WEBSITE www.GhostCrier.com/ParaUnity
UNDERSTAND: 'YOU' are moving this field forward, with this INTENSE pledge. Thank you.