Pledge $0 or more per creation
Everyone
Pledge $0.01 or more per creation
Patrons Only
Recruit
Receive a character sketch  thanking you for your support every month.
Mercenary
You get access to the Activity Feed, where I'll post special updates for secret cool people. You also get the monthly thank you sketch.
Operative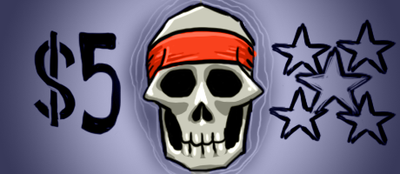 You'll get a colored 'thank you' illustration every month, and can email requests for game reviews and character art you'd like to see; that's on top of the lower-tier rewards.
Deepthroat
"Just one of my fans", huh? I'll take suggestions from you for podcast topics... don't be shy! Also you get the lower-tier rewards.
Living Legend
For $20 a month you're just showing off, but you'll get everything offered by the lower tiers and become a Living Legend.