November news: Pachacuti's first festival (and mine!)
 Hello Patrons!

As you may have heard, on saturday I went to my first gaming festival ever to present my work - useless to say, it was a bit nerve wracking, but it turned out to be an excellent experience. But let's take things from the top...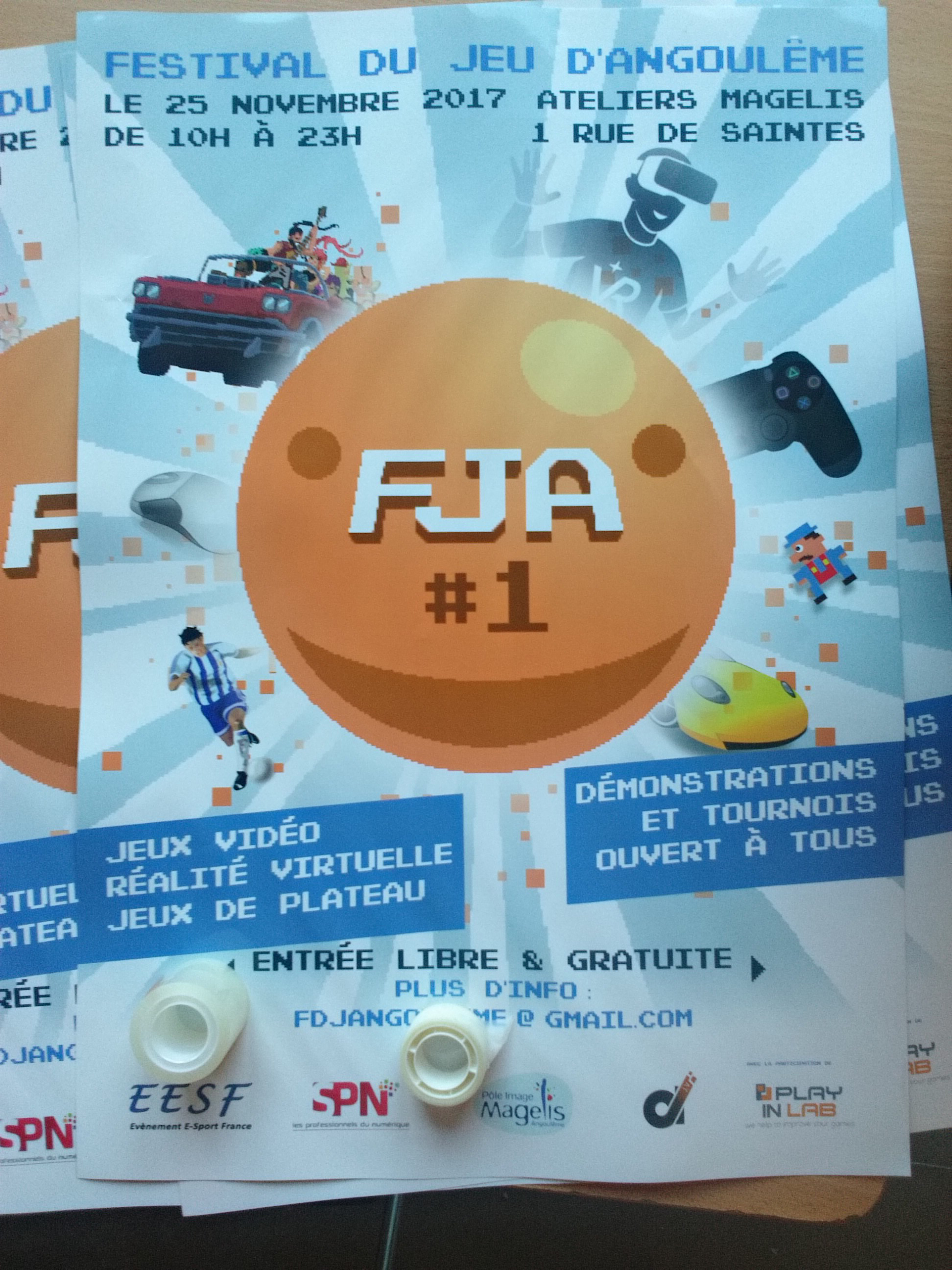 The event was a local gathering of game and board game developers, at the initiative of David Elahee, after he found out there actually is a thriving gamedev community right here in our small town of Angoulême.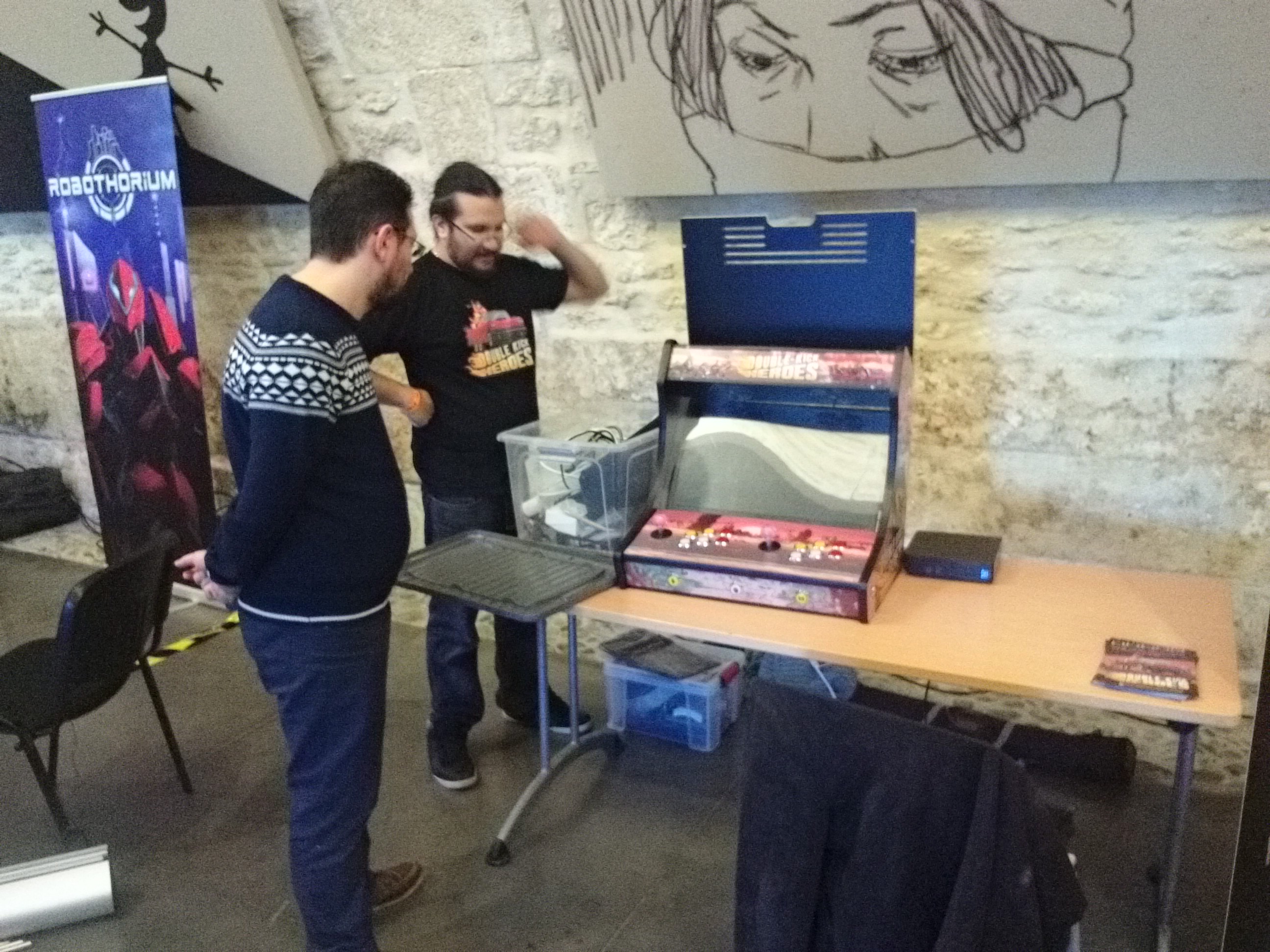 David seen here in a rare shot in his natural habitat, near arcade stations
As such, the event was organized to combine a display for both videogaming and board gaming - I unfortunately only had time to stay in the videogaming area, but there's always next year!
We installed the event on Friday, through a clever foldable computer stand system, depicted here, with the different wings supporting the screens and other peripherals required to play, and the computers themselves safely tucked inside the mobile units.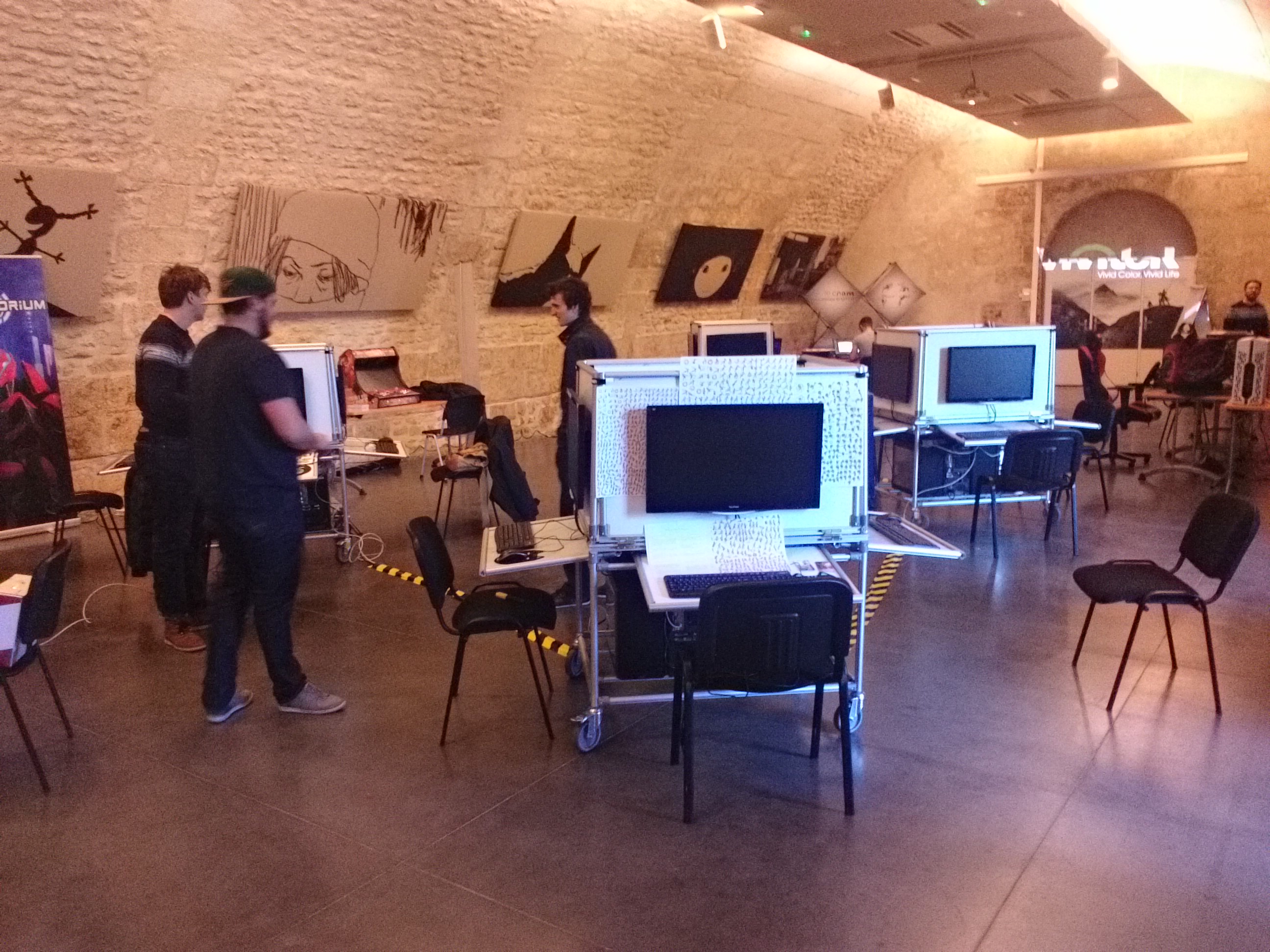 There were about 20 game stations available - I'll skip going over the electrical outlet hijinx involved. All of the machines were, as I understand it, custom built for the festival by LDLC, sponsor to the event - and they were pretty beefy, wish I could've brought one home :-D 
For my own space, I had printed out a few posters showcasing some of Inti's combined spritesheets, and some FAQs and general info about the game, along with some contact cards, just in case - this being my first event, I wasn't sure what would, if anything, be needed (in hindsight, I'd probably say: a lot more bottled water).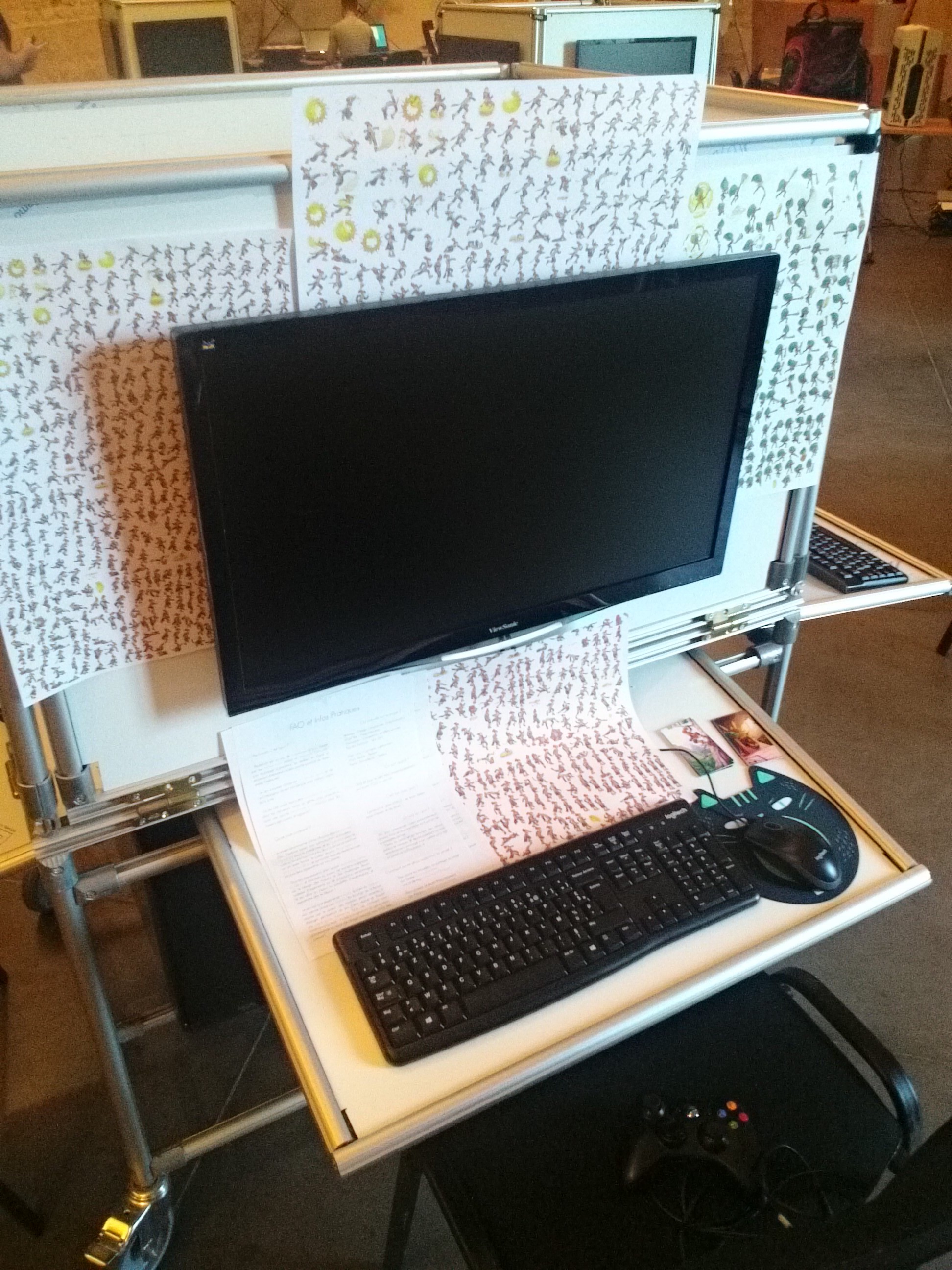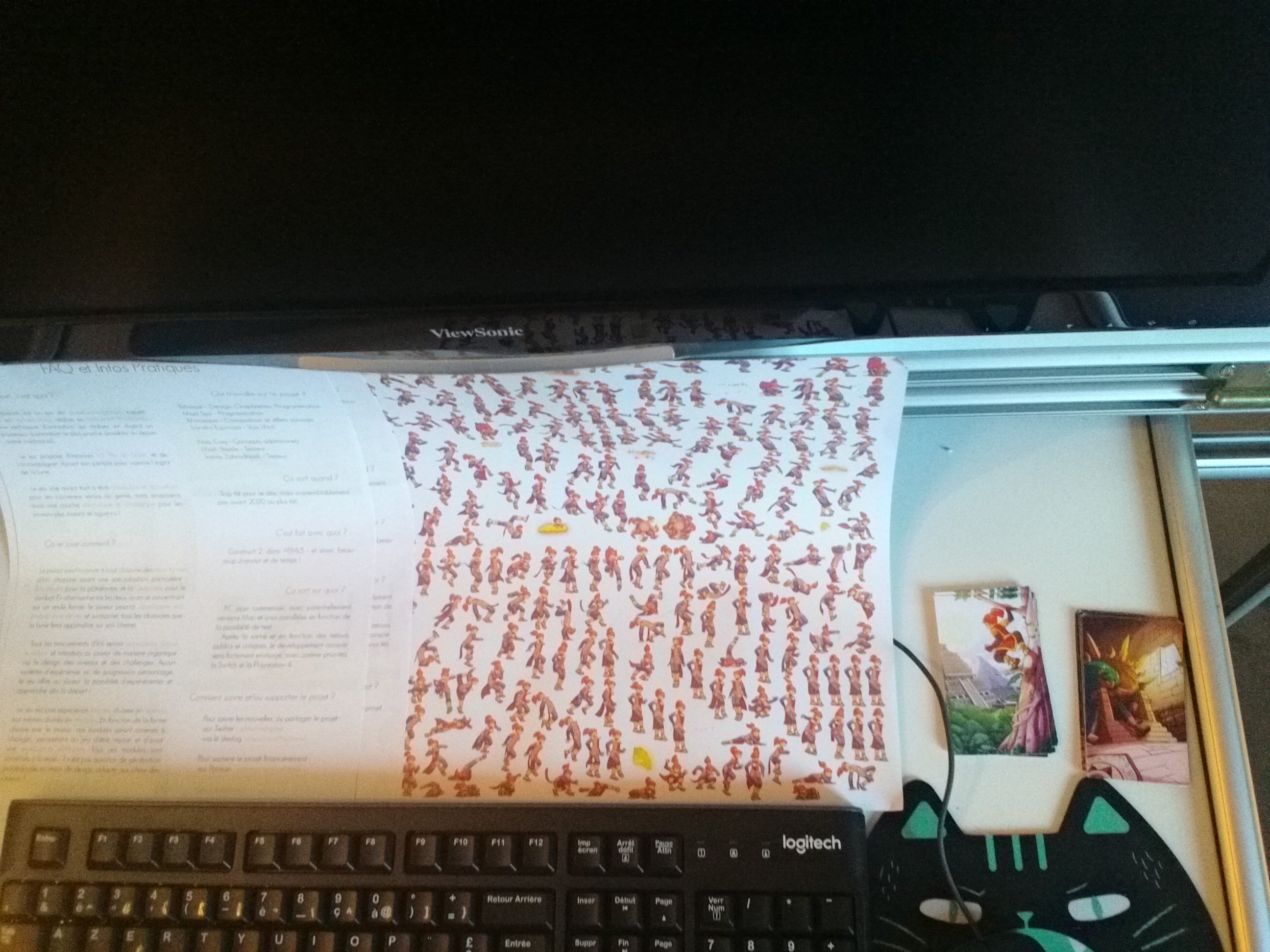 Do note the fantastically cute mousepads
The event proper started on Saturday. We were hoping for about 200 visitors during the day, but the final tally ended up being over 300, so it was a smashing success relative to our expectations.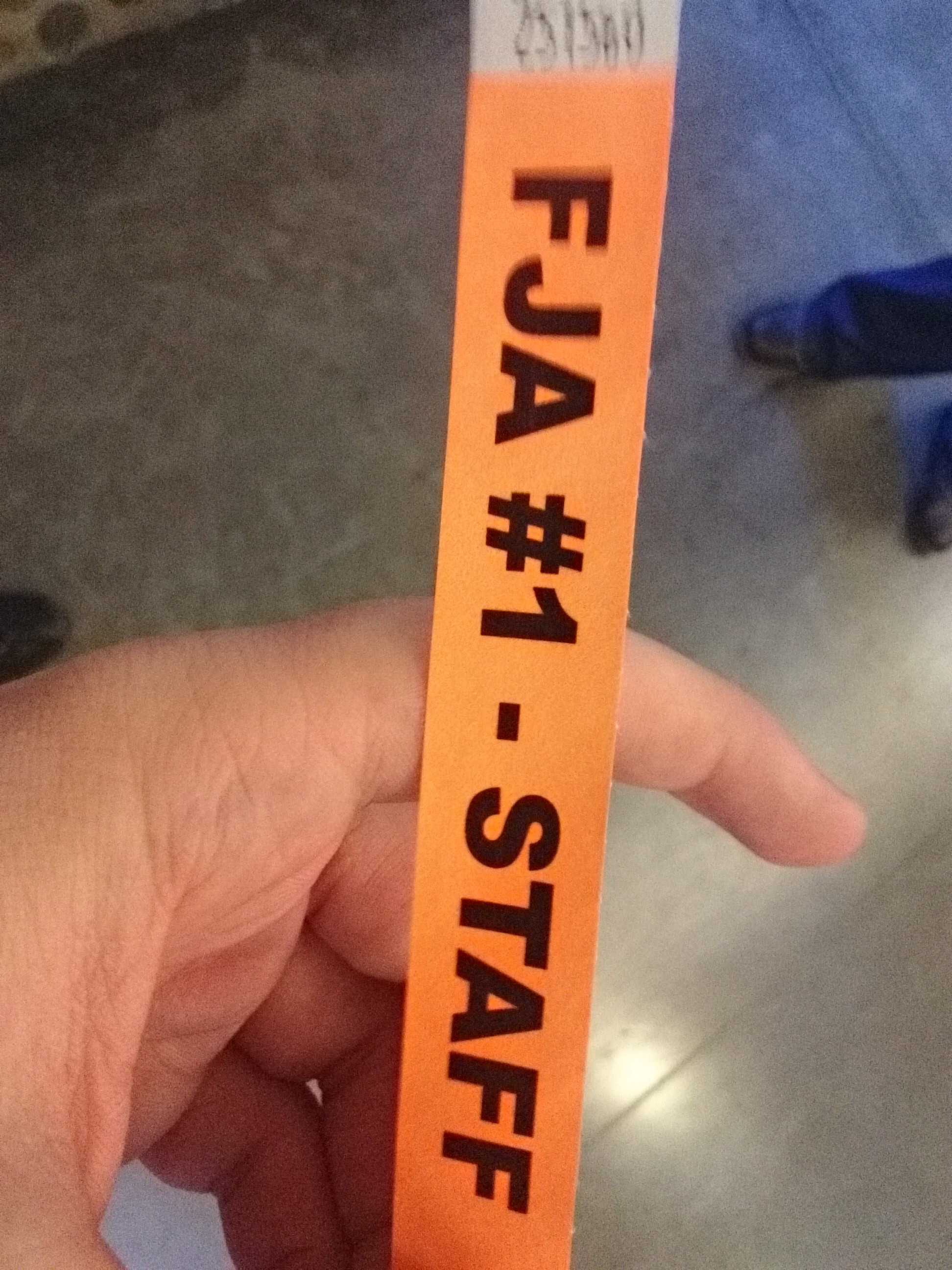 Somehow, I got one of these. They really let anyone in, these days.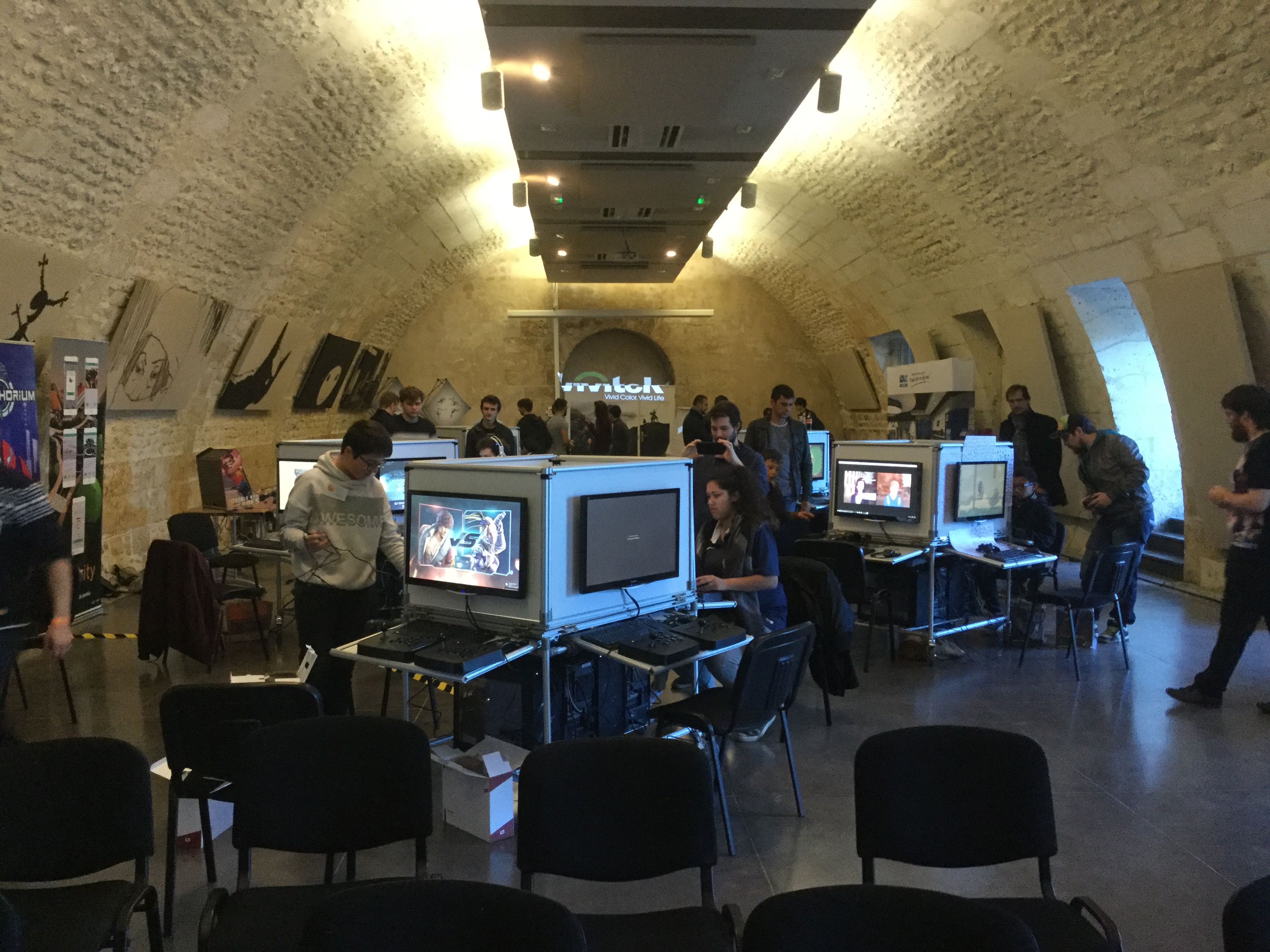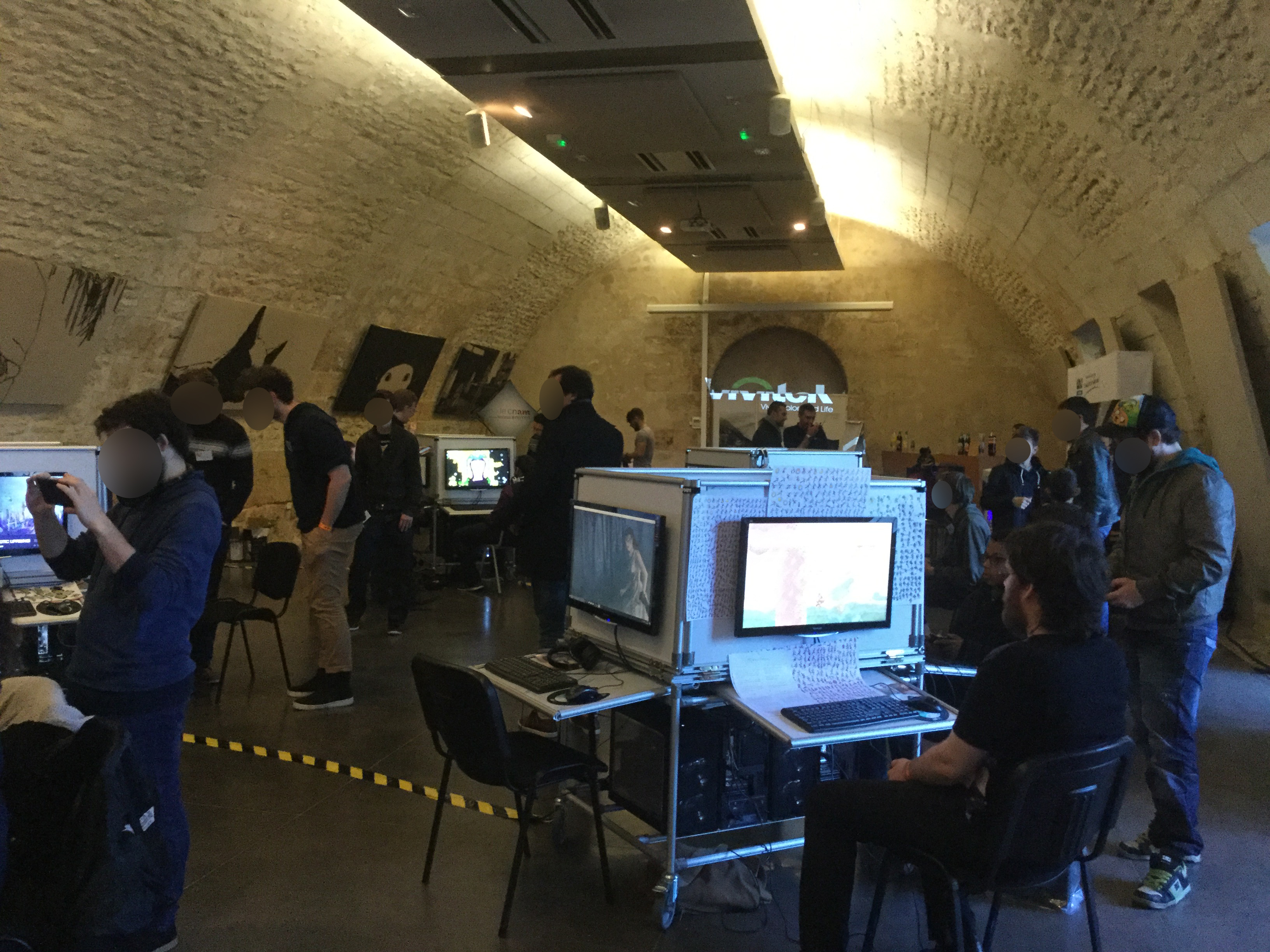 Seen here in the early hours, a developer's attempts at enticing the audience by playing his own stuff
As for Pacha itself, the prototype ran without a hitch. All of the feedback and player impressions were extremely positive, ranging from industry members to regular players to non-gamers attracted by the aesthetic, to family members wanting to play with their children, to children themselves (special mention to David's son and his ENTHUSIASM and DETERMINATION at following along with Inti's motion at every jump :-D).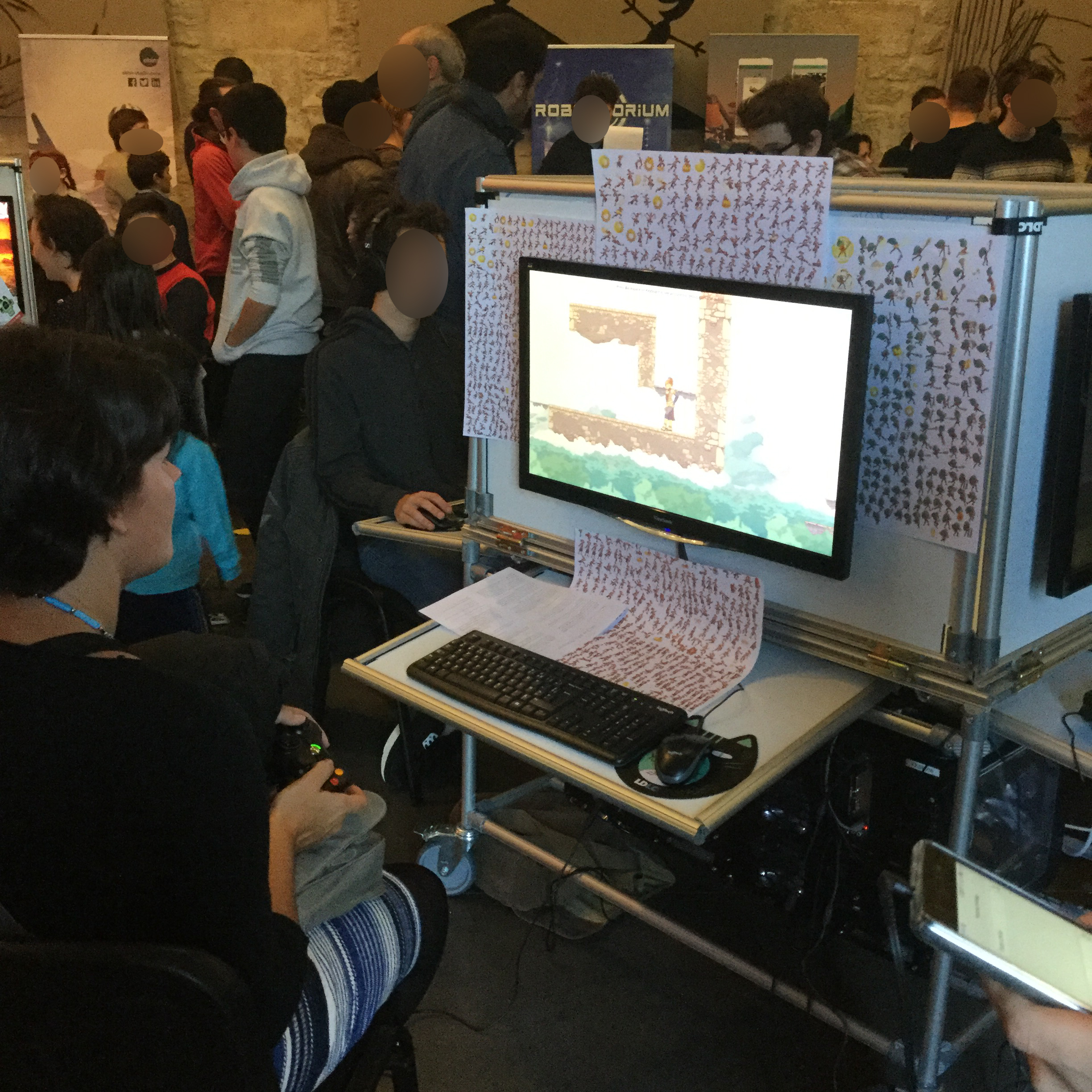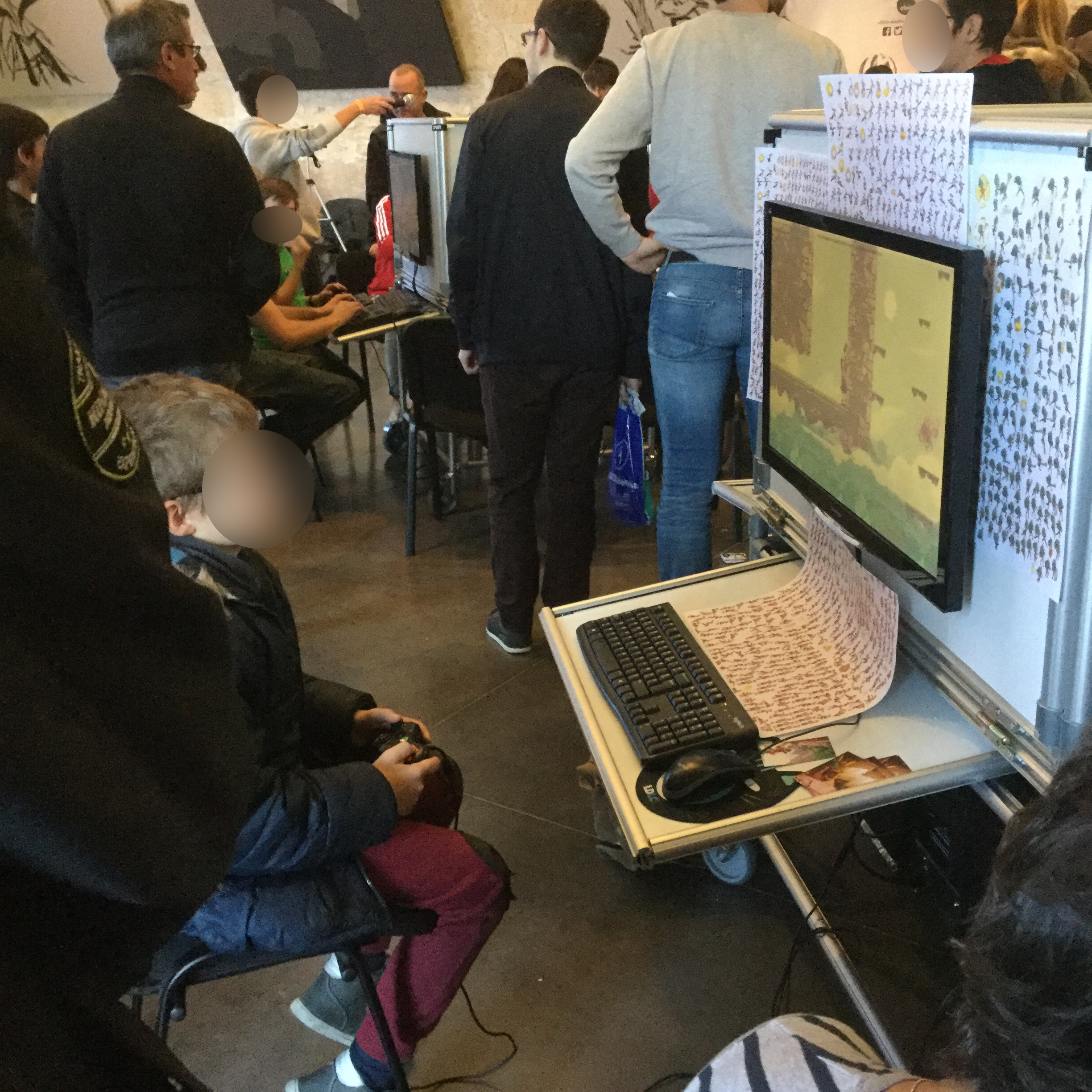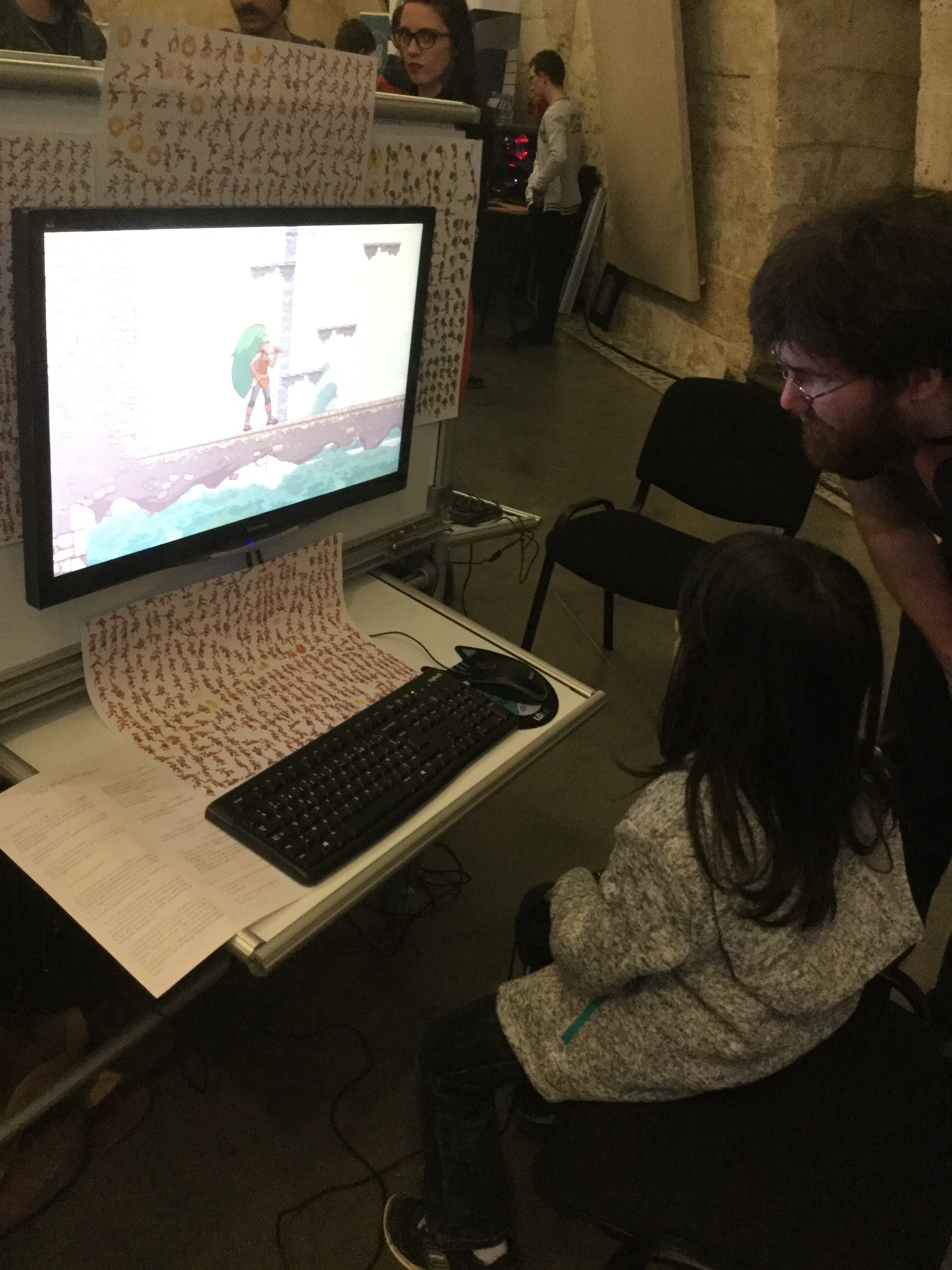 The prototype on display was version 0.0028.2, a slight upgrade over the prototype you've had access to since last week, mainly in regards to some issues I fixed at the start of the week. No unknown issues popped up during all of the playtesting, and in fact, there were comparatively few issues altogether, which was a pleasant and welcome surprise!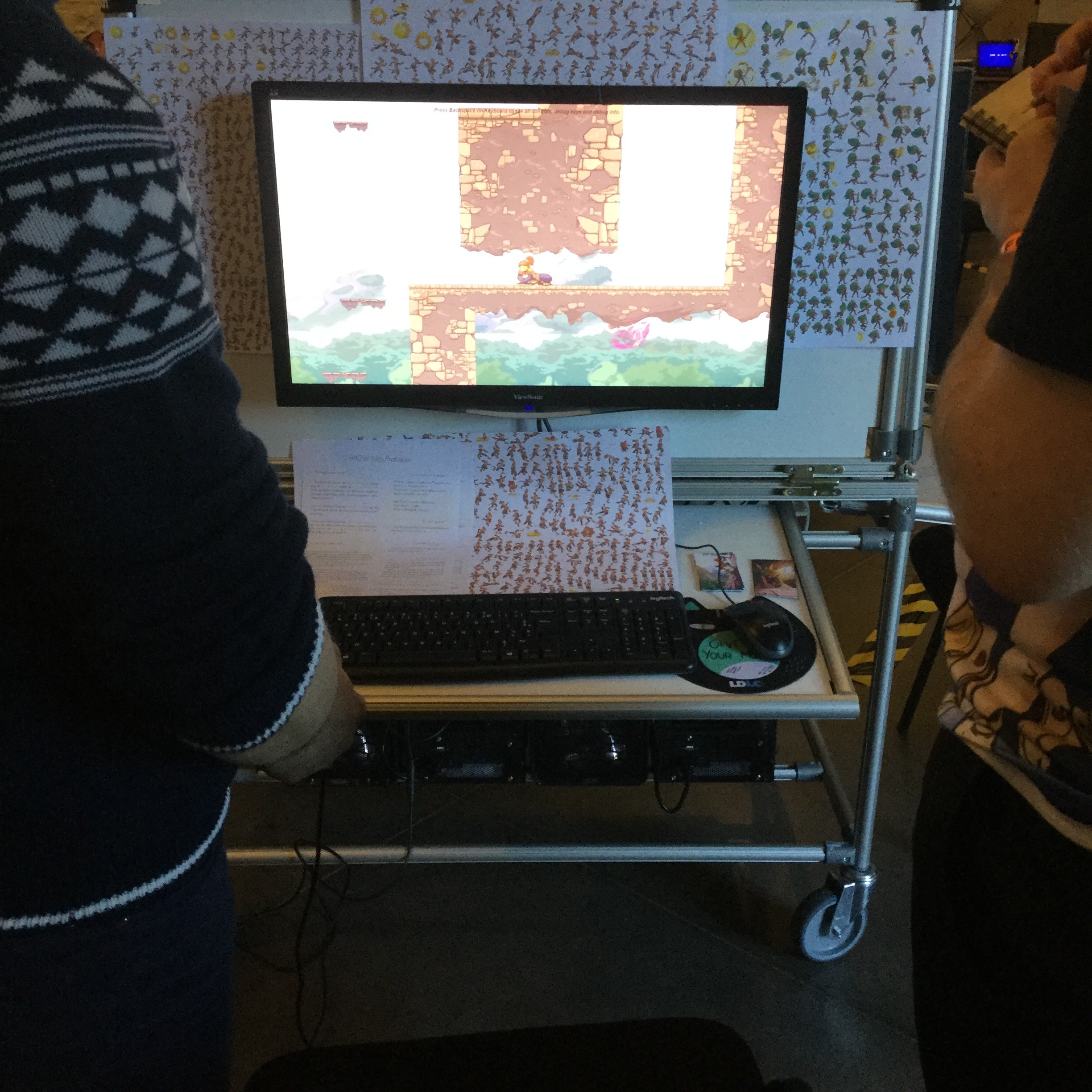 Among the people who came to watch and play the game at the stand, I've had the chance to discuss at length the details of the project itself (and getting more experience at describing what the game is in the process :-D), along with some more in-depth design discussions with other designers (thanks a TON to all of them!), and other finer points, such as financing, travel for other festivals and project exposure... fingers crossed some good comes from any of that, but it was excellent to talk about people in the know about such things, and I'm thankful to each and everyone of them as well!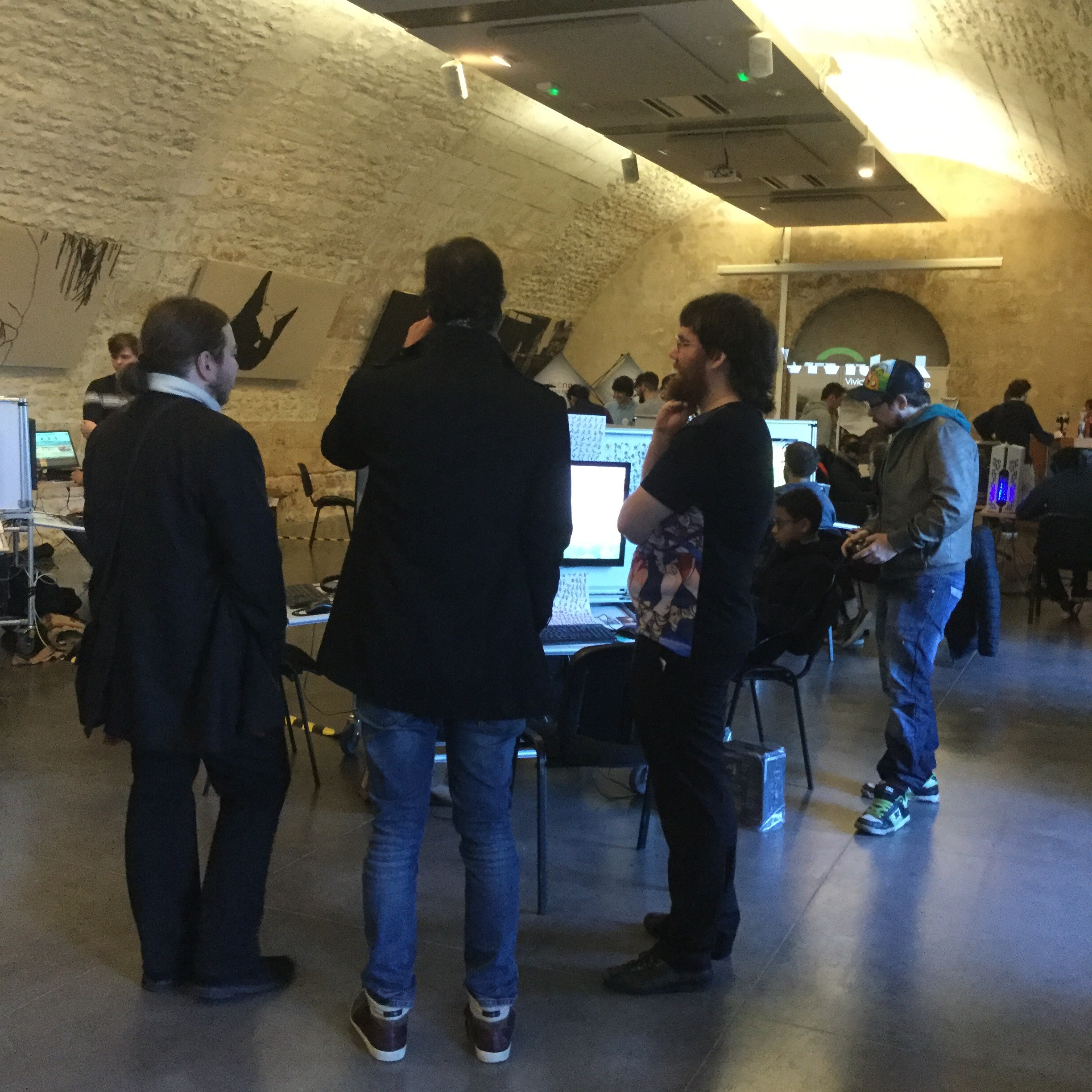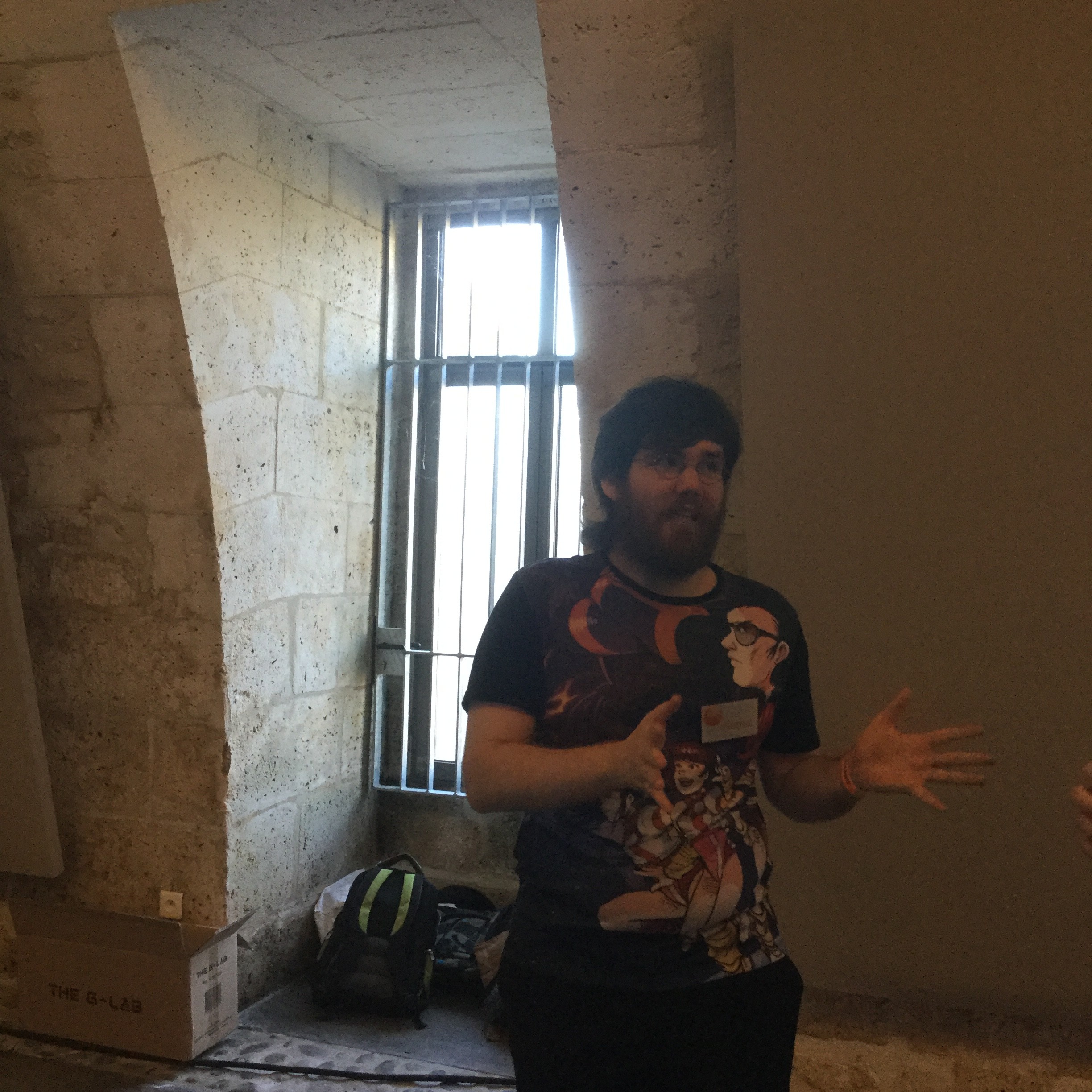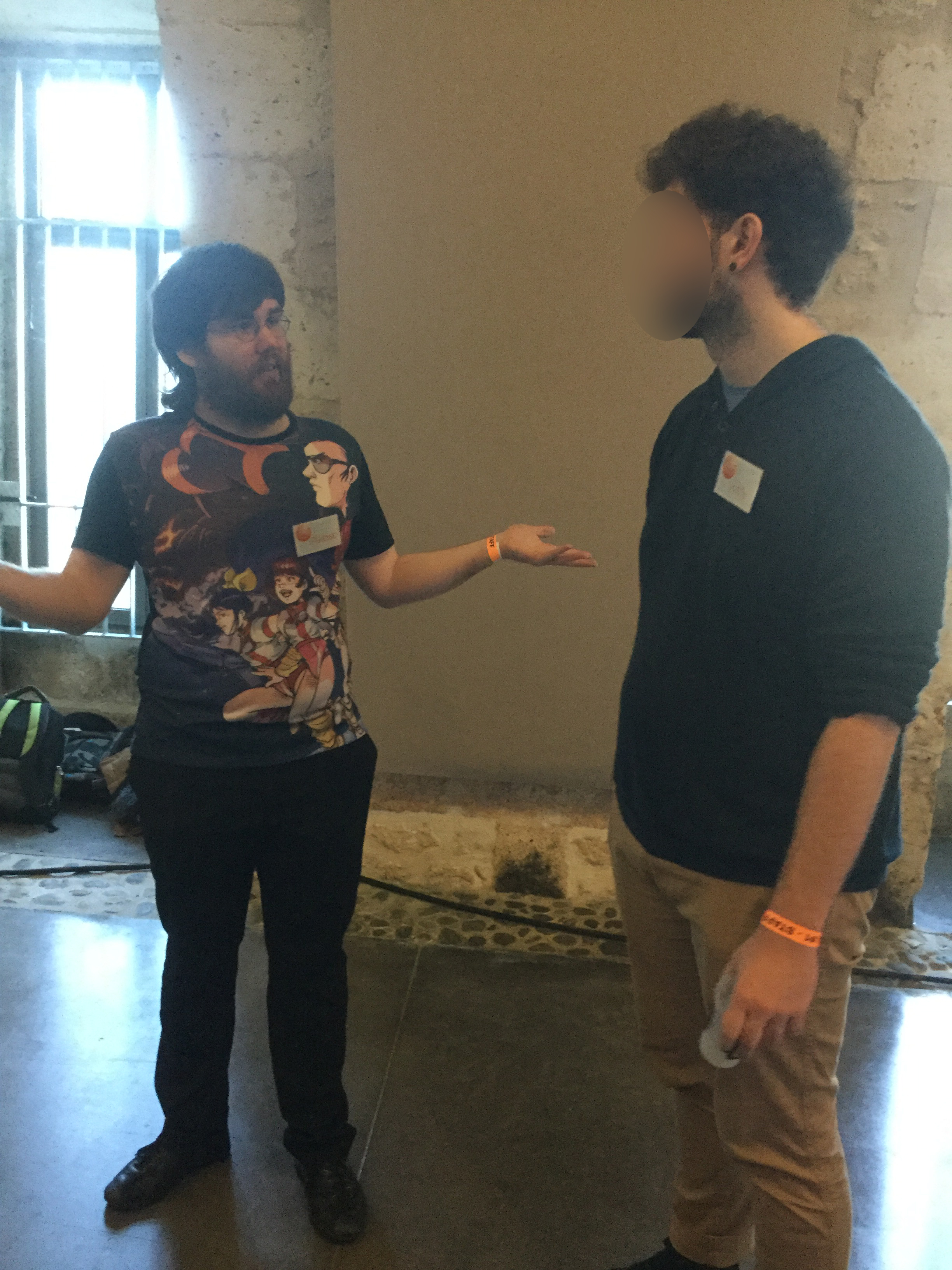 Rare pictures of a snake oil salesman, definitely not in his natural habitat, trying to mask his fight or flight instincts
Later during the festival, I somehow ended up being interviewed while the game was being played live on the projection screen by another developer I befriended hours before, and this prompted me to run out of contact cards much earlier than expected. Lesson learned, next time I'll print out more :-D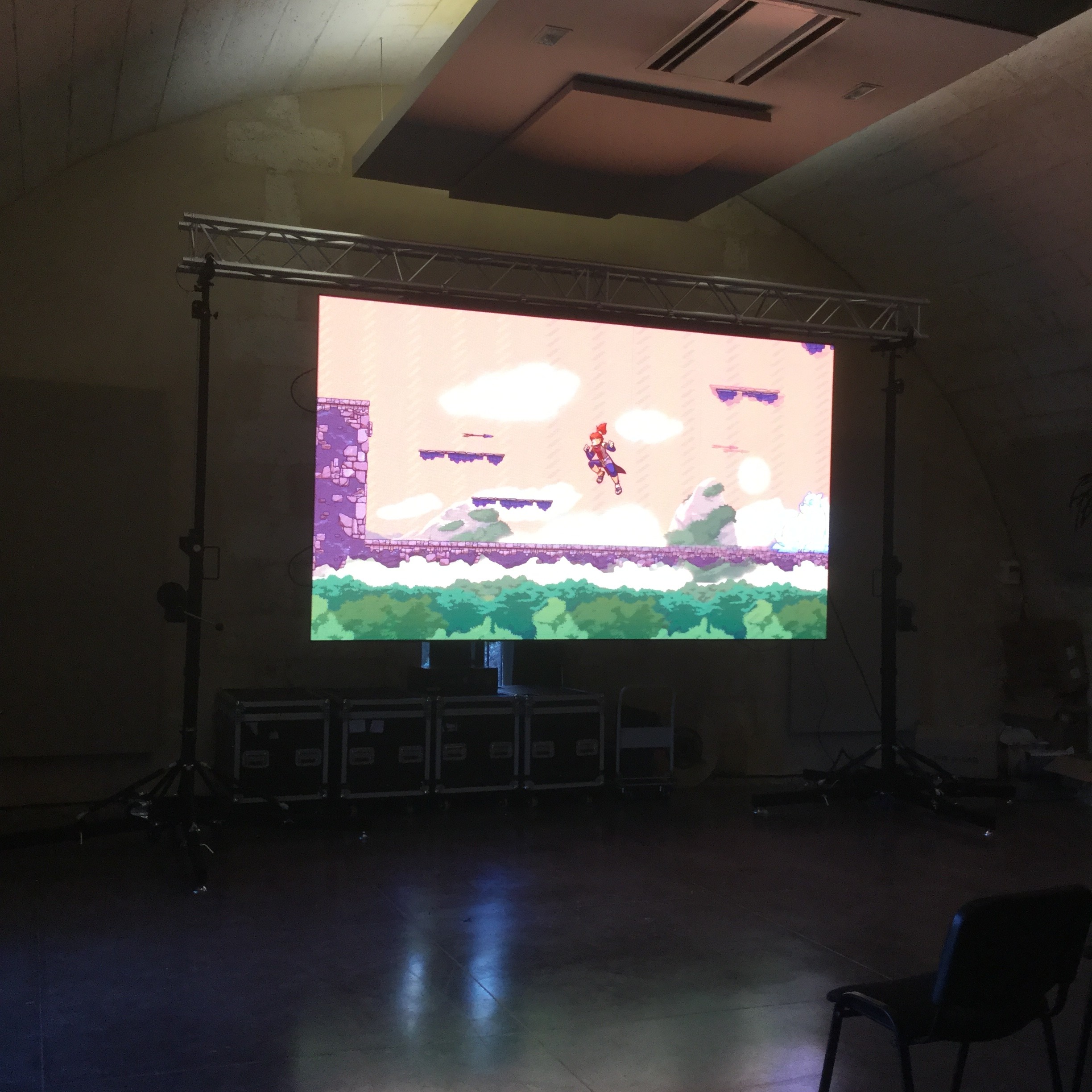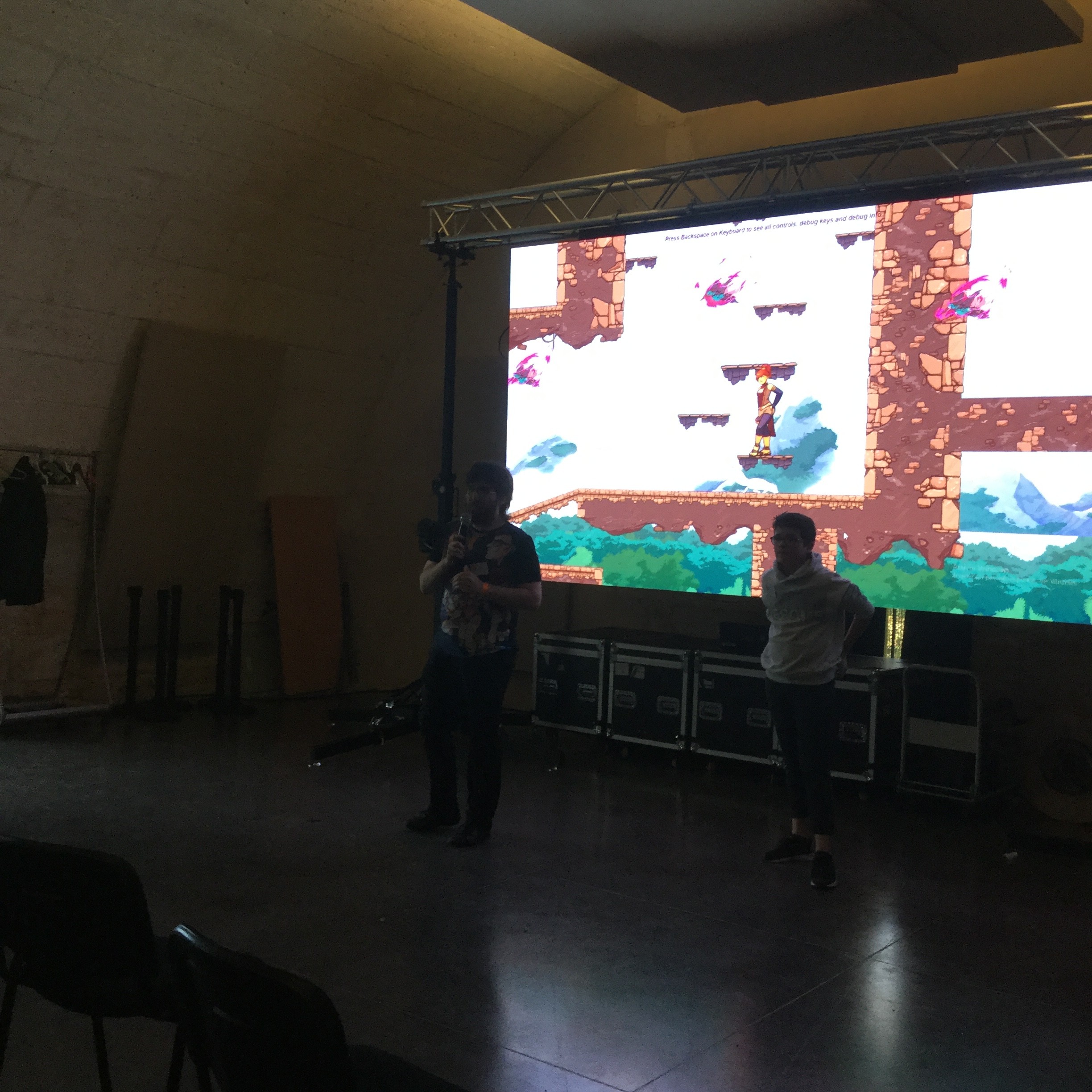 Pack it up, it ain't never getting better than this
The posters with the spritesheets also received a lot of attention, despite being partly covered by the screen, and I was asked if I'd make them available as prints, or even wallpaper. Why not? That's certainly something that goes in line with the plans I'm making for the crowdfunding campaign down the line (it's still coming, and I'll share more news on that front as soon as I have some).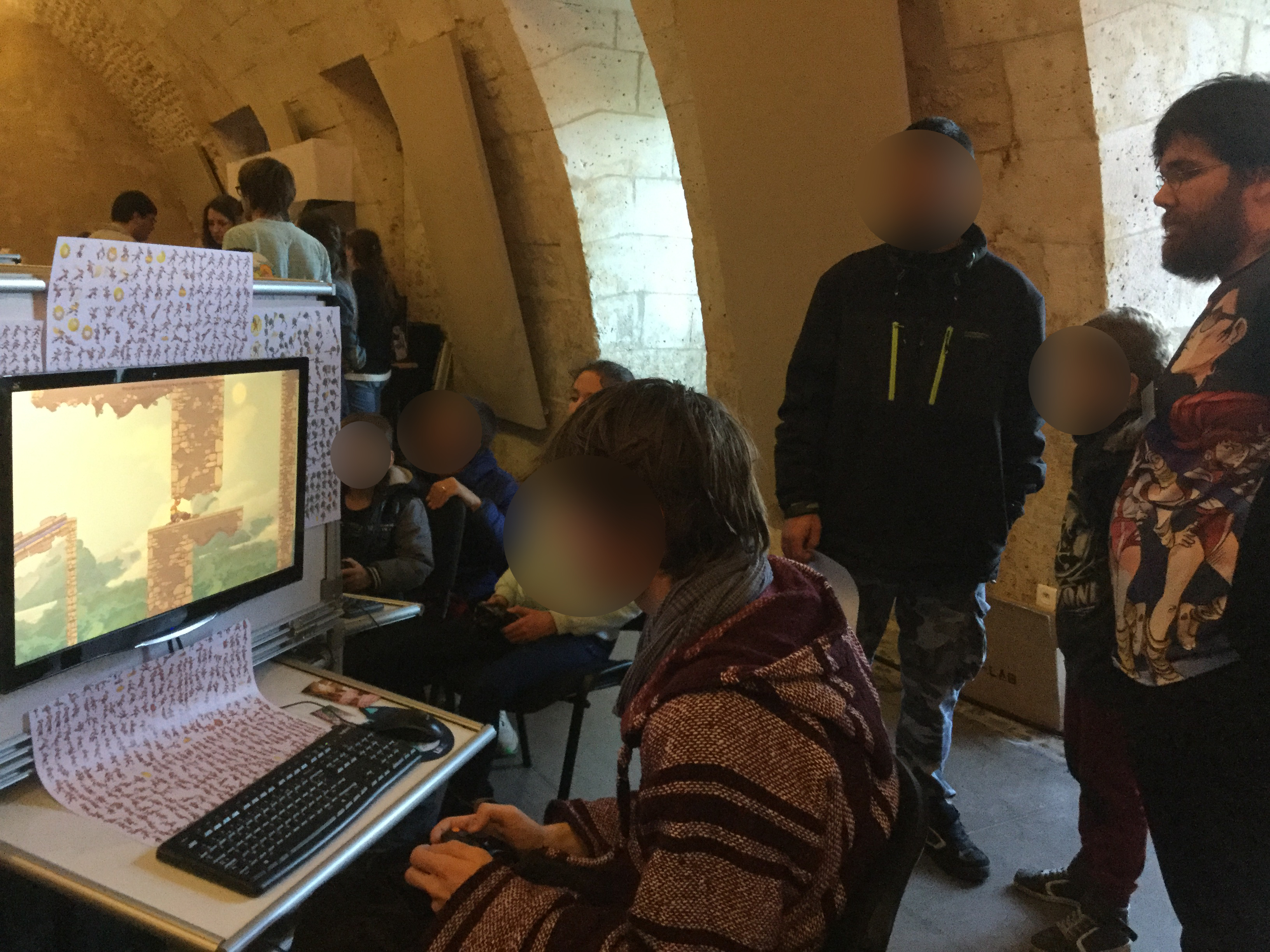 I was helped during the event by my girlfriend, and my sister, who swung by to bring some tea, that helped me stay on my feet during the later parts of the event. My back being what it is, staying standing for hours at a time is an endurance test, and I was glad to make it to the end of the event in one piece!
Overall, contact with the audience was extremely positive, and I heard good rumblings and echoes of player's impressions with the game even when my back was turned, which is very encouraging given how early the game is. There are still years of work ahead, but it seems the primary target of making a game accessible to those who usually don't play platformers is already in reach, so hopefully, it can only get better from there. Time (and more testing) will tell, but one thing's for sure: if there's a repeat next year, I'll be there, and I'll see what I can do to attend more festivals in the meantime, as the game develops and becomes more and more "show friendly"!
This event left me invigorated and full of hope for the game's future, but physically and mentally drained, so I'll need to take a few days to recover (I seem to have caught a cold somehow as well, what excellent timing). Expect dev updates to resume ASAP, sometime next week hopefully, though I'm not sure yet what I'll tackle next - there are so many options :-D 
So in conclusion, for its first public presentation, especially considering I was showcasing an internal development prototype that wasn't designed for public access at all, the event turned out fantastic, reception to the game was great, and this helped me overcome a lot of fears and anxiety related to showing the game in general. David, Seb, Thibaut and all other festival staff are to be commended for a fantastic event, and the public was fantastically receptive to such a WIP and enjoyable to interact with, so a big thank you to everyone involved. Next time, I'll be sure to have more contact cards, and maybe a foldable chair at the ready, but at least, there'll be a next time!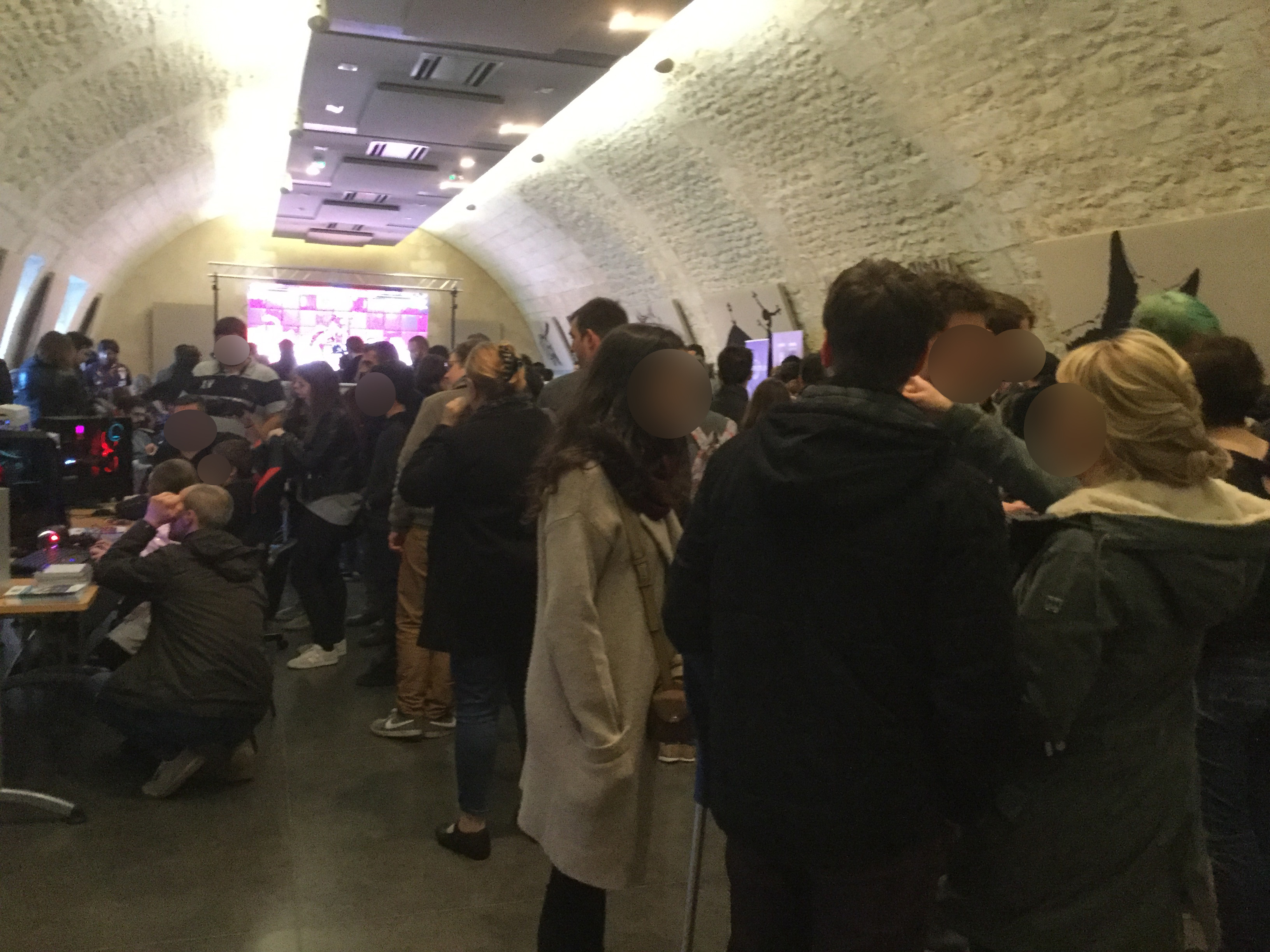 That's it for now - if you have any questions (or if you were there and want to say hi :-D) be sure to comment below or reach me at any of the usual places, and see you very soon for whatever's next in Inti's journey!
(note: for privacy reasons, recognizable faces in the photos have been blurred!)