October 2015 Patreon supported
Thank you so much for the support this month!
Pledge $0 or more per month
Everyone
Pledge $0.01 or more per month
Patrons Only
Desktop Backgrounds
$1 or more per month

∙ 6 patrons
You get access to a weekly full colour high res desktop wallpaper, made from my artwork, in a range of aspect ratios. 
Tutorials
$3 or more per month

∙ 1 patron
Each month I'll create a little tutorial that relates to drawing mandalas. It might be a video or a worksheet, and it'll be simple and straightforward. :)
Etsy Colouring Packs
$4.51 or more per month

∙ 6 patrons
You'll get access to every paid colouring pack I list on Etsy, regardless of how many I post in a month or what price I list them at. This tier also has access to the back-catalogue of packs previously posted! 
Note - make sure to include your address if you want the post-card!
Exclusive Monthly Colouring Pack
$9.36 or more per month

∙ 8 patrons
* Access to the contents of the above tiers
* For every Patron in this tier I'll draw a unique backers-only image, and then assemble them all into a print-ready PDF for colouring.
(Note - don't forget to provide your shipping address if you want the postcard! :D)
Signed original illustration
$23.95 or more per month

∙ 0 patrons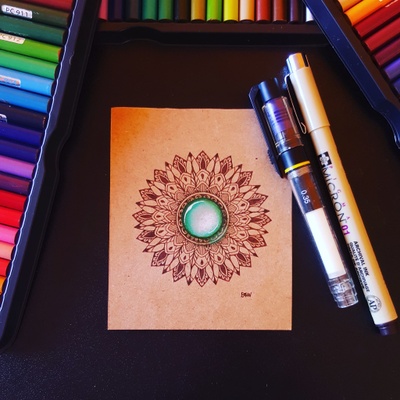 * Access to the contents of the above tiers
* A unique, signed small illustration shipped to you every month. The illustration will be up to A5 size, and might be an ink drawing, something painted, or maybe a sketch - but whatever it is, it will be unique and yours! <3