Opinion Polls and Betting Markets General Election 2019 Final Forecast
This is my final analysis in a 6 part series that aims to apply lessons learned from the 2017 general election towards a forecast that at it's core is based on my UK house prices momentum analysis that was first made available to Patrons on the 24th of November 2019.
Tory Seats projection analysis to date :
Final Forecast 
Analysis to date averages to 323 Tory seats which shows little deviation against my core house prices based forecast of 322 tory seats.
THE OPINION POLLS!
Which I consider to be the least accurate predictor of UK elections, hence why I have left them till last given the fact that they tend to gyrate all over the place during the course of a campaign. So the polls on the day before the vote should make them slightly less useless. Though the pollsters are masters at referring to their huge margins of error such as +/- 6% which effectively means regardless of outcome they can claim to be right, even when they are very badly wrong! As they were for 2017, 2015 and 2010! Never mind for the EU referendum, Scottish Independence Referendum, and of course Trump! ALL WRONG!
But still the goldfish memory mainstream media exclusively focuses on opinions polls during each and every election campaign. BUT that is good for us because from time to time it can throw up huge betting market anomalies to profit from because the bookies always tend to side with what the pollsters are saying, which as why Trump and the EU referendum and the 2015 general election were such big winners. Whilst 2017 proved a tough one to get right though it has provided lessons to learn for next time i.e. for this election. 
So last but least are OPINION POLLS! What are they saying in terms of the probable outcome of the general election, for I can't imagine the polls changing much over the next 24 hours or so until the polls open.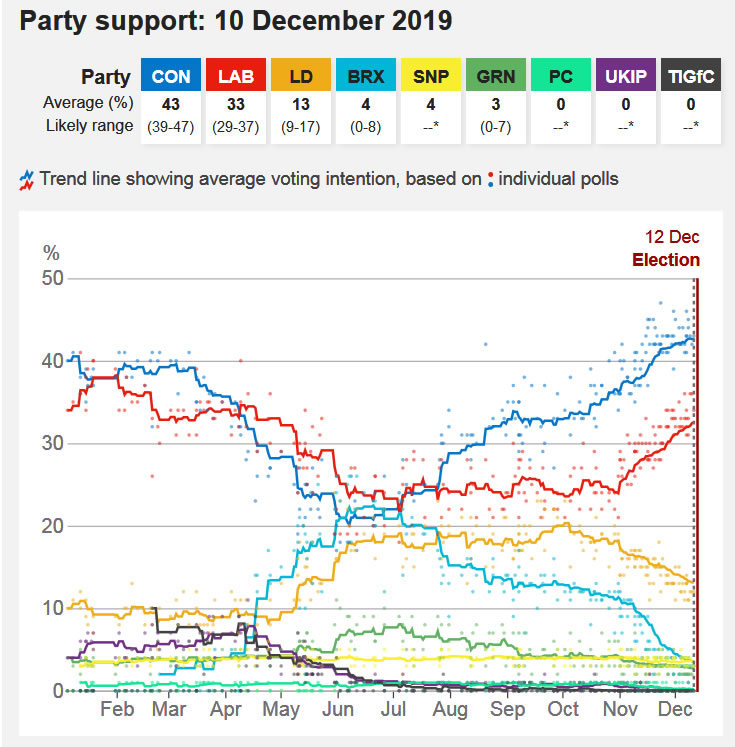 The BBC Poll tracker resolves to 43% for the Tories, 33% for Labour and 13% for the Liberal Democrats. A 10% spread between the Tories and Labour which is basically were we stood when I first posted my house prices based forecast several weeks ago.
The only things that's changed is that the Tories have hoovered up Brexit Party votes whilst Labour has hoovered up Lib Dem support. Hence little net difference. At the time this typically resolved to a Tories seats forecast range of 342 to 376 seats.
However, where polling is concerned then the media obsession has been with Yougov and their MRP based seats forecast. Which following publication of their 27th November MRP forecast for 359 Tory seats, saw the pollsters, pundits and bookies all converging to a range of between 352 to 368 Tory seats which is where the pollsters have sat until last night.
YouGov updated their MRP methodology based election seats forecast at 10pm on Tuesday 10th December. Their existing forecast as of 27th November was for Boris Johnson to win a majority of 68 on 359 seats, whilst Labour dropping from 242 to 211. As apparently Yougov accurately called the June 2017 General Election? We'll that's what Yougov and the mainstream press keep iterating and thus the obsession with their MRP forecast for the whole of the 2019 campaign, generating much free publicity for the pollster.
A quick search reveals - "As the dust of the general election settles, many commentators are still stating they didn't see it coming. But we did."https://yougov.co.uk/topics/politics/articles-reports/2017/06/14/how-we-correctly-called-hung-parliament , Yougov.
However this is what Yougov's website looked like going into voting day 2017.
"Final call poll: Tories lead by seven points and set to increase majority"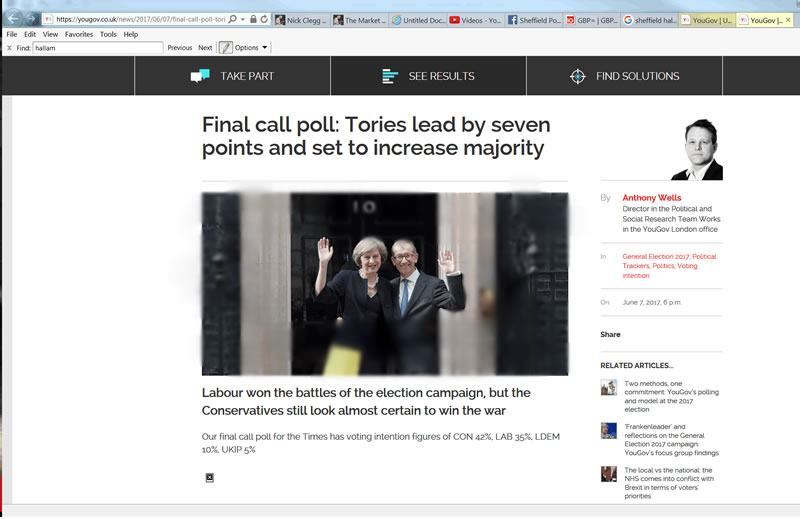 And here is Yougov's new seats forecast side by side with their 27th November call.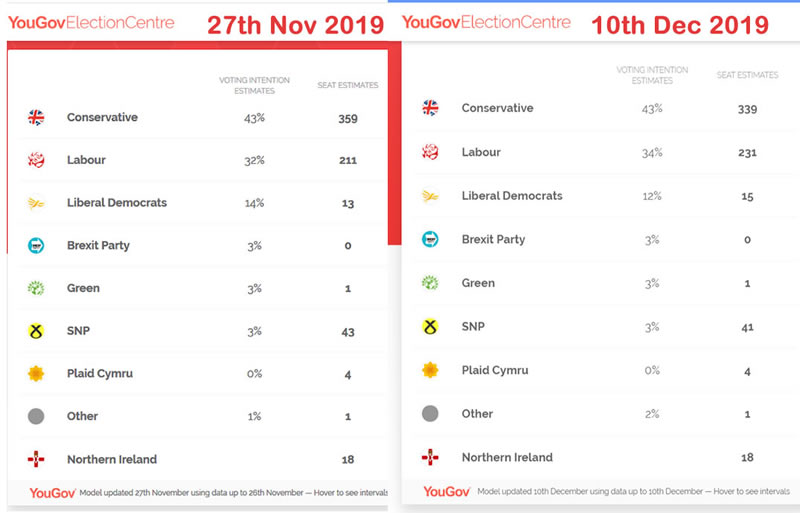 So Yougov has CUT their Tory seats forecast by 20 dropping from 359 to 339.  Which I actually forecast they would do some 9 hours BEFORE they posted their update!

http://www.marketoracle.co.uk/Article66261.html
Accompanied by facebook posts and tweets.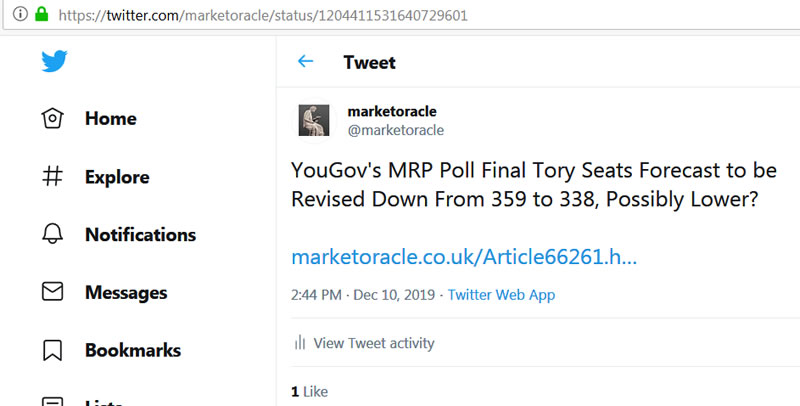 https://twitter.com/marketoracle/status/1204411531640729601
So take Yougov's MRP forecast with a giant pinch of salt especially since it is still showing a significant deviation against my house prices momentum based forecast. Nevertheless the mainstream media have an unnatural obsession with Yougov MRP all on the basis that 'they called the 2017 election' and thus likely to be the focus of attention for the whole of today and tomorrow. Expect to see Yougov's Curtice's face plastered all over the news channels. The guy who called it for REMAIN AFTER the polls closed on 23rd June 2016!
And since this is the focus of the mainstream media attention then there is little point in my wasting time looking at the various pollster sites out there but to just go with Yougov's forecasts for what the opinion pollsters expect as there isn't going to be much deviation from it if what followed the 27th November Yougov MRP poll is any indications of.
Final Tory Seats Analysis Forecast Summary 
UK House Prices 322 
Manifestos Bribes 311
Economy 324 
Marginal Seats 326 
Social Mood 330 
Opinion Polls 339
The above average to 325.3 Tory seats. Now I could attempt to weight the various seats projections in favour of the direction towards my core forecast. But 35+ years of market analysis experience tells me that weighting does NOT WORK. All that happens is that the analyst skews results in favour of the direction that the analyst most favours. 
Next is whether to round 325.3 down or up. On the basis of the sum of my analysis my preference is to round the average number upwards. 
Therefore my FINAL FORECAST CONCLUSION is that the Tories will win 326 seats at the 12th December General Election.  And even if they miss this forecast by as many as 4 seats i.e. converge lower towards my core house prices based forecast of 322. Then they will still be able to govern as a minority government. Also note that my final forecast conclusion only deviates from my original UK house prices based forecast of 24th November by just 4 seats i.e. 326 vs 322. 
With my final tory seats forecast settled I can now fill in the blanks for what the other parties are likely to achieve. 
Election Betting Markets
Since my core forecast was published on the 24th of November then the consistently favoured betting range has been for 320 to 329 seats, at my last update of 9th of December the betting markets were still offering great risk vs reward odds of 8.2 for this Tory seats range.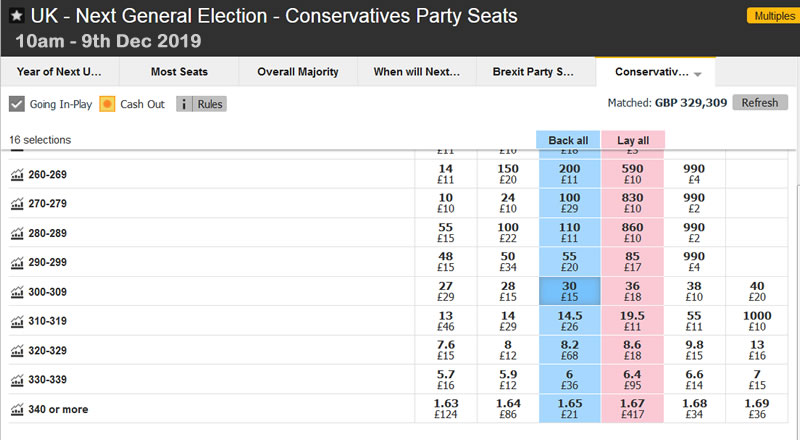 The current state of the betting markets have tightened in the most probable ranges following the Yougov MRP poll that slashed 20 seats off their expected Tory tally. With my core range 320-329 tightening from 8.2 to 6.4. The hedge range of 310-319 falling from 14.5 to 12. And the other hedge bet of 330-339 also tightening from 6 to 5.3. Though all still offer decent risk vs rewards i.e. the core range of 320-329 would resolve in a £10 bet resulting in a £54 profit (plus stake).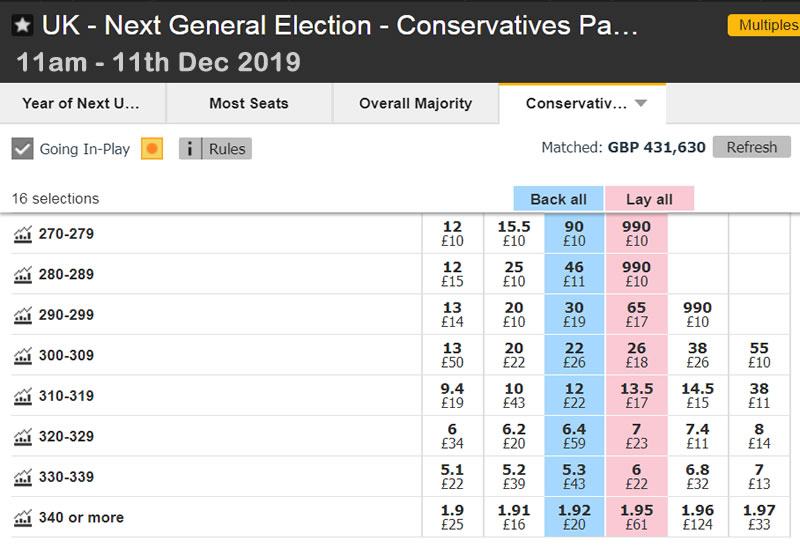 Remember folks when placing bets one is GAMBLING! So there is always the risk of losing ones stake, especially when one is betting on outliers which virtually all of the range bets are.
HEDGING BETS
Whilst my forecast expectation is for 320-329. However, as is the case when trading markets, it can be wise to hedge positions when opportunities present themselves. For instance the next most probable ranges are 310-319 and 330-339, which are still offering decent hedging odds. To illustrate how I have hedged this election then here is a list of all of my open bets placed mostly over the past week with one popular betting site, which also illustrates the point that I do tend to put my money where my mouth is so if my forecast proves wrong then I WILL LOSE MONEY! 
And where the financial markets are concerned, I doubt the election result will have any significant impact on either the FTSE and sterling, perhaps a relief bounce that the outcome is not as bad as it could have been.
Remember folks betting on elections is GAMBLING! And with the election out of the way then my focus will return to the markets with look at the stock market (Dow) and Gold.
Your Analyst
Nadeem Walayat 
Copyright © 2005-2019 Marketoracle.co.uk (Market Oracle Ltd). All rights reserved.
Disclaimer: The above is a matter of opinion provided for general information purposes only and is not intended as investment advice. Information and analysis above are derived from sources and utilising methods believed to be reliable, but we cannot accept responsibility for any trading losses you may incur as a result of this analysis. Individuals should consult with their personal financial advisors before engaging in any trading activities.
---
Nadeem Walayat released this post 5 days early for patrons. Become a patron
By becoming a patron, you'll instantly unlock access to 57 exclusive posts
By becoming a patron, you'll instantly unlock access to 57 exclusive posts