RAWR!
$5 or more per month

∙ 8 patrons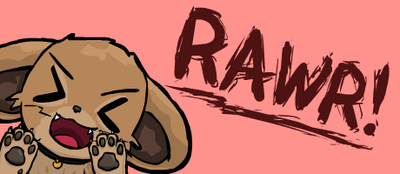 Download Ultra HD archives
(in RAR) of past Episodes and bonus art/comics. Latest comic and bonus archives updated monthly. Also:
Ultra HD comic size: 3840 x 1183
Early-access to the Ultra HD version of completed comics.
Includes doodles and sketches from Discord, chatbox, and comment section
CDisplay is awesome for reading these RARchives!
Your name will be listed below the rant/news section on comics that you've supported, if you were a Patron during that month. Your name will stay there forever!
If logged in, remove ads aside from the the top-most ad that's present in the whole site. Also removes all Comic Rocket banners.
Plus all previous rewards 
A limited amount of high-fives per month (up to 5)
NomAd
$7 or more per month

∙ 7 patrons
Removes all ads
and
Comic Rocket banners
, if logged in.
You'll have more priority for things like suggestions and art streams!
Plus all previous rewards
Secret handshake (1% success rate)