Progress on the 'cocoon' project
What is everyone working on at the moment? I've been perfecting the horizontally panelled corset pattern that will hopefully be November's pattern offer. I have had it in mind for a while to make an outfit that has concentric circular panels that extend down to the floor from the corset section. A lot of trial and error with this one but I think I'm happy with it now. It's not finished yet as I'm working on a bra section with another bit of funky leather I found - I'll then enter it into the Foundations Revealed competition as the idea is that it evokes the segmented sections of a caterpillar (insects being the theme). I made a segmented hood/scarf thing to go with it too! If I could walk on stilts, seriously, I would have carried on with the panels another metre or so - can you imagine the photo shoot with such a long segmented body? I would have loved that!
Caroline x
P.S It looks better on the body - my mannequin is far too short in the torso...
Pledge $0 or more per month
Everyone
Pledge $0.01 or more per month
Patrons Only
Support cottage industry!
$1 or more per month

∙ 4 patrons
You may not be interested in receiving a corset pattern, but you like the idea that Caroline is bringing historical design ideas to a modern audience and would like to support her in this endeavour
A gorgeous corset pattern!
$5 or more per month

∙ 80 patrons
An AutoCAD designed corset pattern in sizes UK 8-20 (US 4-16) posted usually at monthly intervals.
CAD tips and tricks (corsetry)
$10 or more per month

∙ 10 patrons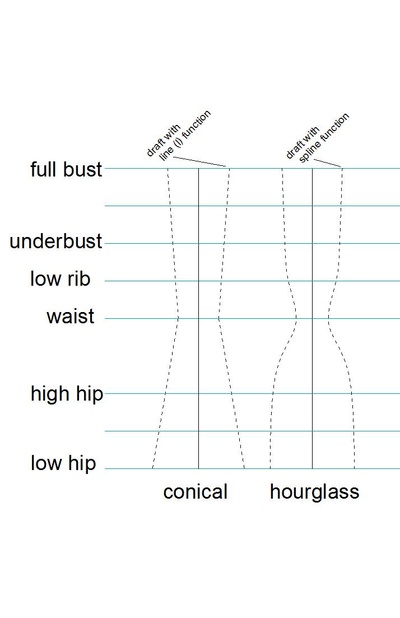 As well as getting your monthly pattern you will be able to view digital corsetry patterning tips and tricks using free software (Draftsight). Every month I will post simple learning snippets - from setting up a drawing, to creating made-to-measure corsets.
A made-to-measure corset pattern
$75 or more per month

∙ 0 of 1 patrons
Any of Caroline's designs can be drafted specifically to your measurements.