"pulp fiction": THE VIDEO by david mack + inspired fiction by lauren beukes {official thing}
(public post - OFFICIAL THING!)
hello dears!!
happy summer. i'm writing from lance's sweltering and beautiful apartment (aka "the kibbutz") where i couch-crashed last night after playing joe's pub and seeing alan cumming be fabulous....i also got to sneak into a rehearsal of Twelfth Night (they're prepping it for the free "shakespeare in the park" production). i'm happy. seeing people MAKING theater makes me happier than anything. i have to remember that for the future.
for us: we make things too. it's TIME TO ART IT UP. this triple-threat THINGING has been cooking for a long time (over a year) and i am so so proud to finally serve it to you on a psychedelic spinning platter.
this is a THREE-PART ART-MEAL!!!!
1) a new improved mix of the song "pulp fiction"
2) a beautiful animated video by artist david mack
AND
3) a patreon-exclusive short story by lauren beukes (to be sent in a different post/email)
i love the story behind this whole jam, especially because it's a real testament to the unlimited creative possibilities of having a patreon.


it all started over a year ago, when edward and i were working on releasing the "i can spin a rainbow" record.
if you were busy when it came out, or you're new to me/the patreon...this was a really special bucket-list collaboration between me and my songwriting hero from the legendary pink dots, edward ka-spel.
the record was entirely co-written and produced/recorded by the two of us (edward did all the engineering and mixing) and contained 9 tracks (and 3 bonus tracks). the opening track is "pulp fiction"....my favorite song on the record (maybe behind "the clock at the back of the cage", it's a close call).
the song was inspired by a conversation edward and i had in the back of a cab about freezing-cold half-clad girls in the UK clutching purses and cigarettes and falling down in puddles of vomit in the streets of liverpool (and romford, our local train station). we invented a cast of characters (abigail and her five friends) and we dreamed up a story that takes place inside The Fiction. and the bathroom in The Fiction. i love this song. it feels like and old classic legendary pink dots song to me. 
i have known the artist david mack for a long time...the first time i met him was at comic con in 2009. i was there with neil to promote the "who killed amanda palmer" photo book and i agreed to do a live-drawing session with three comics artists: Terry Moore, David Mack And Camilla D'Errico. they all sketched me...here's a video someone posted of david sketching me


and here's a finished sketch by terry moore:

david and i stayed in touch and slowly projects started to emerge...
he made this beautiful drawing for the Theatre is Evil kickstarter-art-book (and we also used it as an image for merch on that tour & for the "want it back" single):

...then david and i collaborated on a comic together, the only comic i've ever written (get ready. i might do more, i know the right fuckin people and now i have a patreon, betches....i could also release this comic to you as a PDF at some point with some extras?).
it was for a compilation called OCCUPY COMICS:

here are some of the images. it was a story about my experiences with occupy, a ukulele, and some words about the 60s from my best friend, anthony, who was sick at the time.
bonus photo...a tattoo that someone got based on david's art in the comic (of me walking sadly alone with my occupy-ridden thoughts and my ukulele:

how awesome is this.
when i was working on "you got me singing", the record i made with my dad (another post-patreon bucket-list achievement), i reached out to david to make an animated video for "1952 vincent black lightning". he'd never animated before, and who cared! we would figure it out. the final result was really beautiful. here are some stills: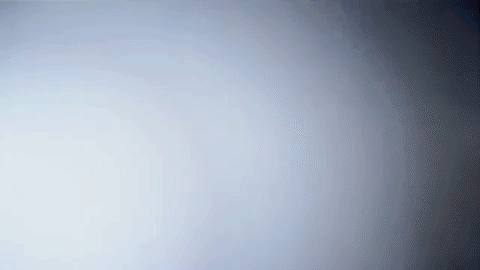 WORDS FROM DAVID MACK:
I love collaborating on making things, and I love collaborating with Amanda.

With Edward Ka-Spel of The Pink Dots involved in this song and author Lauren Beukes contributing her words, it is exciting how this came together.

Amanda had given me a note of making this video darker than the last one we made together (Vincent Black Lightning) and she gave me a note of using water and liquids.  And I wanted to use very different materials and ambiance than the last video we made together as the personality of this song felt so different.

I filmed this in stop motion and I set up a little theater of what would be in the frame of the camera on my drawing/painting desk.  I included a plastic bin that could be able to hold water as I build layers of set on top of it.

I imagined this video was a kind of hyper-real version of Amanda and Edward performing the song in a Bowie-esque live show if you didn't have to be human & corporal when you performed a live show. 

So I cut up photos of Amanda & Edward so it was both her & him, and also a tiny puppet show version of them, that could live & express in the layers of reality on the mini stage of 3D objects and paint and also be submerged in water.

There were thousands of little cut ups of Amanda's faces and hands and mouths open and close and eyes open and closed and wide and narrow.

A dozen trays of faces and expressions and face parts and limbs laying about to add in each frame before each phone clicked.

I had a variety of candles and used other light sources, and the wax from the candles mixed into the water and the ink swirling in the water, and some times little parts of the edge of the bin containing the water would catch on fire from the candles.

At one point the bin walls melted and the water overflowed onto my desk and the floor, and into the next room, and out the back door, and took some flaming papers ad candles with it, and there was a larger theater outside of what was in the camera frame.
(There is still a wonderful sea of blue paint on my back porch from where all the blue water was swept out).

I painted layers on top of layers in between each click of the camera, and I learned a lot of how this works in the process and sometimes things took a turn in the way that the video and materials revealed how they wanted to morph next.  
It felt like it's own magic trick.  

We added a hand drawn animation section on top of it.  And reading Lauren's words on her short story added a charming dimension to make this a wonderful triptych (trip- tick?) of text language, song & voice language, and visuals moving in the video. 

NOTE: I cut up so many pieces of fabric and paper and cut up paintings for this, and I still find many of them in nooks on my desk and studio. As I am painting covers for Neil Gaiman's American Gods, I sometimes notice a cut up shape that lived in this music video, and affix it to the cover painting I am working on, so there are curves, and gold, and pieces that live on from this video into some American Gods covers.


watch the pulp fiction video, here: https://www.youtube.com/watch?v=dPTcq8neRWs

 
........

when you see the video, you will be hearing a NEW MIX  of "pulp fiction".
i'd been unhappy with the final album mix once i heard it on a laptop...the BASS WAS MISSING. 
so i sent word to edward (co-writer and engineer extraordinaire) asking if he would add some bass back in for the video release. HE GOT ON IT. 
patreon is so wonderful this way. we can TWEAK....
(photo by michael lamertz)

all $3+/download patrons will be getting a new download code for the video & new version of the song.....watch for it. i am very very open to feedback if you wanna compare and contrast the less-bass (original) and moar-bass (new) version. music nerds, unite.
and here....
SOME WORDS FROM EDWARD KA-SPEL:
Pulp fiction...

The idea was born on the backseat of a taxi cab in Romford on a hot Summer day. There was a bit of a traffic jam which was enough to get me into "rant " mode where I'll swear that this crowded corner on the Eastern edge of London was in fact the Gateway to Hell itself.

Poor Amanda. She heard how Romford was part of the first Borough to fly the Brexit flag, how it was famous as the place where criminals bought their guns, how it was a no-go area at night unless you were in a tank and even that wouldn't help on Fridays and Saturdays.

Then the rant began to encompass ALL small towns across the U.K. on weekend nights. Wasted youth downing 'alco pops' by the crate, fighting in the streets, unconscious on the sidewalks, the bus station transformed into a Roman vomitarium, no buses, terrified taxi drivers, sirens howling.

Meanwhile Amanda was tapping notes on her smart phone  and began serious research.

Ultimately we wrote it together, trading lines, torching the ones that went just that bit too far,  until the characters in the legless drama began to become human.

And tragic.

The Fiction is an imaginary nightclub where the facts are drenched in sadness.
EK.
god i love him.

.......

ENTER LAUREN BEUKES.
so....i was in south africa this past january and i was lucky enough to get befreinded by lauren beukes, who i started calling the "south african neil gaiman" because she's the most-celebrated heroically feminist SF weirdo writer down there. (if you want books to start with: zoo city, and the shining girls). a lot of you who came to my johannesburg and cape town shows saw her read live.
here we are, watching the historical presidential turn-over on live internet-stream in our cape town air bnb kitchen:
while i was down there, the david mack video was getting finalized...and i was missing something. the video was beautiful, but i was missing a narrative. and i was like: well....i'm sitting right next to a famous fiction writer.
so i asked lauren if she would be my first patreon-fiction guinea pig. 
the weird idea: would she let me commission her, with patreon dollars, to write a short story based on the song AND the video....? i told her she could deliver ANYTHING SHE WANTED....

and she did.
WORDS FROM LAUREN BEUKES:
Here's a thing about me. I love playing with other people. Writing is lonely and tedious. Creative collaborations, where you get to riff off each other's work, adding complexities or a shift in perspective, is the very opposite. 

When Amanda asked me to write a short story in conversation with the song and David Mack's music video, I said yes, a hundred times yes. We were hanging out in the kitchen of her and Neil's Cape Town Airbnb and she handed me her laptop and a pair of headphones and dispatched me into a dark room to listen to Pulp Fiction as many times as I needed. Then she showed me David Mack's gold and blue and starry video shifting through ripped polaroids with a kind of angelic crucifixion, and told me about the experience of going to a super club called The Fiction in Romford and the things they saw there. We talked about being young and drunk and trying to fit in #MeToo and how she wanted another woman to write this story, and hey, there's also a Cape Town club called Fiction, which meant it was fate accomplit. 

She talked about the pleasure of working with Edward Ka-Spel and how he adds layers of costuming when she's almost forgotten how, because her lyrics are usually so straight-forward, straight-up, this-is-real-life stuff. I got hooked on that word, costuming, like a dress on a broken fence, and the fairytale evocations in the song, how it reminded me of the ballroom scene in the movie Labyrinth, and how we're all aspirational, all faking it for the cameras, especially when you're young and drunk and trying to fit in, and what that costs, what you need to shed of yourself, to do that, to fit in. 

The story is a prologue to the song and the video, and I'm grateful for the freedom to write what the material evoked in me, rather than a straight translation, and I hope it adds to the bloodied taffetta layers. 

........

oh, oh, and it does.
her short story is going to be posted (and emailed) to ALL PATRONS in a moment.
sorry not sorry for filling up all of your inboxes with art today.
i fucking love this.
look at what you are helping us do....
i love you all so much.
all the connections, all the art, all the ideas, all the friends....forever.
...........................
again: the story is about to get sent in a separate post to all patrons (since this is a public post). patrons, keep your eyes peeled.
a few days ago, i posted this to facebook:
FOUR CHEERS FOR TWEAKING AND DOING WEIRD SHIT THAT NO RECORD LABEL IN THEIR RIGHT MIND WOULD EVER GET BEHIND IN A BILLION YEARS!!! i still can't believe it sometimes. if you're one of my patrons, you know what i'm talking about.

every time i do a weird, sprawling, multi-media, past-sell-by project like this, i imagine what it would be like to walk into the offices of roadrunner records (the major label i had to pry myself out of) saying "hey guys! you know that album i put out over a year ago? the one that barely sold any physical copies? well, i'd like my friend to make a weird psychedelic video for it. you cool to pay for that so i don't have to lose money? even though it will probably lead to no more record sales? oh and can we also free up some dough to pay my friend who's a writer to just jam out a related short story? SHORT STORIES ARE AMAZING ALBUM PROMO." i can just see them sitting there around the large table, not knowing what to say.
this is true.
the patreon has totally changed the way i can make art, collaborate, expand, think, work, grow.
i hope you love this new combination.

and a huge thanks to my team as usual: michael, hayley, nick, brittany & jordan for helping pull all this together.
without all of you, we can't make all these Things.
love to all of you, my tribe....
xxx
AFP
Pledge $0 or more per thing
Everyone
Pledge $0.01 or more per thing
Patrons Only
YOU ARE HERE TIER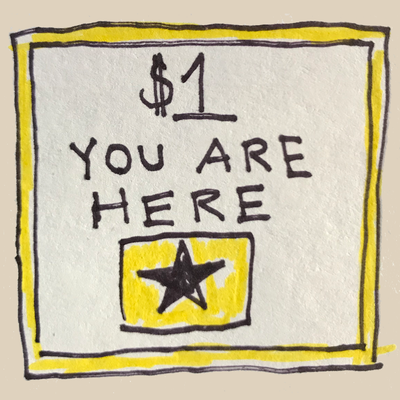 you are...here. you're supporting me and that's huge. thank you. you'll get my patron-only posts and access to the patron-only feed, where the community centralizes and everything gets posted & talked about. you'll also get downloads of some of my larger projects. and so you know: your voice is just as important as some well-off mofo giving me $100. 
DOWNLOAD TIER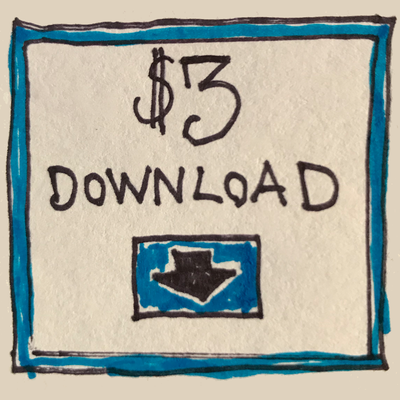 you're supporting me even more, and you are also awesome. thank you. you'll get access to the patron-only feed, as above, where we hang, and you'll also be DIRECTLY emailed keepable/playable/readable downloads of any content (PDFs, MP3s, etc).
RANDOM SURPRISES TIER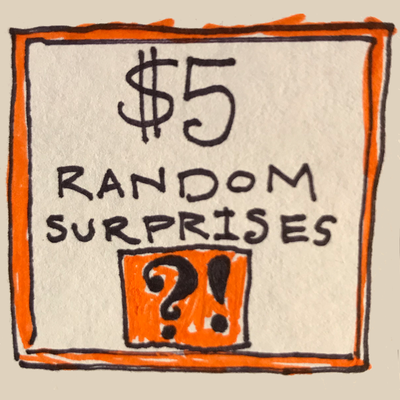 you're supporting me a lot here, dear one, and $5 a song (or Thing) is really generous. thank you! you'll get all of the above, plus you'll get random surprises in your email. i'll share extra stuff with you every once in a while, including more personal videos and photos (and sometimes voicemails) that i don't want out in the public. so far i've sent random little digital tidbits every few months that seem to really delight people. i'm always open to ideas and feedback about how to get weirder.

WEBCHAT TIER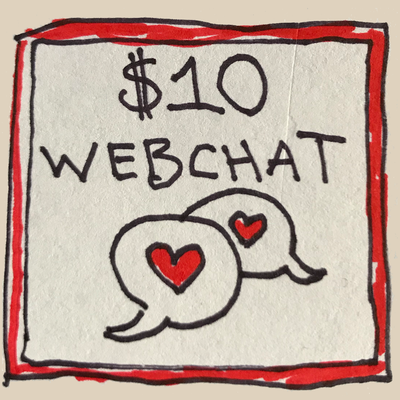 this is a lot of money to give to an artist, and you are really showing me some serious art-love here. THANK YOU. i'll try to make it worth it: you'll get all of the above, random surprises and all, plus access to my patron-only webchats in which i'll chat/perform live/discuss things with you. for the last few years, i've really enjoyed and appreciated these talks with the higher-level patrons, and we talk about some serious stuff. i usually do these chats from my home or from whatever recording studio i'm working in, so you get a glimpse of what real life is looking like (there are often babies and husbands and friends around). i love doing these, but not with thousands of people. i'll do the monthly webcast even if i haven't made any art, so you may be getting free webcasts if i'm in a funk, and we'll just talk online about how unproductive and fucking depressed i am. FUN!
ART-IN-THE-MAIL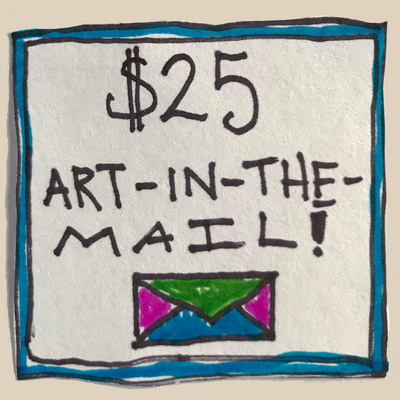 THIS IS A NEW TIER!
i have been thinking for ages about how to reward people who want to support at a higher level, and i've found it! introducing ART-IN-THE-MAIL. this tier will get all of the above (access to all downloads, webchats, etc) AND every few months, as a gesture of my extreme gratitude, you can opt-in to receive a piece of beautiful physical art. the art may be something i draw and print in a limited edition, or something i commission from another painter/artist/maker. it may be a watercolor print that was created for a tour or an album, it may be a rolled-up print of a panel from a comic i'm working on. it may be socks. we can fit socks in an envelope. we're gonna have fun with this one. 
(Signed) ART-IN-THE-MAIL + GUESTLIST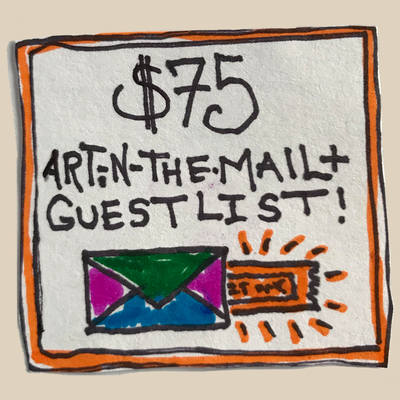 THIS IS A NEW TIER!
same as the ART-IN-THE-MAIL Tier, except you have the option to have your art (or socks) personalized + signed by me; the personalization can be for anyone (including you). it's a massive undertaking to get things signed/shipped from place to place (especially if i'm in japan and you're in brazil), so we try not to do too much of this....but i love the idea of being able to do this as a gesture of gratitude for the massive amount of dough you are putting into the system. you will also get access to the guestlist (+1 - note that not every appearance i do has a guestlist, i.e. if i'm playing a festival, but for my own headlining shows, we should be able to accommodate everybody). THANK YOU AND I LOVE YOU.
OLD-SCHOOL POSTCARD TIER
(limited to 30) - hello, Amazing Art Angel. this is massive. you'll get all of the above...patron-feed, random surprises, webcasting, plus i'll also
send you weird vintage/kitschy postcards from weird places i wind up
(i've been having a TON fun with this). and you'll get access to the guestlist, +1, anywhere. we will email.

note: this tier is VERY FULL, but spots open up occasionally. 
EVERYTHING IN THE MAIL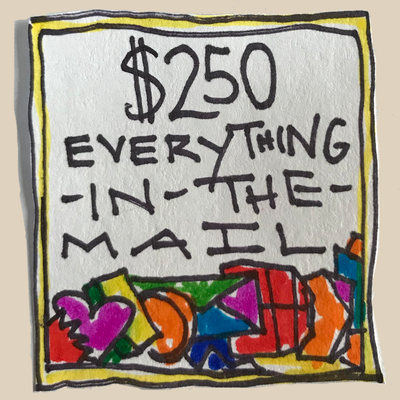 THIS IS A NEW TIER!
HELLO AMAZING PERSON. you will get EVERYTHING the $75 tier gets, plus we will will give you extra guestlist access (if you'd like to bring 2 guests with you to any given official AFP show) and we will invite you to request ANY physical merchandise whenever new items are added to the store (you want a few copies of the new poster? you got it). you'll basically get personalized concierge service and we'll sign and send stuff to you for you/your loved ones anywhere in the world. thank you so, so so much. holy shit.
ALL THE THINGS
wtf. we'll talk. we'll have dinner; i will probably cry. you may cry. all the things, pretty much. thank you (holy shit the end).