Running the bases. (Level 8: #47-50)
Hey guys!  Mimic's plans leave a little to be desired, don't they?  And everyone else is along for the ride.
This month's reward is a portrait of a lowdown snake in the grass we haven't seen in a while... but maybe she's a gnomish baseball fan?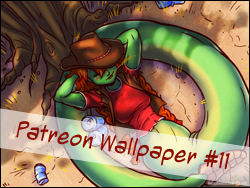 Check your inboxes soon for the next batch of rewards!  For those backers who are pledging at the wallpaper level, please don't hesitate to suggest wallpapers you would like to see in the future.