The Sailing Rode - Episode 22 - Part2 with The Gleda Project
Dear Patrons,  Hope you enjoy this episode with the second half of my interview with Neil Hawkesford from The Gleda Project.   You can also check out some
videos of Neil's boat here.
http://www.thesailingrode.com/podcast/755/

Gleda getting some maintenance on the sandbar
In this episode, we feature Part 2 of our interview with Neil Hawkesford
from The Gleda Project about building his Wharram 38 catamaran and
beginning his cruising life.  We have some sailing news.  And our
featured product will keep your boat fenders looking sharp.
Intro News
The Interview - Part 2 with Neil Hawkesford - The Gleda Project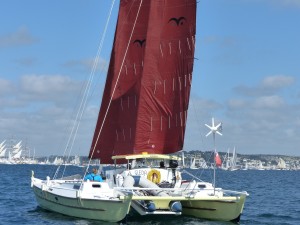 Get a copy of Neil's book A Foolish Voyage here

. 

It is a fantastic read.  Neil tells the story of sailing the south

coast of the UK in an 18 foot sailboat.   You really feel that you are

along for the ride.  It will make you want to go back to your early 2o's

and go on a big adventure!
Go to Neil's web site The Gleda Project




to see all the details of him building his Wharram 38 catamaran and his

current cruising blog.   Neil's catamaran build took eight years. In

the interview, Neil speaks about not just building a boat, but building

his future lifestyle.

For a female perspective on Gleda's adventures, go to his partner Gail's blog Landgirl Afloat.

Sailing News
Product of the Week
These covers keep our fenders looking sharp and protect the hull of the boat.
Amazon Store
Please use our Amazon Affiliate link or if you are in Canada, use the Amazon.CA affiliate for anything you buy on Amazon or look at over 90 items we have in our TSR Amazon store
. 
We use all the items on our boat and include notes of why we like
them.  We also added over 40 sailing and cruising books we recommend. 
You pay the same low Amazon price and we get a small commission.
Please help us Support Podcast

We need your help to spread the word about the Podcast.  Please share the
podcast with your sailing & cruising friends and ask them to
subscribe on iTunes, stitcher, or Google Play Music.  You can send them
these links:
It also helps when you share the podcast links on social media and sailing forums.
Remember to tag your Instagram sailing related pictures with #thesailingrode
Send us your feedback on the show and any show topic ideas to

[email protected]



Thanks for listening and all your support!  We wish you fair winds and hope to see you on the water soon.
–  Steve & Brandy